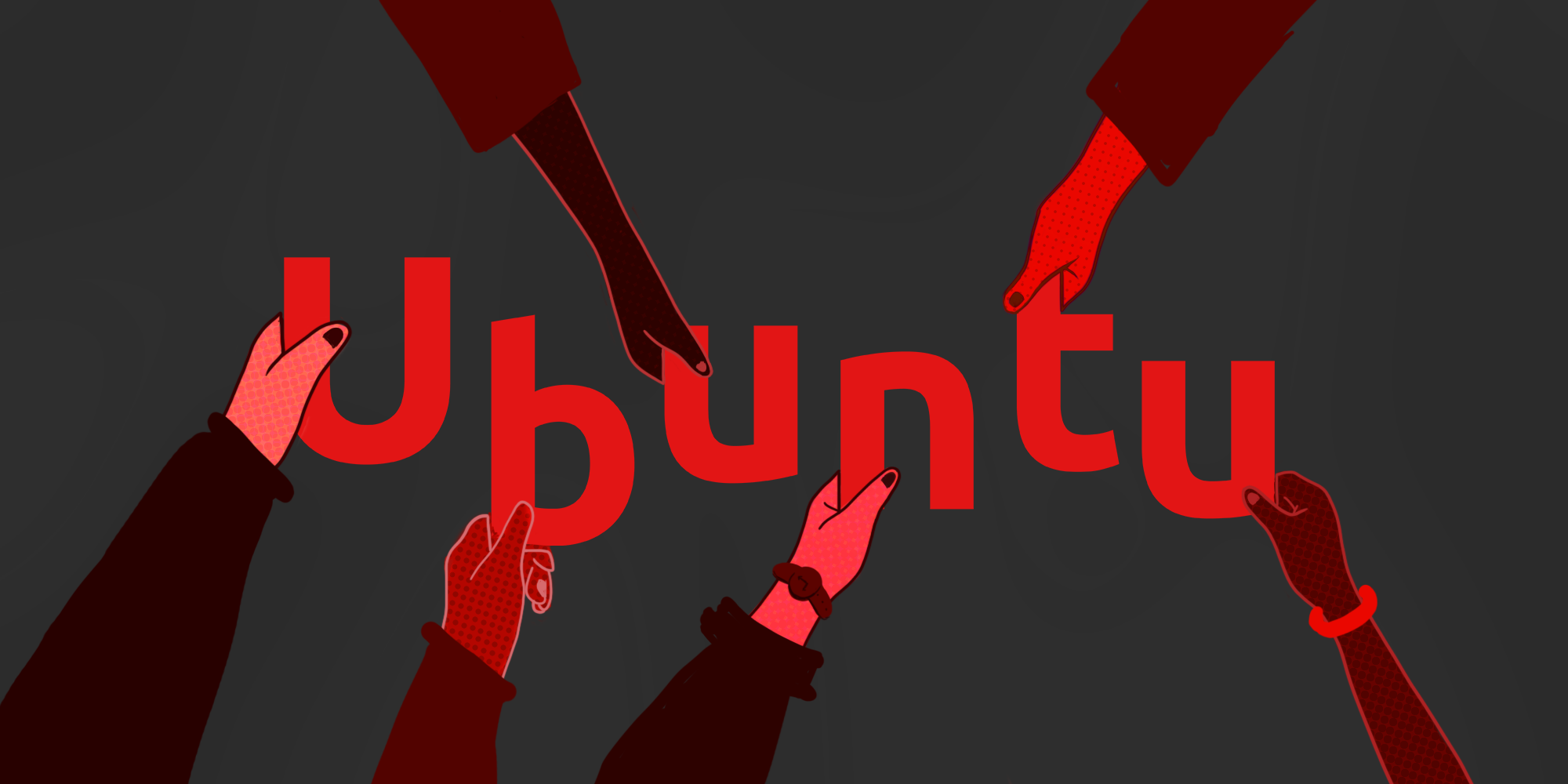 Ubuntu's new variable fonts
When the Ubuntu operating system, favored by developers around the world, wanted to upgrade their UI and brand typeface—also named Ubuntu—into a variable font, they asked Type Network to ensure its technical and functional quality. Partners DJR and Dual Type were up to the task.
Ubuntu is a Nguni Bantu philosophical term frequently translated as "I am because we are," or "I am because you are." Its central tenet is that humans exist in an interconnected web. Ubuntu, the popular Linux operating system published by Canonical, takes this philosophy as the core of its mission. Composed mostly of free and open-source software, "Ubuntu delivers to everybody on the same terms. Whether you are a student in India or a global bank, you can download and use Ubuntu free of charge."
Service: Variable fonts
Partners: DJR, Dual Type, and Kerns & Cairns
Date: 2023
Ubuntu's developers believe strongly in the open-source ethos, so when variable fonts became commercially available, Canonical was eager to share the tech with the open-source community. They commissioned Type Network and our partners to create a variable version of their Ubuntu typeface for use in their interfaces, website, and branding.
We were excited to expand the sophistication and functionality of the Ubuntu typeface and we knew Type Network would be right for the job. It is great to partner with people who support our ethos and help us bring the latest technology in fonts to everyone.
—Lyubomir Popov, lead visual designer, Canonical
The Ubuntu typeface was designed for Canonical in 2010, and published as one of the very first open source fonts. Canonical and foundry Dalton Maag tracked its development in great technical detail on Canonical's blog and developed an open license for its free use, study, modification, and distribution.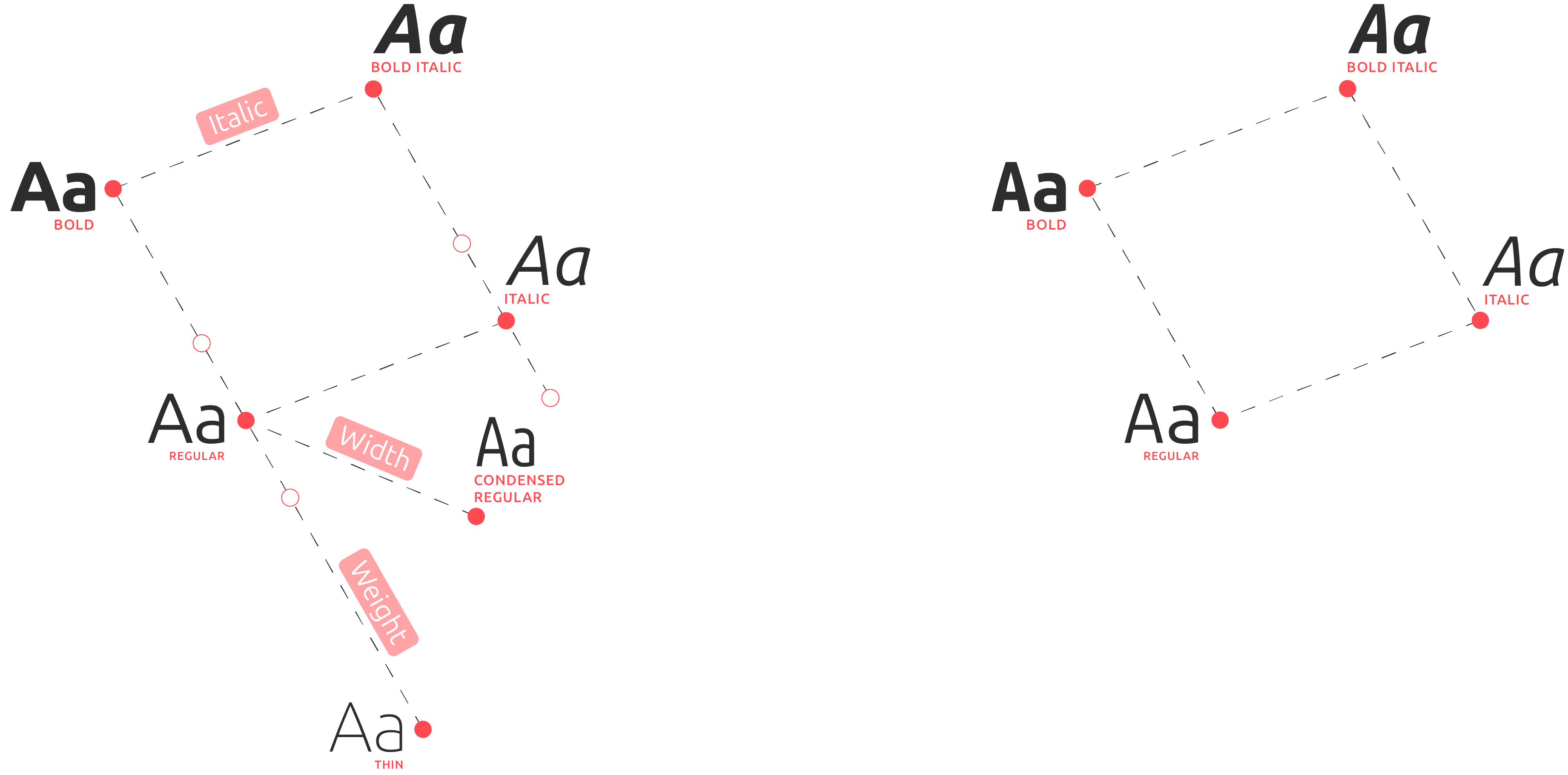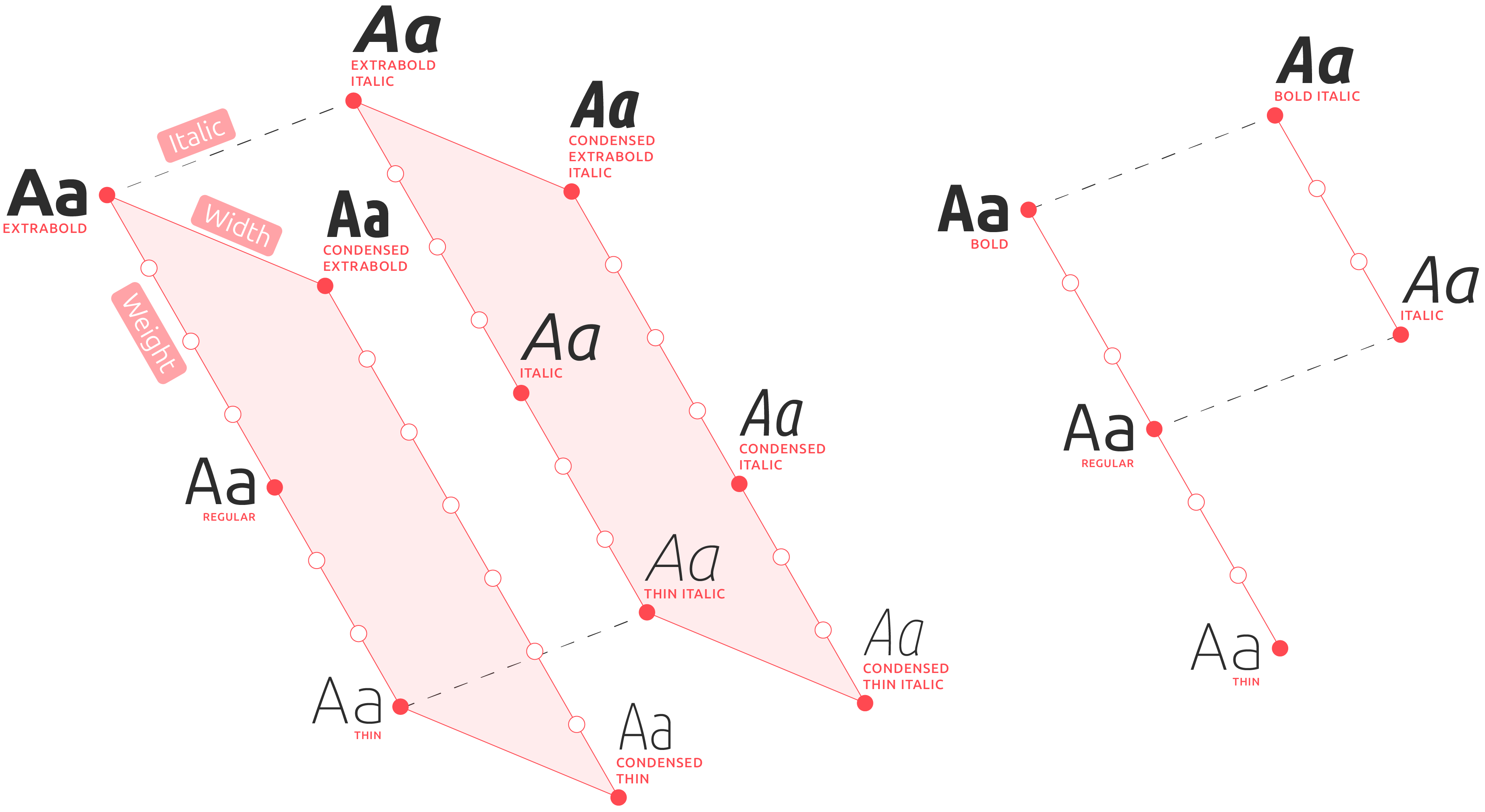 While Canonical already had a distinctive and functional UI typeface in Ubuntu, they wanted to refine and steward that design into a variable font. For the project, foundry partners Dyana Weissman (Kerns & Cairns) and David Jonathan Ross (DJR) met with Canonical's founder and CEO Mark Shuttleworth to discuss the brief. Shuttleworth came to the table with more than a typical CEO's knowledge of font technology, demonstrating his hands-on approach as the company's leader.

DJR's design acumen and Type Network's rigorous technical review process proved well-suited to Canonical's needs. DJR began by uniting Ubuntu's eight styles, making them compatible for interpolation into a variable font. This work included shifting all existing weights a hair lighter, a reaction to how precise digital rendering has grown over the last decade. DJR also reassessed the spacing of the italics. Turning to the monospace version, he modified both its size and stylistic range, letting it operate more easily alongside the proportional font, which reflects the recent design trend of using monospace fonts beyond the console.
Free, open source
1,200 glyphs
Four variable fonts
Proportional and monospace styles
200+ languages, 3 billion readers
David Jonathan Ross draws letters of all shapes and sizes for custom and retail typeface designs.
Learn more
Once these designs had been harmonized, Weissman and Ross enlisted the Dual Type team, Gen Ramírez and Zrinka Buljubašić, to expand the weights and the already quite broad character set. They added small caps, condensed and mono styles for all weights, and more.
The nature of a variable font is expansive in this regard, with an ultimate goal of multi-dimensional consistency: where users can seamlessly use the family across weights, widths, monospace proportions, and italics. Producing a tool that achieves this requires painstaking technical cohesion throughout every style and weight. The team worked in concert, first figuring out the limits of each variable axis and then filling in Ubuntu's characters along those axes. Type Network's library manager Glenda Bellarosa contributed by researching characters beyond DJR's or Dual Type's customary character sets, identifying issues with individual glyphs, and generally overseeing the quality assurance process.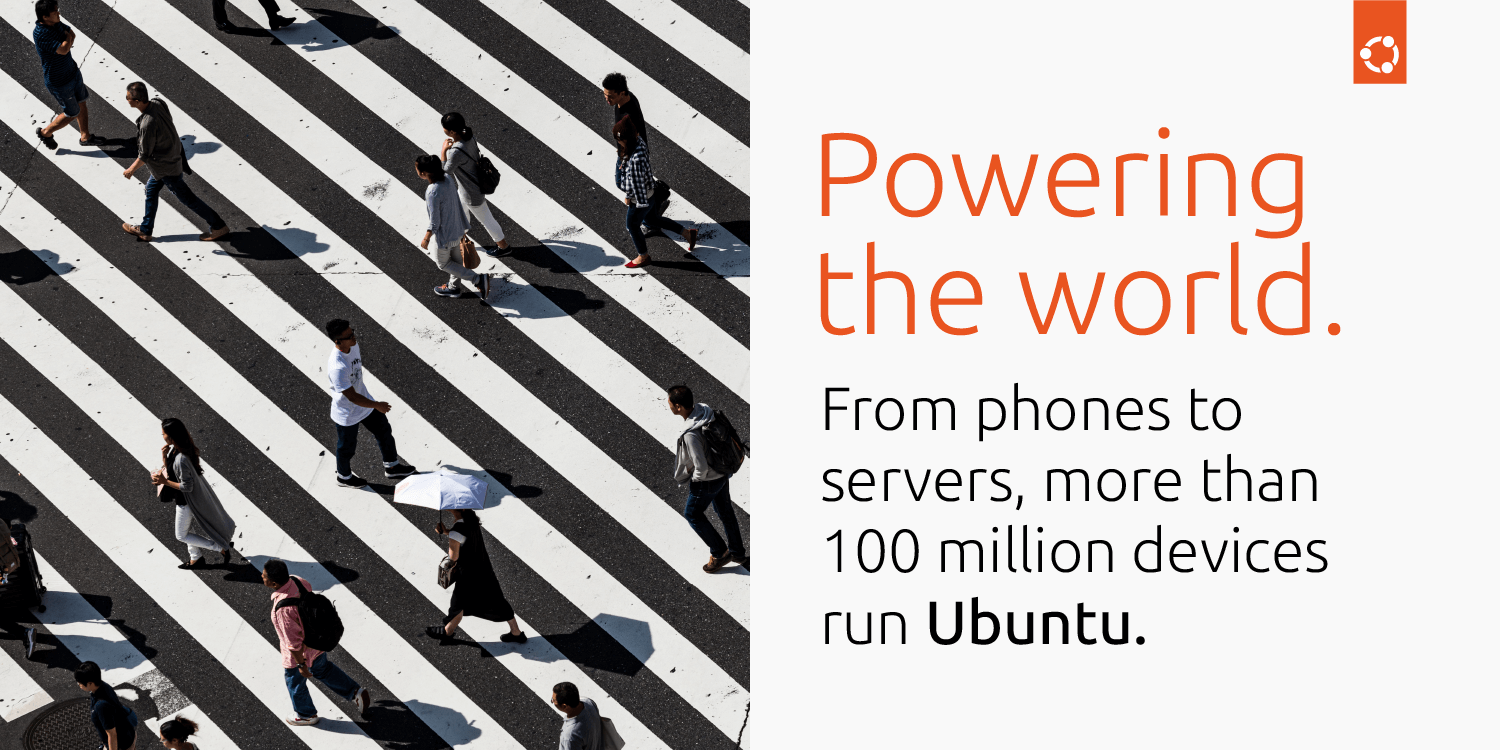 Dyana Weissman helps clients find their way to the logical, beautiful conclusion of whatever their creative challenge is.
Learn more
As an open-source project, Canonical published the source code for Ubuntu (proportional and monospace) so that interested parties can study it and experiment with creating their own families from it. To make the font easily reproducible and remove any potential barriers, Type Network's font engineer Guido Ferreyra adapted common automated font-build-practices for Ubuntu's specific needs, then included it into the font. This means members of the open-source community won't need to use a specific kind of software or have a deep font-making knowledge in order to generate, edit, or otherwise experiment with the font's code.
We had no problems whatsoever during the project. Communication was great. Trust is important, and we trusted Type Network.
—Marcus Haslam, head of brand design, Canonical
The Type Network team tackles complex projects from all angles with a wealth of skills and tools at our disposal. Our roster of top-shelf foundry partners guarantees the right designers for the job, and our proprietary technical tools and rigorous review process ensure that the resulting fonts will be some of the very best and most functional on the market. If your company is looking for a high-quality custom typeface that flawlessly communicates your product to your audience, give Type Network a call.