About Type Network
Type Network was built for people who love working with type—and for people who make it.
We bring together the best type designers in the world, from 45 foundries in 15 countries. At TN you can get the best fonts—original, creative, and built with the latest technology. And you can get advice on putting the fonts to work for you. Our partner designers and foundries can build a whole typographic system for your brand. Our library started with Latin fonts, and is expanding to cover the world. Our experts can pair TN fonts with scripts from India, Southeast Asia, China, Japan, and Korea.
TN, launched in 2016, is a private company and designers are our majority owners. This ensures that our goal is met: To provide our clients with the best type in the world.
This website can write the license you need and let you download the fonts. For bigger projects (and "enterprise licenses"), contact us. We can work out the details quickly.
The Type Network team has been working in digital type since desktop publishing first gave designers the tools to take control of their own typography. Contact us for any advice about type. With our partners, we offer a wide range of design services, including consulting, custom typeface design and development, type pairing for all the uses and products, and multi-language font matching.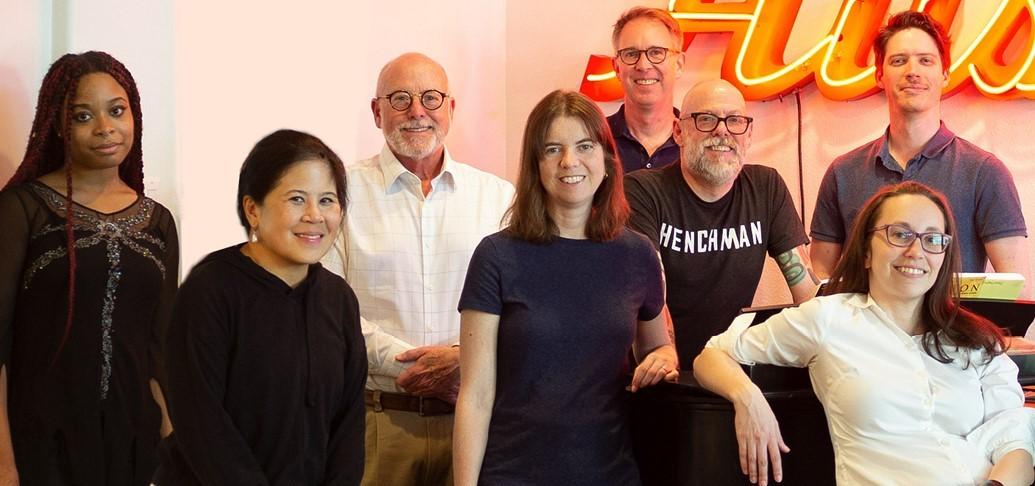 TN team members at an Austin "off-site" in 2022. We don't really have a site—everyone works remotely. And we don't really have "staff." We're all department heads!
Christopher Slye, president
Christopher is a life-long resident of the San Francisco Bay Area. He first worked as an independent type designer and developer, producing the typeface family Elmhurst (licensed through Font Bureau) and consulting for companies such as Monotype and MvB Design. He joined Adobe's typographic staff in 1997, where he first helped to expand the design and functionality of Adobe Originals typefaces, guided Adobe's type-related technology and initiatives, and contributed to the development of open web font standards. Eventually, until 2020, he managed all aspects of Adobe's type business and licensing programs. He is a member of the Letterform Archive's board of directors.
Michelle Perham, general manager
Michelle's love affair with type was sparked over 20 years ago as a graduate student at Rochester Institute of Technology. Before joining Type Network, she did stints at both Adobe and Microsoft doing QA and project management for type-related projects. She also spent many years as a SoTA board member helping to organize TypeCon. She joined Type Network in 2015, shortly before the company launched. Michelle oversees day to day operations of the company and spends lots of time talking to customers. She understands the technical aspects of fonts and is well versed in their interactions with different applications and operating systems. She has also gained a deep understanding of font licensing and can help customers determine the right licensing for their projects.
Dyana Weissman, director of custom type
For 20 years, Dyana has been working with clients across various industries such as Comedy Central, Disney, Ford, the MoMA, and The Washington Post. As Director of Custom Type, she manages and creates large families in traditional static and variable font formats. Previously, she was Senior Custom Designer at The Font Bureau, where she learned typeface design in the tradition of Merganthaler Linotype. Her approach to work is influenced by humanity itself: she aims to make genuine connections with clients, and believes that the most memorable designs are endearingly imperfect. She stretches her other creative muscles by writing for Typographica and Alphabettes, taking photographs, and promoting independent film. She stretches her literal muscles by hiking as often as she can.
Dan Rhatigan, director of type products
Dan is a typographer with over 30 years of eclectic experience as a typesetter, graphic designer, typeface designer, and educator. After completing an MA in Typeface Design at the University of Reading in 2007, he joined Monotype to research global scripts and eventually to lead custom type projects in London and NY and London as type director. He later moved on to Adobe as the senior manager of its font development team. Dan is a member of the board of directors for the Hamilton Wood Type & Printing Museum in Two Rivers, Wisconsin; has amassed a truly impractical collection of type specimens, Letraset transfer type, and assorted typographic ephemera; and he's really good at recommending typefaces for things.
Lucas Czarnecki, director of content
Lucas Czarnecki does a bit of everything, so long as it has to do with type. After teaching the first-ever course on Typography and Graphic Design at the University of Virginia, Lucas began a two-year letterpress printing apprenticeship at the Virginia Center of the Book. He then founded the Charlottesville Design Week—Virginia's first design festival—and Type365—a typography blog read by thousands. While working under the name if it has words, Lucas presented at TypeCon, The Virginia Festival of the Book, Society of News Design, and TEDx. During one such conference, Lucas met Roger Black and began writing and designing for TYPE Magazine, where he continues to moonlight.
Maria Glenda Bellarosa, library manager
Glenda Bellarosa has been working in type for three decades. She began her career at Font Bureau before spending over 21 years as a Typographic Developer at Monotype. A graduate of Rochester Institute of Technology, she has extensive knowledge both in writing OpenType code and the intricacies of complex South Asian scripts, Arabic, and symbolic scripts. Glenda was involved in the development, refinement, and quality assurance of many non-Latin Noto fonts for Google including Noto Nastaliq Urdu, Noto Sans Newa (Newari), Noto Myanmar, Noto Sans Javanese, and Noto Sans Signwriting. Prior to OpenType development, she was an expert TrueType Hinter and refined many fonts for clients such as Microsoft, Apple, GE, Nokia, and Amazon. She is as passionate about producing functionally correct and efficient fonts as she is about doing the daily Wordle.
Kate Beckwith, office manager
Kate Beckwith is a type fanatic living in Oakland, California, where she earned her MFA and taught The Book in an Edition at Mills College. Her knowledge of type and letterforms extends all the way back to early writing systems like cuneiform, to the advent of moveable lead type, through paste-up graphic design, and up to contemporary digital type. As the first employee of Letterform Archive, she shared this knowledge with over 1500 in-person visitors and co-curated their first public exhibition, Without Type: the Dynamism of Handmade Letters. She comes to the Type Network team after stints with Typekit (now Adobe Fonts) and in communications outside the type world. She also makes small press poetry books as art director and publisher at Dogpark.
Guido Ferreyra, font engineer
Guido Ferreyra is a designer and font engineer. With his knowledge and skills on type and coding, he helps to improve productivity through streamlined workflows and ad-hoc tools. He is passionate about everything that involves type, from diving into its history to learning how modern, evolving technology applies to its development. Guido lives in Argentina and has given lectures and workshops throughout the Americas.
David Jonathan Ross, type designer
AKA "DJR," he is the 2018 recipient of the Prix Charles Peignot award, which is awarded to designers under the age of 35 who have made an outstanding contribution to type design. He has always embraced emerging font technology: he was one of the first designers to release retail variable fonts, and regularly publishes variable and color font experiments via his Font of the Month Club. He has consulted on large open source projects for Google, including the conversion of many families to variable format.
Alexis Reid, graphic designer
Alexis Reid is a graphic designer and illustrator. She studied graphic design for two years at Prince George's Community College in Maryland and then transferred to Rhode Island School of Design, where she continued her education and received a BFA in Graphic Design, with additional coursework in illustration and motion graphics. Alexis went on to work at Apply Stickers and designed several sticker sheets, some of which are available at the RISD store, The Whitney, Lacma, and Studio Museum Harlem, among others. Alexis then went on to work as a graphic designer at Type Network creating a wide variety of graphics mostly for web and social.
Abigayle White, social media coordinator
Abigayle's true talents lie in effective copywriting and social media management. With a BA in Business and Philosophy from Fort Lewis College in Colorado, she specializes in cultivating digital communities, developing nuanced social media campaigns, and speaking in a tailored voice for all her clients. Before joining Type Network, Abigayle spent time internationally, learning global marketing practices. At TN, she engages our audience through case studies, news releases, social media content, and more.
Board of Directors
Roger Black, chair
Roger Black is known for his sense of typography, which he's applied in the design of magazines like Rolling Stone, newspapers like The Washington Post and websites like the first MSNBC.com. He was a founder of one of the early desktop type design studios, Font Bureau (1989), and is the majority owner of TN.
Roger has advocated using distinct type for each client. Many original fonts and revivals of classic typefaces have been produced by him and his teams over the years. Some of the interesting case studies are gathered in a digital brochure at the TN site, "The Roger Black Collection."
In 1968 he was editor of The Maroon, the student newspaper at the University of Chicago, leaving college to start a magazine, Print Project Amerika. His first publication art director job came in 1972, for LA. Later he served as chief art director of New York, The New York Times, and Newsweek. He started his own design firm in 1987.
David Berlow, director
David Berlow entered the type industry in 1978 as a letter designer for the respected Mergenthaler, Linotype, Stempel, and Haas typefoundries. He joined the newly formed digital type supplier, Bitstream, Inc. in 1982. After Berlow left Bitstream in 1989, he founded The Font Bureau, Inc. with Roger Black.
Font Bureau has developed more than 300 new and revised type designs for the Chicago Tribune, the Wall Street Journal, Entertainment Weekly, Newsweek, Esquire, Rolling Stone, Hewlett Packard and others, with OEM work for Apple Computer Inc. and Microsoft Corporation. Font Bureau's Retail Library consists mostly of original designs and now includes over 500 typefaces. Berlow is a member of the New York Type Directors Club (TDC) and the Association Typographique International (ATypI), and remains active in typeface design.
Jill Pichotta, director
Jill Pichotta began working for Font Bureau as an apprentice with David Berlow in 1991, honing her skills on projects for Rolling Stone, Esquire, Condé Nast Traveller, The New York Times, Apple Computer, and other notable brands. She has managed the production of retail releases for independent designers since 1993, and has contributed several of her own typefaces to Font Bureau's diverse library. Over the years, she has divided her time between various retail, custom, and OEM projects. In conjunction with its mid-2016 launch, Jill Pichotta took on the role of Principal Product Manager for Type Network, overseeing type development and quality for the company's global alliance of foundry partners. In 2021, Jill joined The Type Founders as Vice President of Type.
Petr van Blokland, director
Born in Gouda, the Netherlands, in 1956, Petr van Blokland graduated cum laude from the graphic arts program at the Royal Academy of Fine Arts (KABK) in The Hague in 1980.
With his partner Claudia Mens, Van Blokland worked for over thirty-five years as a designer in the studio they cofounded. His output ranged from sketching and model-making to programming in various languages. He specialized in systematic design: corporate identities, form systems, online publications, and tools for type design.
Van Blokland has taught graphic design, typography, and type design for many years at the Royal Academy of Fine Arts (KABK) in The Hague and at the Academy of Fine Arts, Arnhem. His first typeface was Proforma, a large series commissioned by Purup, a Danish manufacturer of form-preparation systems. Proforma has now been released for general use through Type Network. In 1988, Van Blokland's work brought him ATypI's coveted Prix Charles Peignot award.
As cofounder and partner of Type Network, Van Blokland is a dedicated contributor and developer of new type and tools for type design. He currently teaches in the Master's program in Graphic Design at AKV|St.Joost in Breda and at Type and Media, the postgraduate type design program at KABK in The Hague. Read more about his thoughts on design and education in this interview and in his Lubalin lecture, "Words," delivered at Cooper Union in 2015.