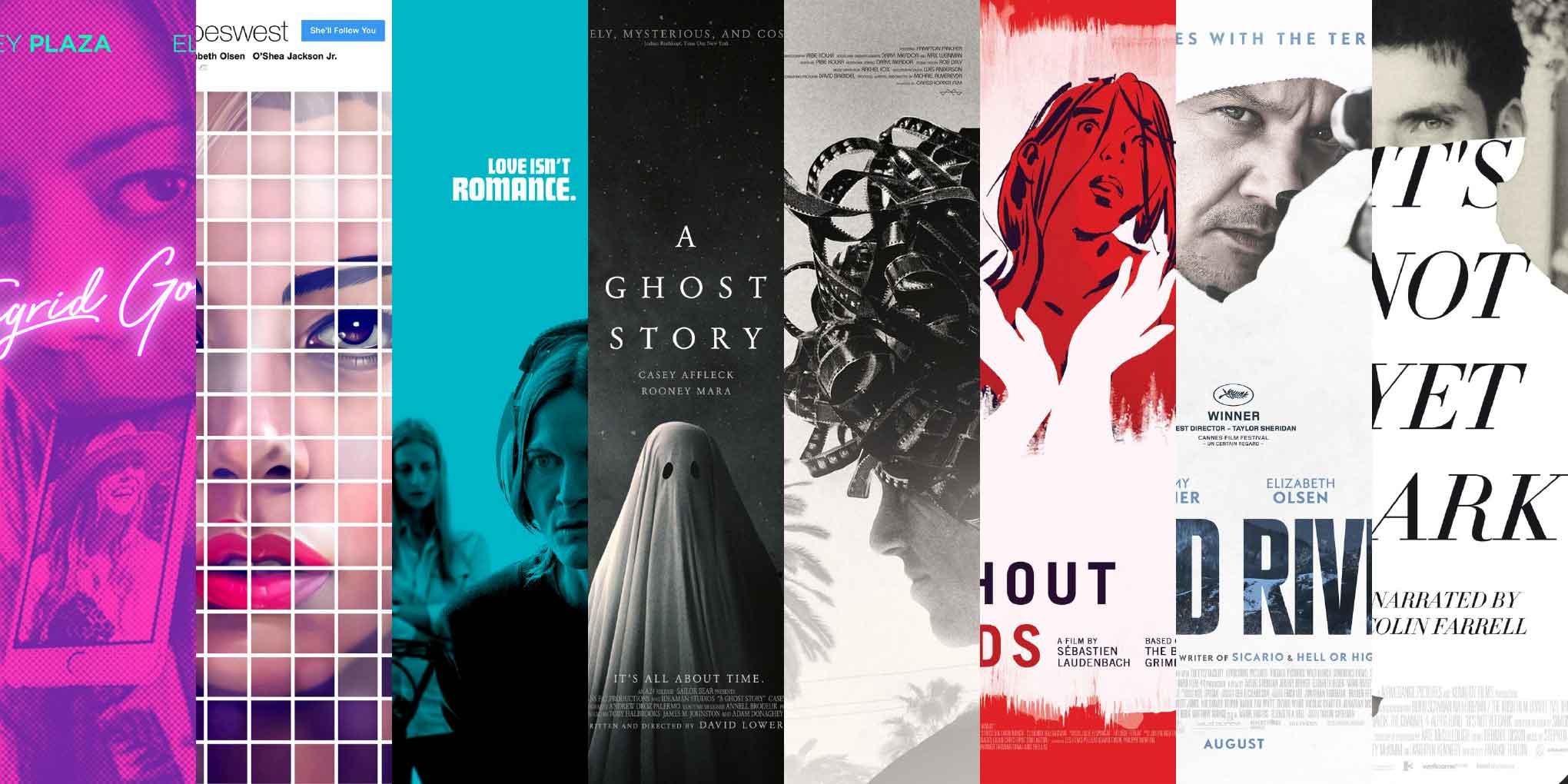 ScreenFonts: Halloween 2017
A movie-poster cliché rears its creepy head, and—maybe—a new one lashes out. This ghoulish Halloween episode peeks at posters for Blind, Ingrid Goes West, Women Who Kill, A Ghost Story, Escapes, La jeune fille sans mains (The Girl Without Hands), Wind River, and It's Not Yet Dark.
Formulas
About seven years ago, I was researching my
first movie-poster talk
. I came upon French film distributor Christophe Courtois, who, in the spring of 2010, had started compiling examples of
movie-poster clichés
. His series became a viral hit after being mentioned in a number of popular blogs. Courtois and I ended up exchanging ideas and discussing observations over email.
Blind
I told Courtois that, although I admired his thoroughness, I had discovered a gap in his collection: what I've come to think of as the horizontal-band style. Posters using this strategy alternate landscape images of the main protagonists with white horizontal bands. The typography is delicate and refined: mostly high-contrast Didones, with the occasional insipid sans serif thrown in for good measure.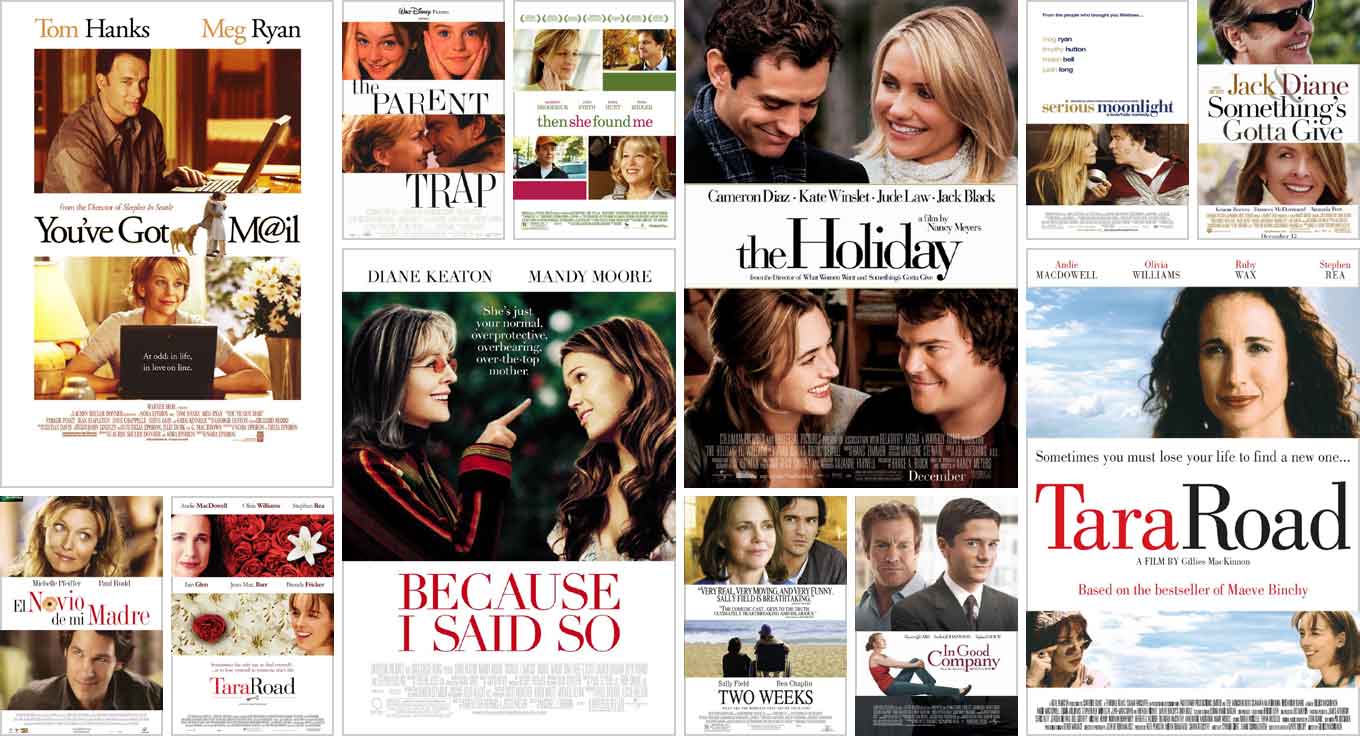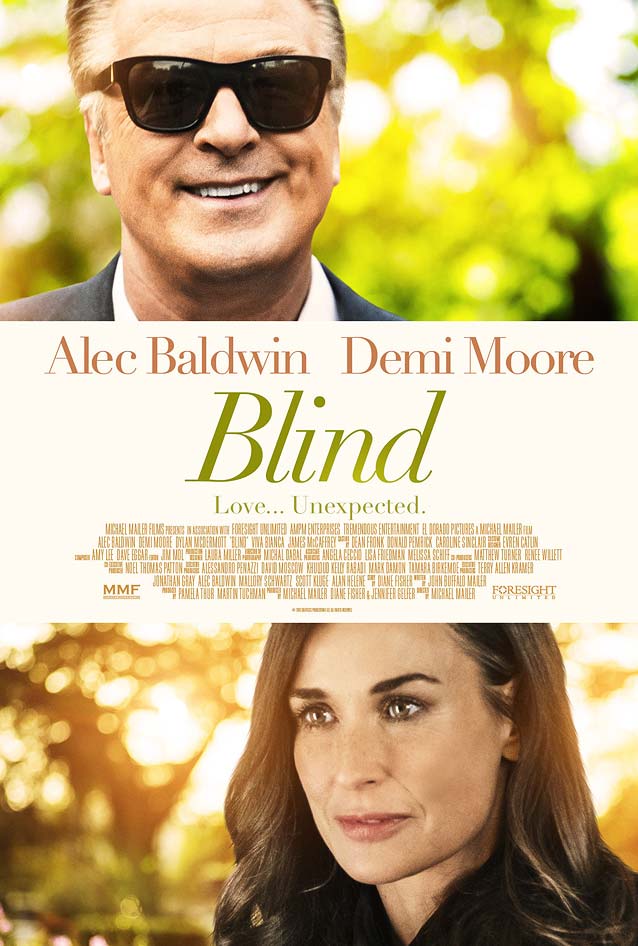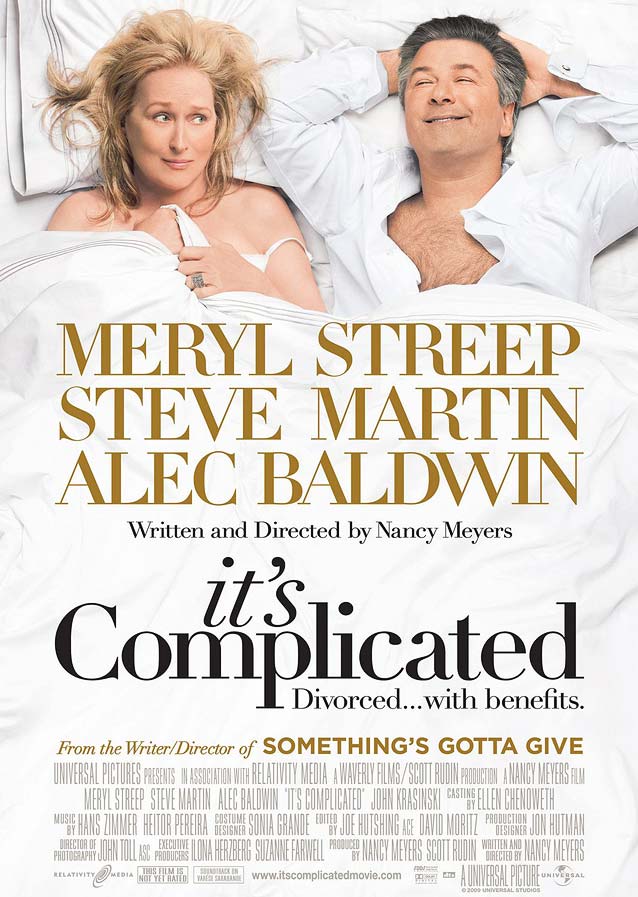 These posters are the signature style for romantic comedies like Blind. Stockholm Design dutifully sticks to the formula with tastefully tinted Linotype Didot. Comparable high contrast can be found in the largest optical sizes of families like Font Bureau's Benton Modern and Escrow, GarageFonts' Freight Big, and Carter & Cone's Miller and Stilson. Slightly disconcerting, however, is the total lack of contrast in Alec Baldwin's facial expression between this poster and the one for It's Complicated. Managing to freeze that exact same smirk on his face for eight years is a feat both impressive and eerie. Baldwin clearly deserves his Emmys, but this is very scary.
Palettes and patterns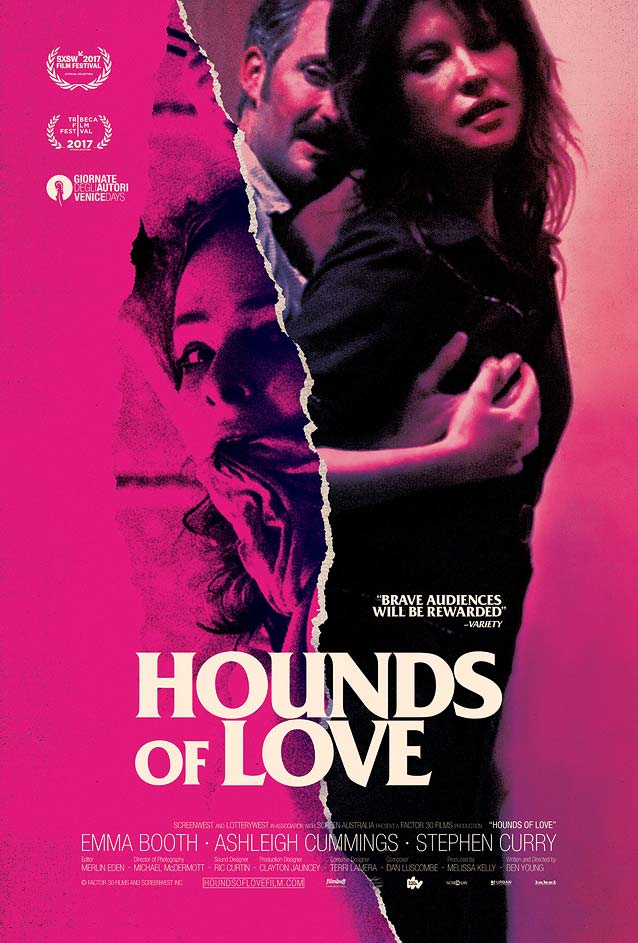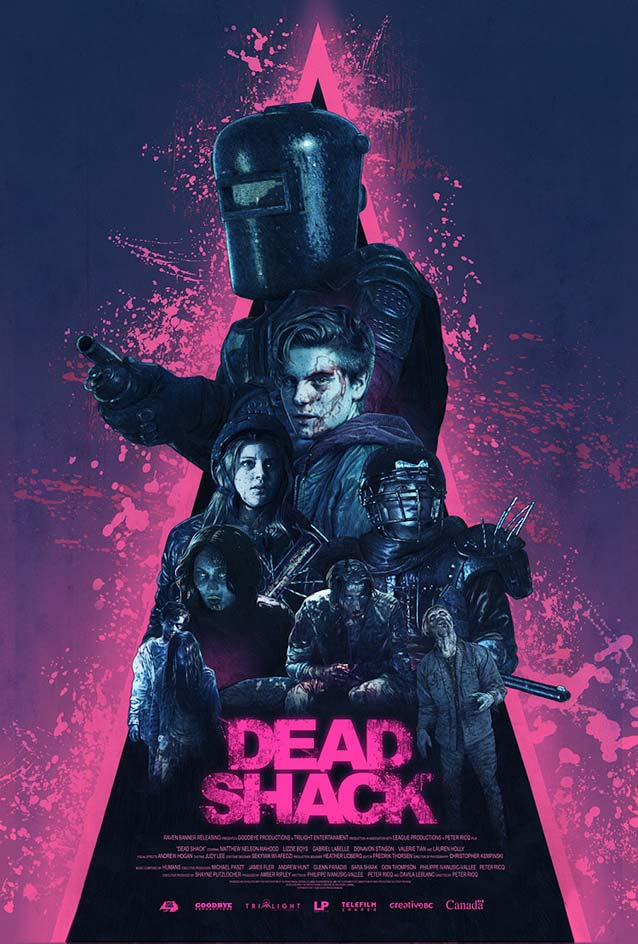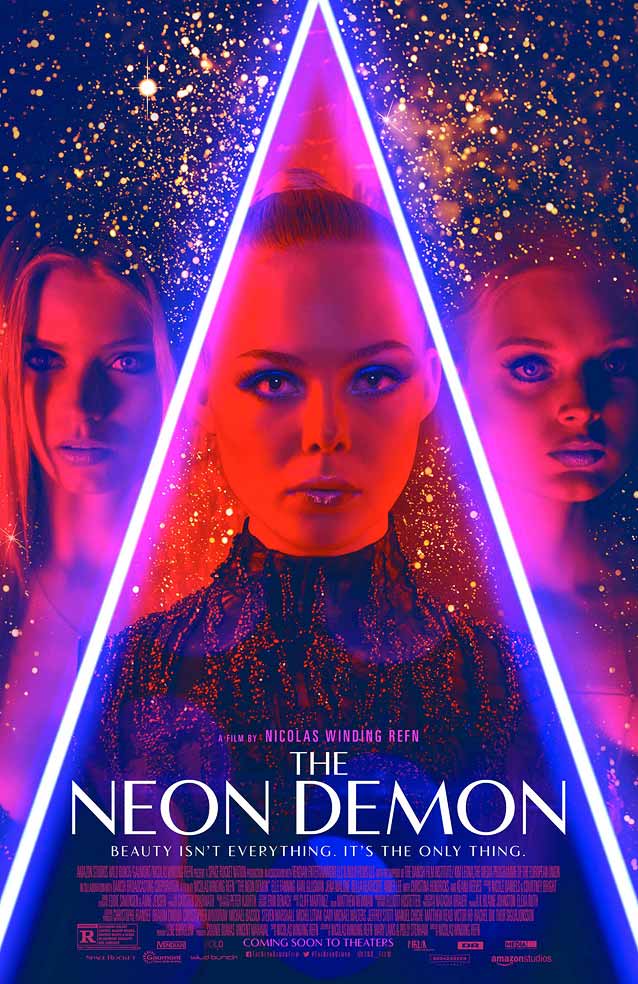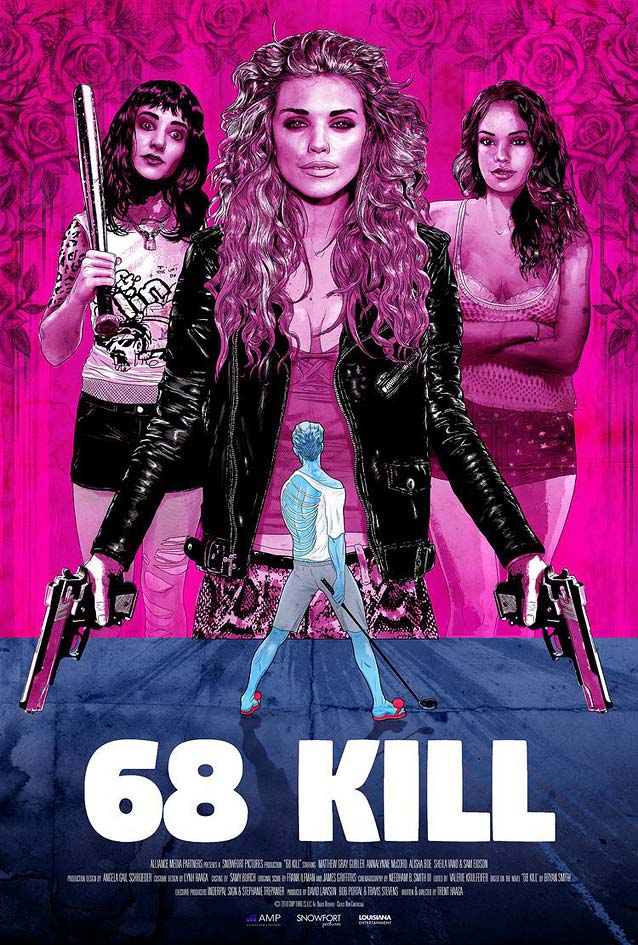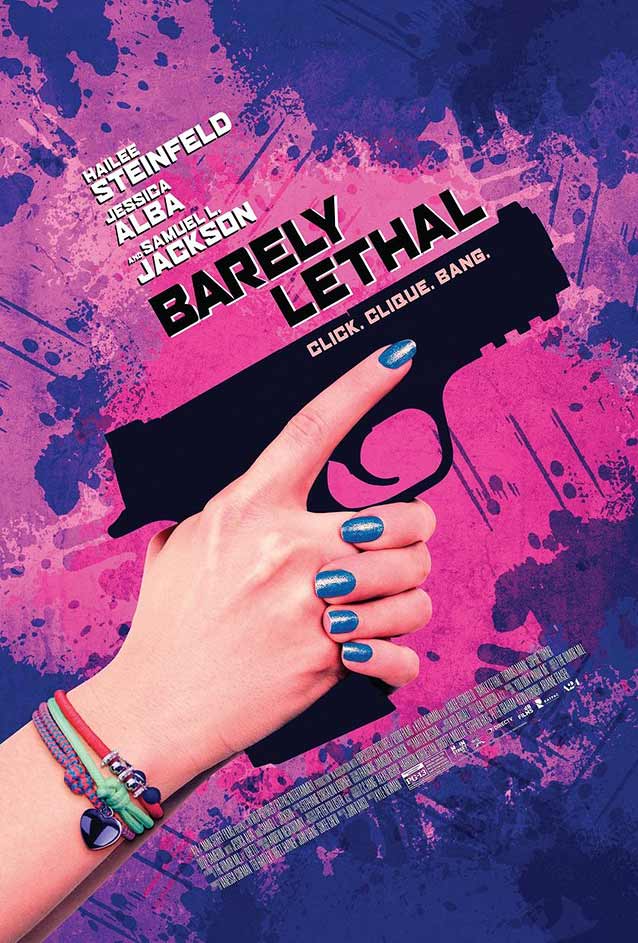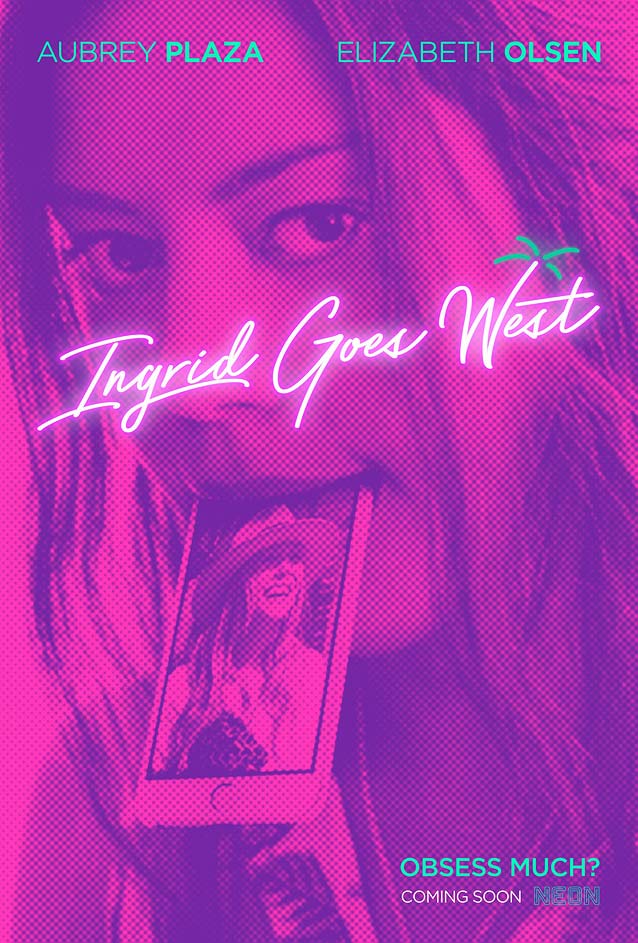 It may be premature to draw a conclusion, but Canyon Design Group's teaser for Ingrid Goes West seems to be part of a new trend in movie posters. The striking pink and purple hues immediately reminded me of Brandon Schaefer's unsettling one-sheet for Hounds of Love (discussed here a few months ago), last year's mesmerizing key art for The Neon Demon, and 2015's Barely Lethal. Three recent films also share this color palette: Tragedy Girls, Dead Shack, and 68 Kill. The common thread running through all of these movies is women in stressful, often violent situations like abduction, stalking, and murder. Is pink and purple the new orange is the new black? The glowing monolinear lettering with the abstracted palm leaves on the capital W alludes to the City of Angels. The letterforms strike the perfect balance between handwriting and neon signs. Cabarga Type's Neon Stream would have worked well here.
Ingrid Goes West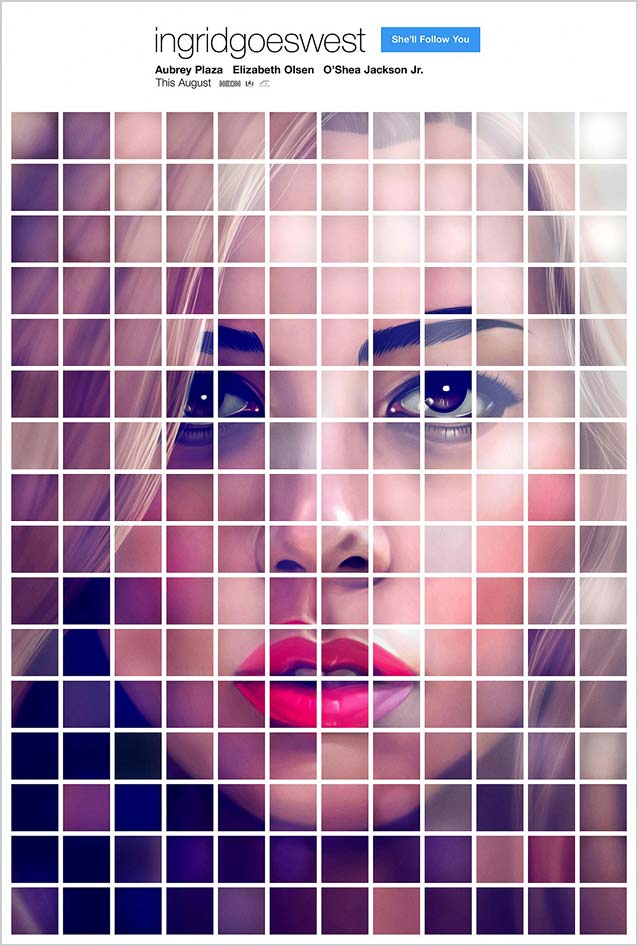 Mondo art director Jay Shaw commissioned Akiko Stehrenberger to design the official secondary poster. Using the movie's plot—an unhinged social-media stalker moves to Los Angeles and insinuates herself into the life of an Instagram star—as a starting point, Stehrenberger remixed the image-sharing platform's unmistakable visual language. She recreated Elizabeth Olsen's portrait as a mosaic of painted photo fragments, with the title and credits masquerading as Instagram profile details. The poster gives the disturbing impression that the stalker is peering at the viewer, her threatening presence completely taking over the photostream. On a conceptual level, this poster brings me back to my question from the March episode of ScreenFonts, where I reviewed two other posters that mimicked Instagram posts: Midnight Oil's clever theatrical one-sheet for Table 19 and GNAH Studios' alternate poster for the horror prequel Amityville: The Awakening. Stehrenberger approach is more relevant content-wise and much more artistic, yet the familiarity factor cannot be ignored. Similarly familiar is the use of Helvetica; Font Bureau offers the superior Neue Haas Grotesk, which is faithful to Edouard Hoffmann and Max Miedinger's original vision.
Women Who Kill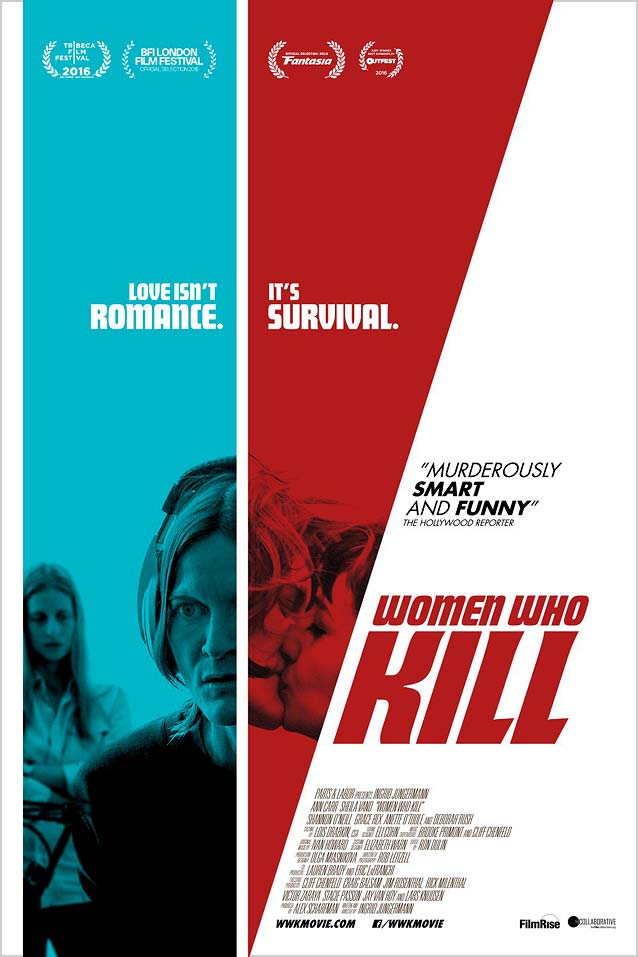 Since we're talking women, mayhem, and homicide, here's another film that fits the bill. In the comedic crime mystery Women Who Kill, commitment-phobic Morgan and her ex-girlfriend Jean, locally famous true-crime podcasters, suspect Morgan's new love interest is a murderer. No pink and purple here—just a splendidly confident piece of graphic art. The spirit of Reid Miles shines through the striking geometric composition: grayscale images laid over areas of bold, bright colors; great use of white space; and clever, nicely integrated typography. I usually frown upon mechanically sheared text. In this case, however, Futura Display's slanted shapes interact so well with the razor-sharp red triangle slashing down the middle of the artwork that I couldn't care less. 1932's Futura Display wasn't Paul Renner's only experiment with straight-sided sans serifs. Twenty years later, Bauer released his Steile Futura, also known as Topic. Guy Jeffrey-Nelson reimagined and expanded this typeface into Tasse, a contemporary family in four weights and five widths.
A Ghost Story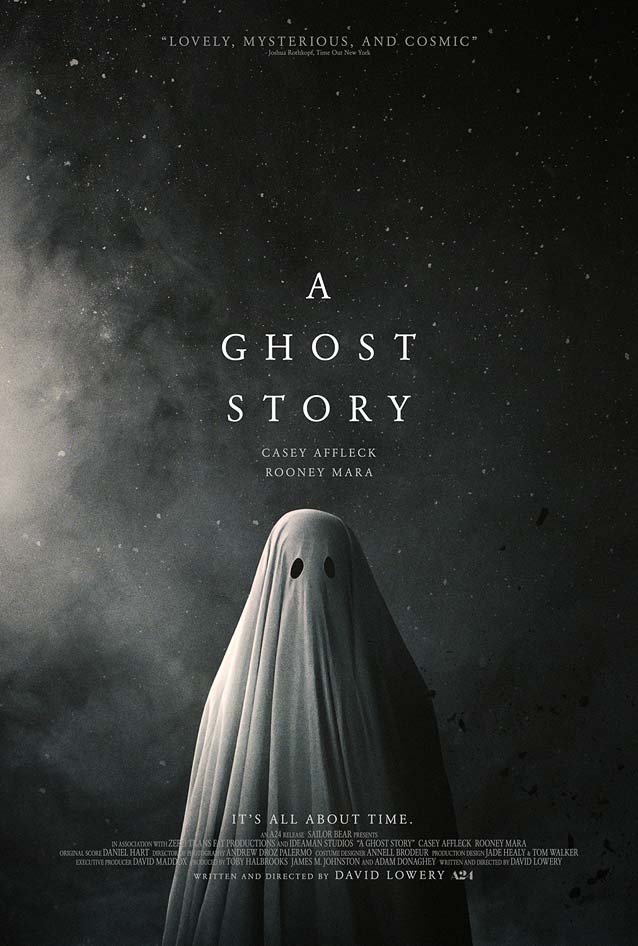 Another delightful design is P+A's spooky theatrical one-sheet for the romantic fantasy A Ghost Story. In this singular exploration of legacy, love, loss, and the enormity of existence, a recently deceased ghost returns to his suburban home to try to reconnect with his bereft wife. As with last episode's It Comes at Night, the typography here is quite bookish. URW Garamond is a slightly sharper redrawing of the classic model, much like Font Bureau's Garamond FB. Comparing the two posters—both set in essentially the same typeface—shows how typesetting can artfully influence a tone and alter an atmosphere. The gradual increase in size of It Comes at Night's lines of type came across as threatening; here, the calm, tracked-out caps communicate an otherworldly sadness and a sense of innocence.
Escapes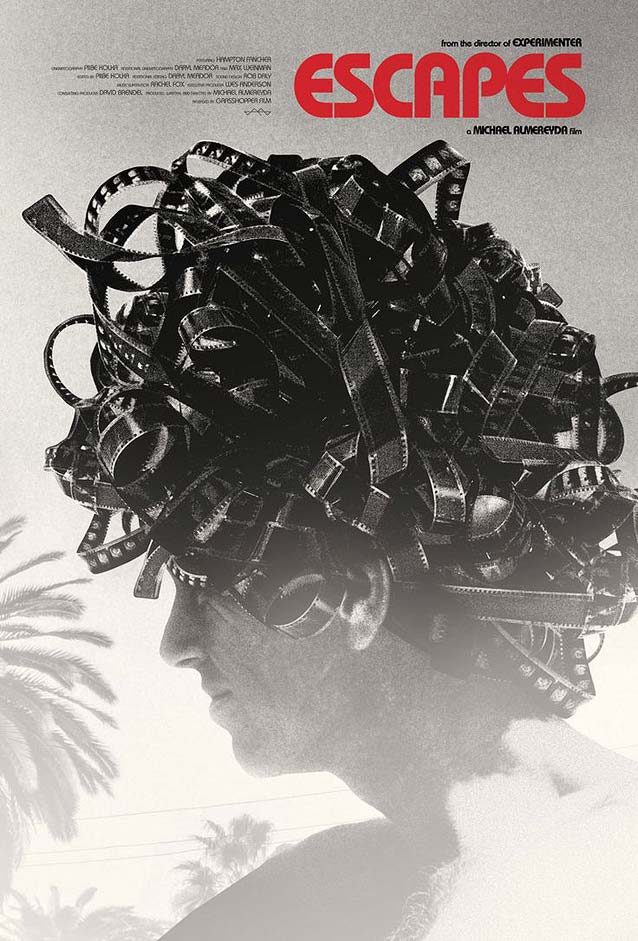 Brandon Schaefer, who makes up half of The Poster Boys, is a recurring guest in this column. Schaefer created the theatrical one-sheet for Escapes, a documentary about Hampton Fancher—flamenco dancer, actor, and the unlikely producer and screenwriter of the landmark sci-fi classic Blade Runner. The artwork for Escapes neatly updates the mid-twentieth-century Hollywood style with a sly nod to the groundbreaking Polish School of poster design. The faded grayscale image has a lovely nostalgic quality to it, with the surreal headdress turning the character into a cinematographic Medusa (no, not Ramiro Espinoza's virtuoso script face, but the horrifying mythological figure). As much as I love Schaefer's work, I don't agree with the fetishization of classic seventies and eighties typefaces. Maybe there's nothing wrong with ITC Bauhaus—but there's also nothing right. Using modern interpretations of retro type styles, such as the Erbar Grotesk-inspired Dunbar Tall, can have more impact than reaching for the same tired faces for the nth time.
Presence and absence
Greek designer Vasilis Marmatakis' character sheets for The Lobster are undoubtedly among the best posters from the past year. When I reviewed them last summer, I described them as "some of the most appropriate, most sensitive and most touching posters I have seen in a while. . . . The images of the principal actors hugging the void exude an immense sadness, making their emotional isolation and helplessness almost palpable." The movie's magical realism is masterfully evoked by erasing one of the characters in each design and leaving a white hole—a splendid use of negative space. To my surprise, I found no less than three one-sheets for this episode that employ similar tactics to great effect.
La jeune fille sans mains (The Girl without Hands)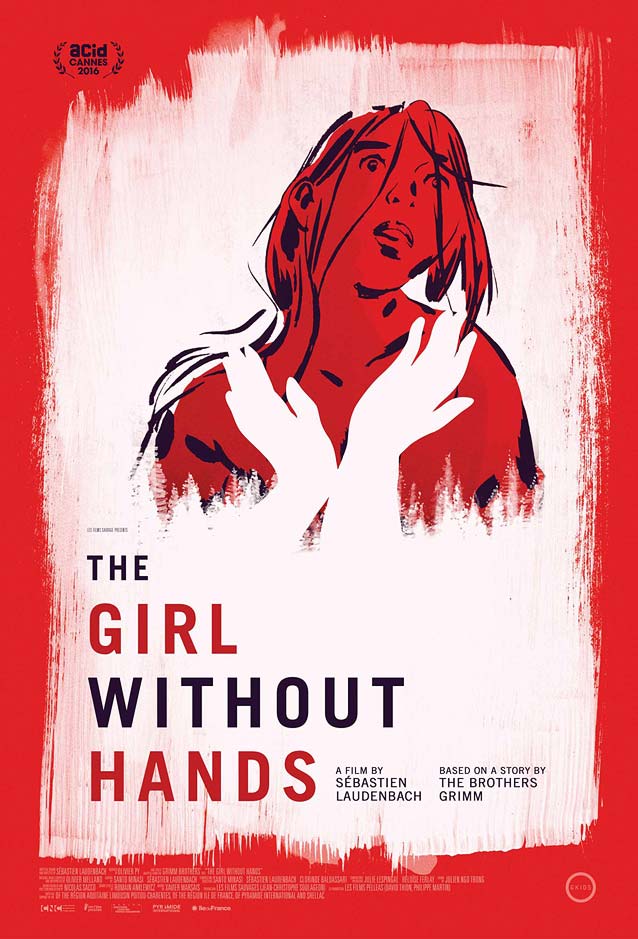 Based on a fairy tale by the Brothers Grimm, the animated feature La jeune fille sans mains (The Girl Without Hands) has a unique visual style. Loose brush strokes literally paint the story of the miller's daughter who, having been sold to the Devil by her father when he fell on hard times, gets her hands cut off when she escapes. On the international theatrical poster, the absence of the girl's hands is suggested by painting the solid red canvas white, including the hands but excluding the girl. Because we subconsciously equate white with a blank background, the hands appear not to be there, even though they were actually added on top of the red. The typeface is Trade Gothic Bold. Two decades ago, Tobias Frere-Jones carefully studied Morris Fuller Benton's iconic American gothics. Frere-Jones then embarked on a redesign that was expanded by Cyrus Highsmith and the Font Bureau studio into Benton Sans, an impressive series in five widths and eight weights with matching italics.
Wind River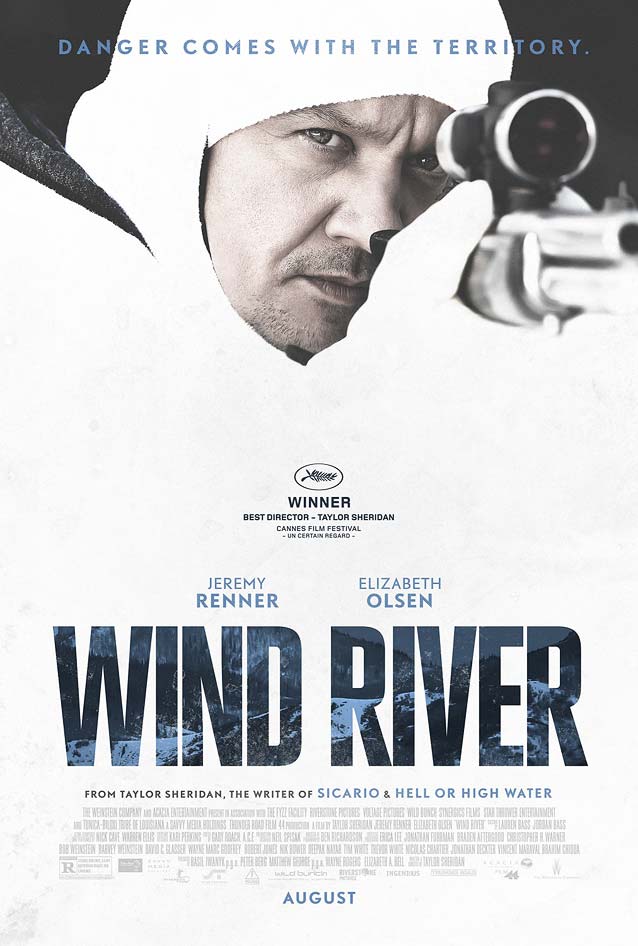 The poster for the crime mystery Wind River takes the opposite tack. In this excellent design, Gravillis, Inc., has erased the protagonist's snow-camouflage suit, turning it back into a pristine white area that holds film title, credits, and other text. Even though Jeremy Renner's body, arm, and hand holding the rifle have disappeared, we instinctively feel their presence. It's a subliminal trick that shifts our focus toward Renner's intense stare, as we involuntarily brace ourselves for the gunshot. The blue mountainous landscape inside the movie title looks sophisticated, and adds a nice dimensionality. The skyline gothic reminds me of Cyrus Highsmith's Antenna or Font Bureau's Titling Gothic. Other sans serifs offering this particular kind of very narrow width include Bureau Grot, Agency FB, and the aforementioned Tasse. DJR's Condor and Font Bureau's Empire are alternatives that have a nice thick/thin contrast.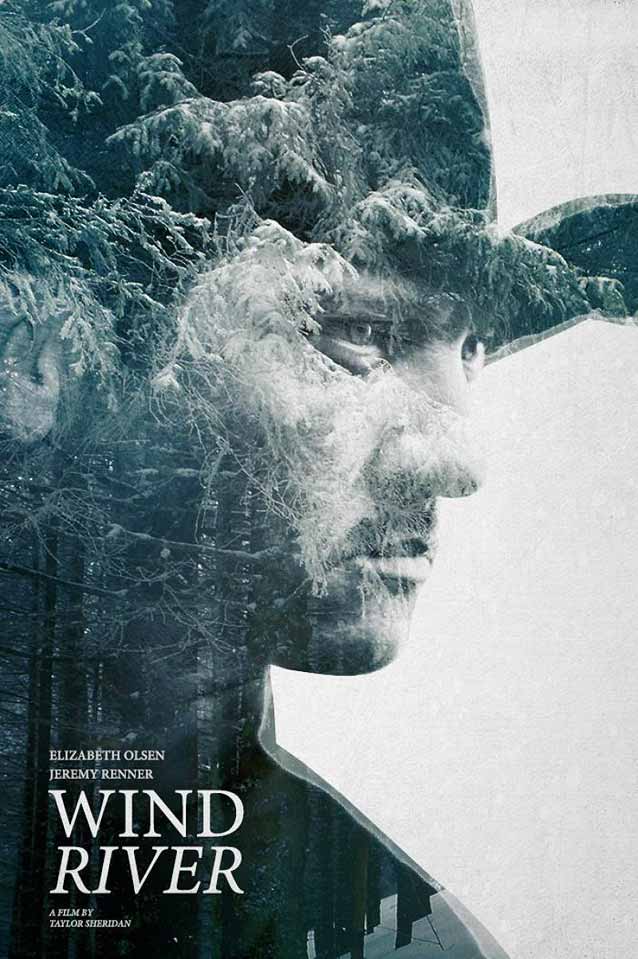 The two Wind River character sheets merge portraits of Renner and Elizabeth Olsen with shots of the snow-covered forest in the same blue hues. The result is beautiful, although Minion is a little disappointing as the titling face.
It's Not Yet Dark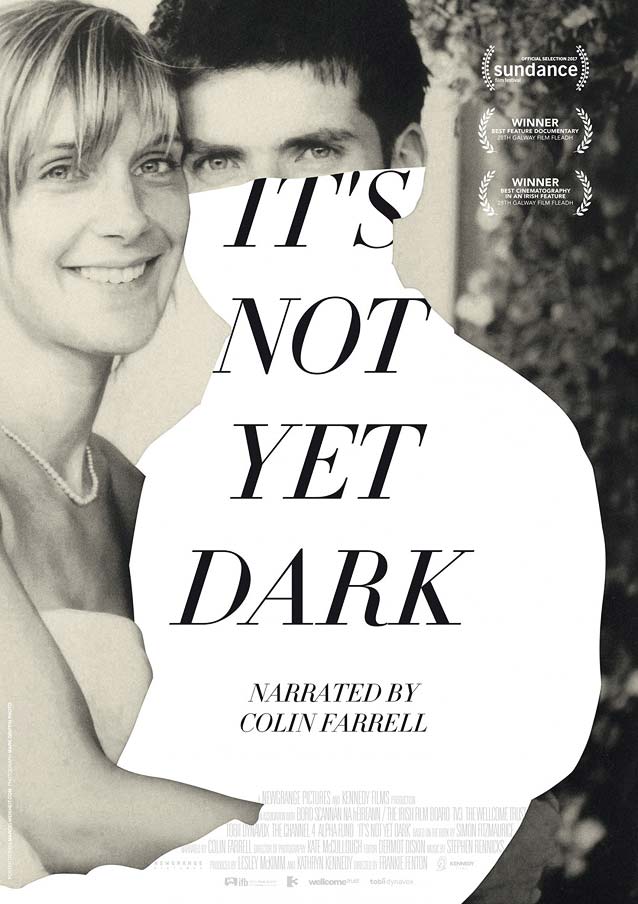 As Vasilis Marmatakis did with The Lobster, German designer Marcel Weisheit uses negative space to signify loss in his heartbreaking one-sheet for It's Not Yet Dark. This documentary follows Simon Fitzmaurice, a talented young Irish filmmaker with amyotrophic lateral sclerosis (ALS), as he directs his first feature film through the use of eye-gaze technology. Removing most of Fitzmaurice's physical presence from the intimate portrait with his wife serves a double purpose. It symbolizes his body gradually betraying him as he loses his mobility and ability to speak. Yet it also emphasizes his eyes—his last remaining means of communication—as a symbol of hope. The movie title is set in an italic Didone—see Stilson. Setting "IT'S NOT YET DARK" in big capitals in the negative space created by Fitzmaurice's missing body feels like him saying, shouting even, "I AM STILL HERE." It's a powerful message to his wife, his children, and the world that, no, he is not giving up yet, nor is he going gentle into that good night.
Just before publication, I was saddened to learn that Simon Fitzmaurice had
passed away
. On this emotional endnote, I think I'll reside a little in the cold, negative space between now and the next ScreenFonts.
Bald Condensed, né Yves Peters, is a Belgian-based rock drummer known for his astute observations on the impact of letterforms in the contemporary culture-sphere. A prolific writer on typography, he has a singular knack for identifying the most obscure typefaces known to humankind.