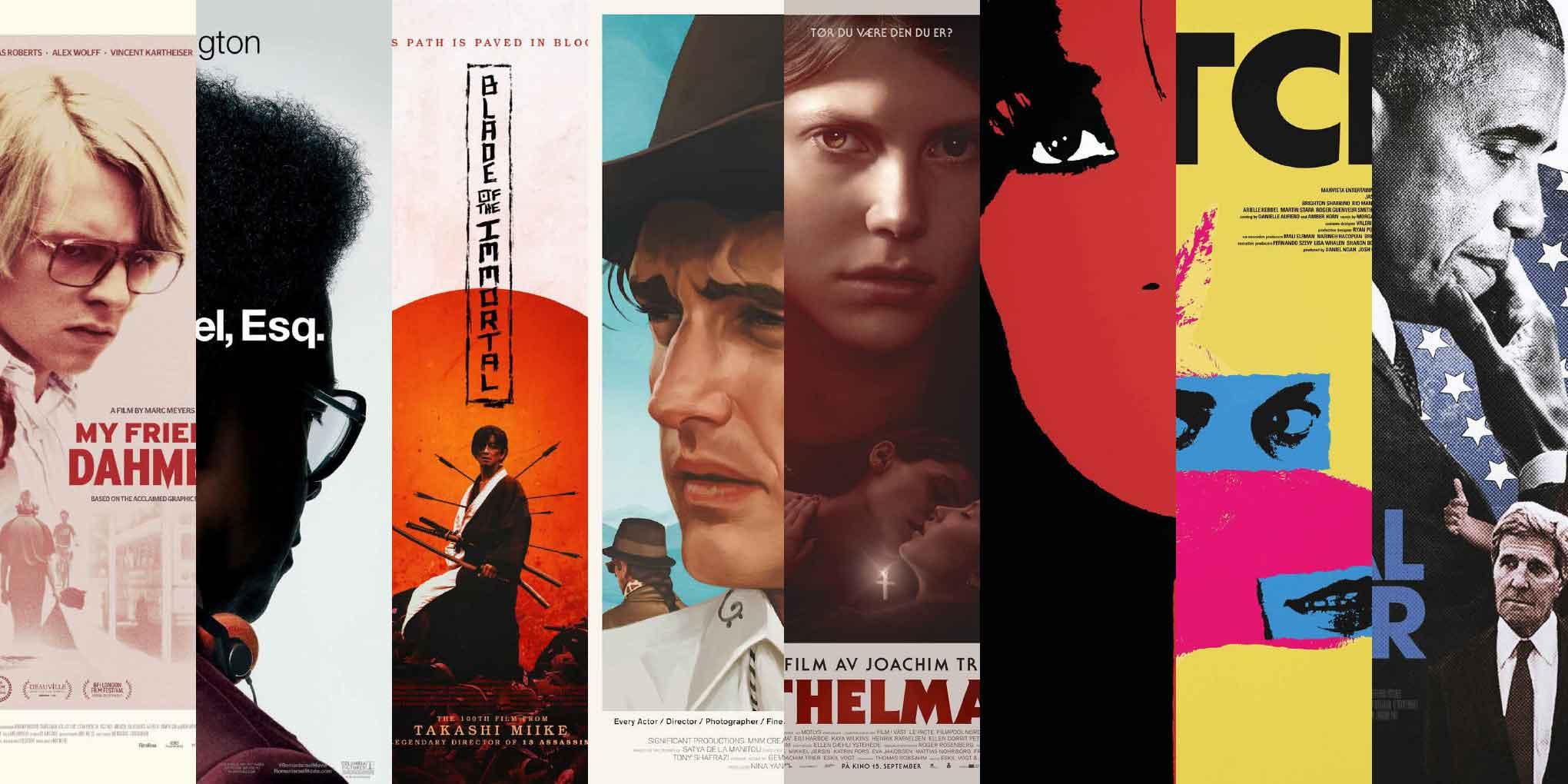 ScreenFonts: December 2017
This episode of ScreenFonts unexpectedly turned out to resemble a blind taste test. I look at posters for My Friend Dahmer, Roman J. Israel, Esq., Mugen no jûnin (Blade of the Immortal), Along for the Ride, Thelma, Most Beautiful Island, Bitch, and The Final Year.
Sometimes I wonder if I'm biased, if I select certain movie posters for ScreenFonts simply because I recognize the artist's name. Other times, I find myself frustrated by missing credits on
Internet Movie Poster awards
—an inconvenient but probably unavoidable consequence of the website's user-generated content. For example, take
James Jean
's teasers for
mother!
, which
I wrote about last month
: only the
Javier Bardem
key art is properly credited, while the piece featuring
Jennifer Lawrence
is not. These two phenomena—suspecting an unconscious preference for artists I know combined with missing credits—converged this month when I chose posters for two different films that jumped out at me, only to
find out later
that both were designed by
Jay Shaw
, one of my favorite artists. So, yes, this episode has three
Akiko Stehrenberger
one-sheets. But that's only because they're so damn good.
My Friend Dahmer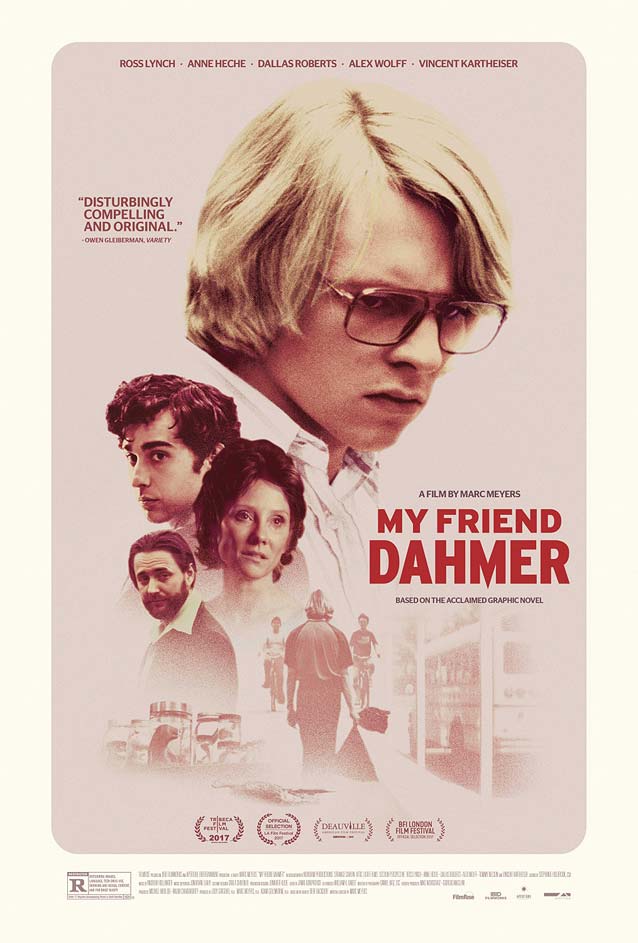 I've been known to make fun of floating heads, both in ScreenFonts and in my talks. For all that, though, I've never considered this design strategy to be disqualifying. Floating heads can be done well, as demonstrated by the theatrical one-sheet for My Friend Dahmer—a biographical drama about the future serial killer struggling to fit in during high school. Heads of diminishing sizes create an arc that snuggles around the title and transitions into hazy scenes from the movie. The key art adopts the look of a faded photograph from the 1970s, with all of the cyan sucked out of the mix. What remains is a palette dominated by muted pink and yellowish hues. Charming? Endearing? Or a stomach-churning reference to human flesh and skin, with the sharp vertex of Interstate's M cleaving into it? [Author's note: Ironically, immediately after publication, I learned via Twitter that the poster for My Friend Dahmer, the first piece I selected for this episode, was designed by Brandon Schaefer (one half of The Poster Boys), another artist whose work I appreciate very much. Which, incidentally, proved the point I was trying to make in the introduction.]
Roman J. Israel, Esq.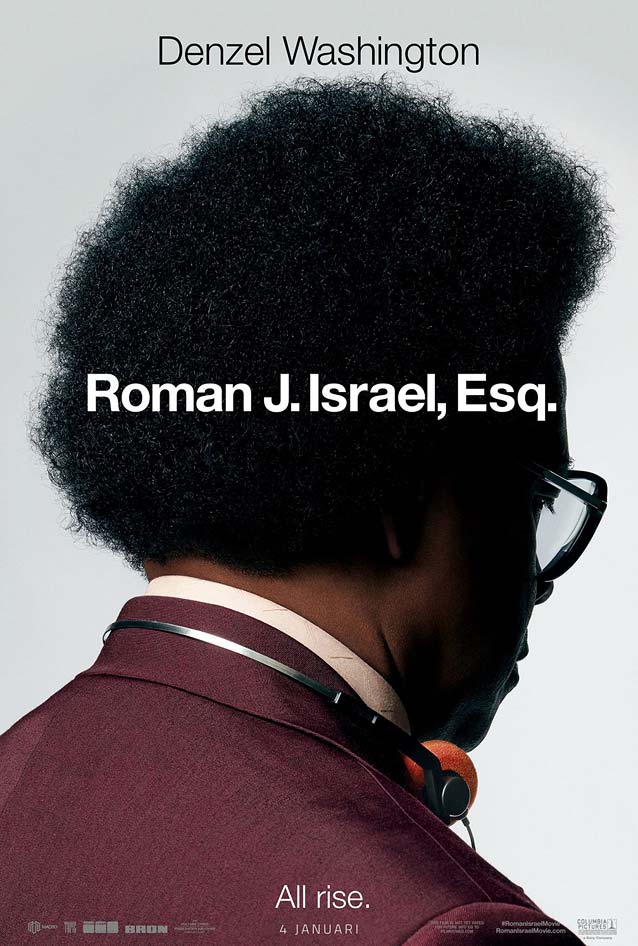 Head, meet type. Thoughtfully integrating typography into a human silhouette usually produces fine results. The trick is to create tension between the composition of the text and the shape of the human form. BLT Communications' teaser poster for Roman J. Israel, Esq., focuses on what Denzel Washington calls his "Shaft hair." In a November 2017 interview with Tim Kash on The IMDB Show, Washington said: "I might have been fifteen, sixteen, and I was like, 'Who's this dude, walking in his leather jacket, just cutting across the street, and the cars never hit him, and he has his own theme music!' I wanted to be Shaft. In fact, [in the movie] I've got the Shaft hair, kinda." This symbol of black pride creates a seventies vibe that is amplified by the simple line of knocked-out Neue Haas Grotesk—tight but not touching. And by the Sony Walkman headphones, of course.
Mugen no jûnin (Blade of the Immortal)
Despite increased awareness, cultural appropriation still haunts graphic design. Exoticism, which became popular in the late nineteenth century under the influence of European colonialism, also expresses itself in typography with designs that are now widely recognized as culturally insensitive. The question remains: How much of an "exotic" culture can be injected into Latin letterforms before a line is crossed? In order to explore this conundrum, I singled out some of Gravillis Inc.'s posters for Mugen no jûnin (Blade of the Immortal), Takashi Miike's film based on Hiroaki Samura's popular Japanese manga series. Because I don't feel qualified to comment, I solicited feedback from Toshi Omagari, a type designer specializing in multilingual scripts; localization and globalization expert Hitomi Kudo and her husband, Dr. Ken Lunde, CJK specialist at Adobe Typekit; and calligrapher Keiko Shimoda, who excels at both Latin and Japanese calligraphy and worked on props for 47 Ronin.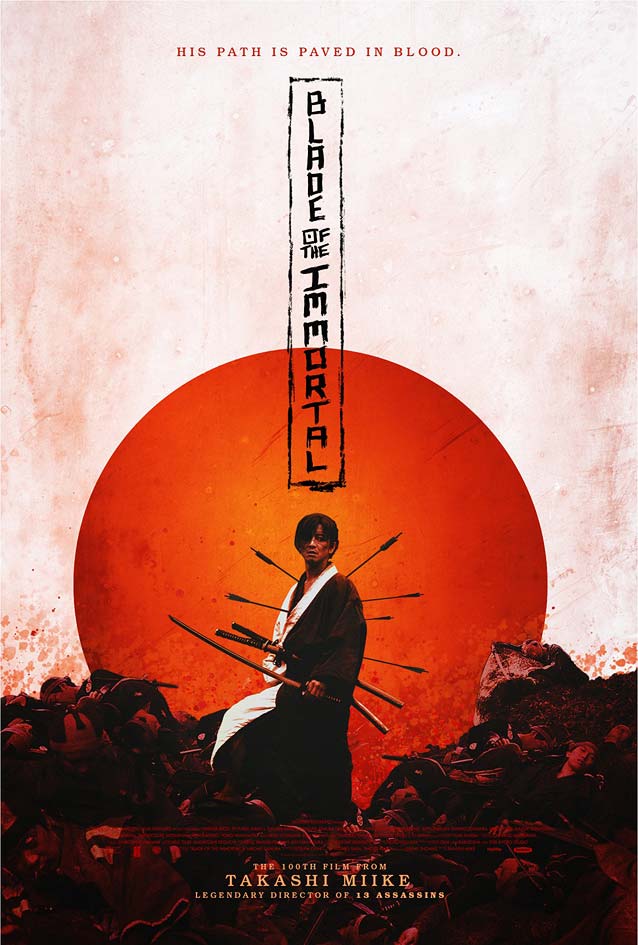 In this dramatic design, Manji, the titular samurai cursed with immortality, stands defiantly against the rising sun, transpierced by arrows and surrounded by slain opponents. The composition is superb and the artwork has a wonderful painted texture, as does the film title. Its vertical orientation, the squareness of the letterforms, and the cartridge around them are indirect references to Japanese orthography. The supporting typeface, Bookman, was brilliantly revived by Mark Simonson as Bookmania. While Omagari preferred the overall composition in this poster, Lunde pointed out that some of its letterforms—particularly the B, O, and M—were forced into the structure of ideograph components. Because they feel unnatural, especially when written vertically, Kudo added that the lettering comes across as culturally insensitive. Interestingly, Shimoda favored the lettering in this poster. "Miike is famous for the violence and sword-fighting in his movies," she explained. "I regret I don't feel any action or speed from either lettering. They both seem too tidy, yet I prefer the first one because the design resembles a stamp or a series of sword chops."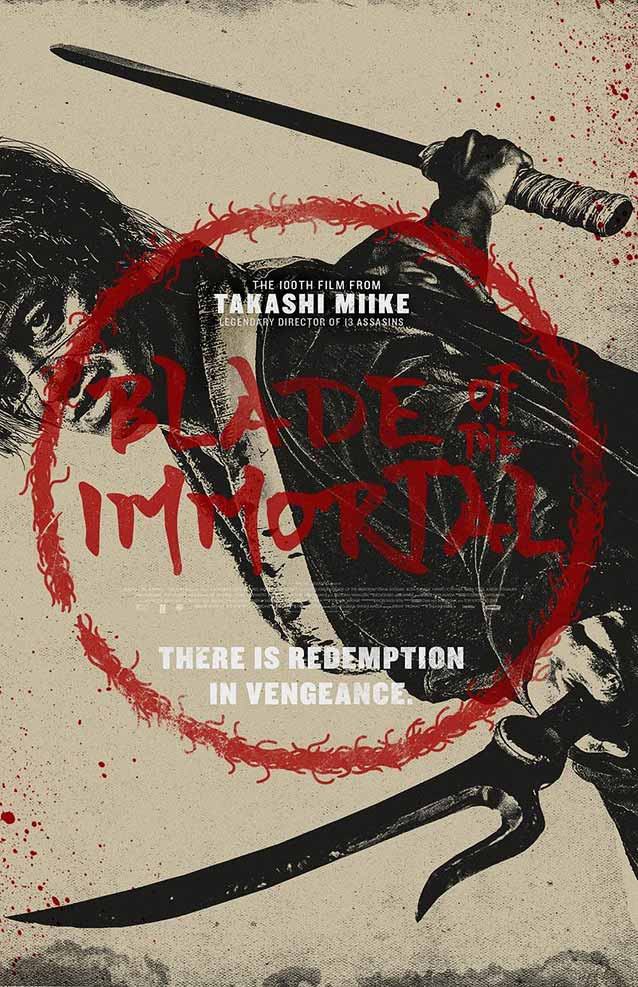 The high-contrast, black-on-tan treatment of the American one-sheet makes it look like a woodblock print overlaid with the red film title and a circle of sacred bloodworms. Here, the letters maintain their Latin structure, but the individual strokes mimic the marks made by a calligraphy brush. The secondary type is consistent with the wood-printing aesthetic; something like Rhode might work well as an alternative here. While Shimoda lamented the lack of energy in this version, Omagari, Kudo, and Lunde all agreed that its lettering is better executed and more appropriate. Lunde asserted that it is tastefully done, and felt that the use of a calligraphic brush to draw the Latin letterforms yielded superior results.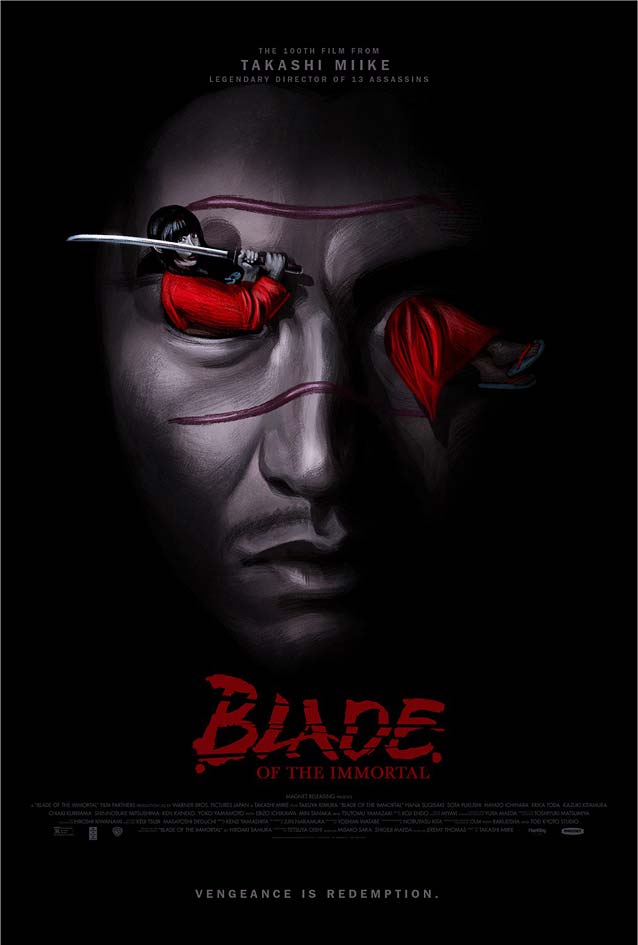 The third Gravillis poster features painted artwork by Akiko Stehrenberger. It circumvents any possible issues by reprising the original logo from the manga series' Western editions. The blotchy letterforms resemble blood stains rather than calligraphy, with several slices symbolizing sword cuts. Without wanting to give away too much, Stehrenberger told me that her dark, gloomy painting was inspired by the surreality and gore of the film. Her visual metaphor for Manji and Rin's relationship is as inventive as it is haunting.
Along for the Ride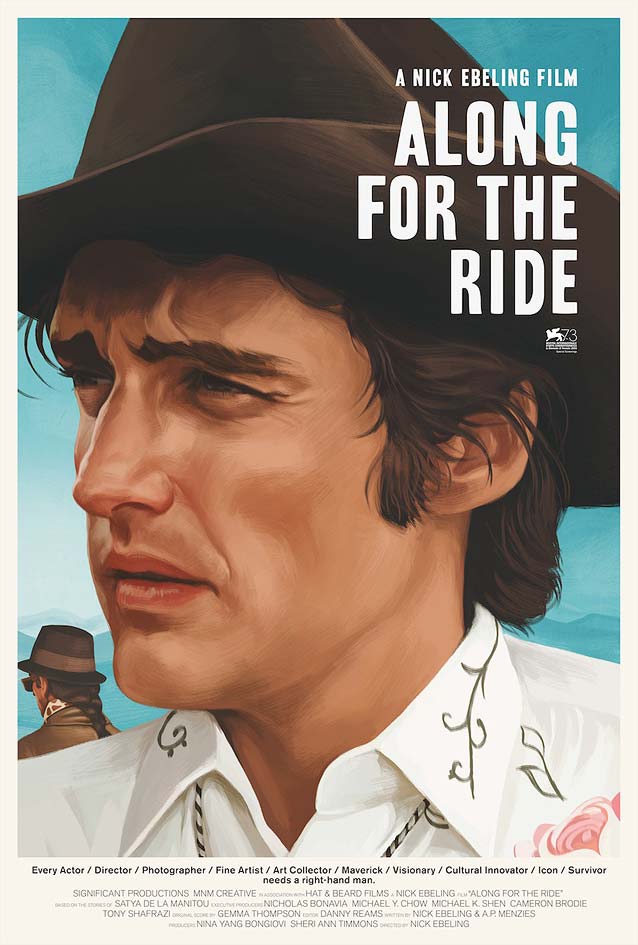 The second Stehrenberger entry in this episode of ScreenFonts is the main theatrical one-sheet for Along for the Ride. The documentary explores the highs, lows, and, ultimately, the phoenix-like ascension of iconic Hollywood maverick Dennis Hopper as seen through the eyes of his mysterious longtime right-hand man, the elusive Satya de la Manitou. Their relationship is expertly visualized through lush brushstrokes; Hopper's head fills almost the entire canvas, while De la Manitou, facing away, appears all the way in the back, behind Hopper's shoulder. Stehrenberger told me that the film title mirrors the typography used throughout the film, and is based on the type from Hopper's The Last Movie. The tall, compact letters with blunt corners resemble Garage Gothic or Hamilton; either would have worked well here.
Thelma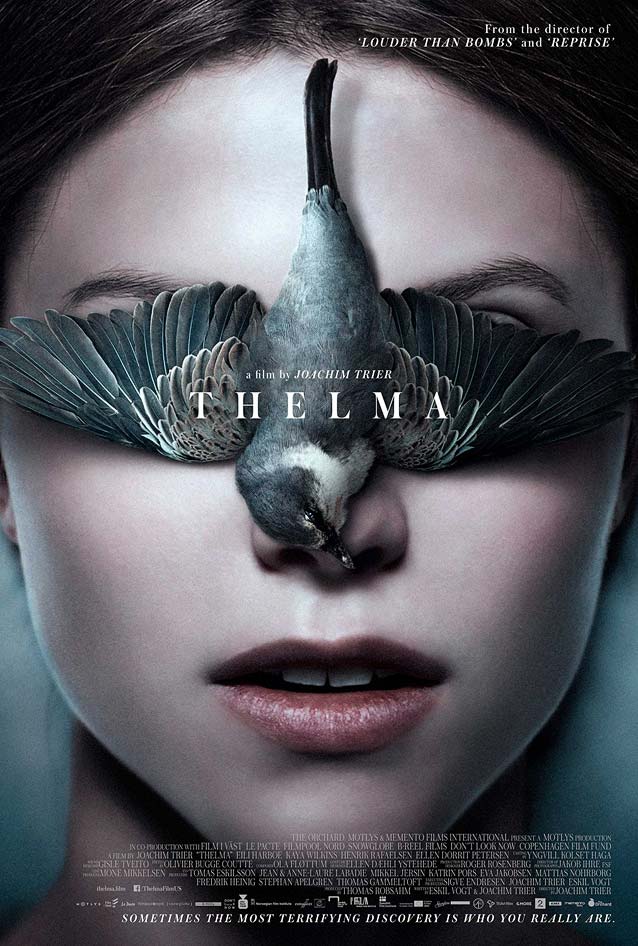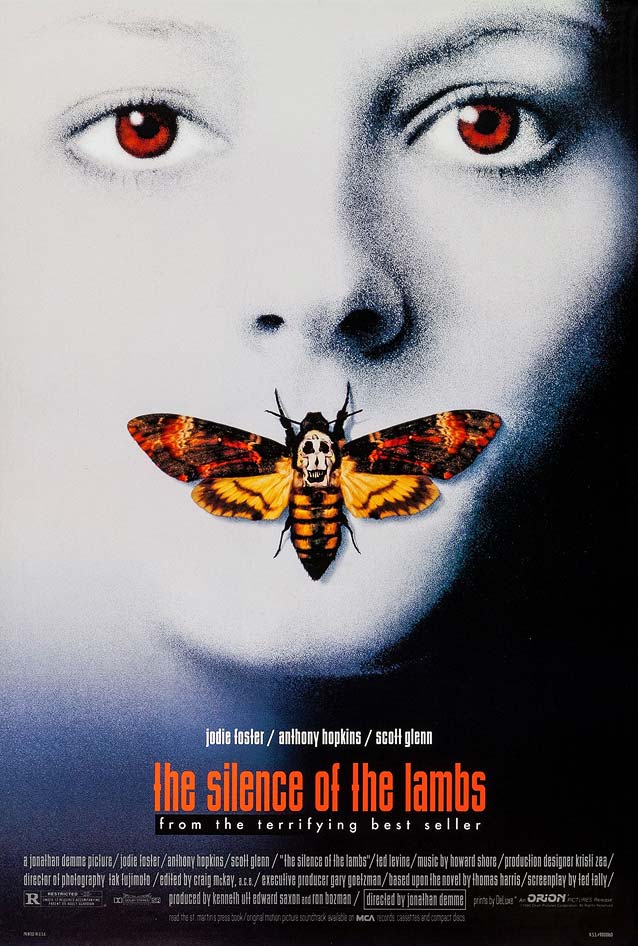 Even though I originally fell for Stehrenberger's third entry this month (see below), I quickly became enamored of P+A's magical American one-sheet for Thelma, a supernatural thriller about a confused, religious young woman. While attempting to deny her feelings for a female friend who's in love with her, the titular character's suppressed psychokinetic powers emerge. The slightly unsettling presence of the dead bird lying on Thelma's face flung me back to my childhood—I associated the image with the zoological engravings in my grandfather's 1903 encyclopedia. The delicate turn-of-the-century serif type (could it be Paul Barnes' Austin?) beautifully complements the hyperrealistic painting. You can find similar refinement in the larger optical sizes of families like Benton Modern, Escrow, or Miller. An observation: it's better not to letterspace lowercase characters, but if you decide that you really must, be sure to deactivate the Ligatures feature; see "a film by" right above the title for an example of what happens when such details are overlooked. This poster also reminded me—in a good way—of BLT Communications' equally splendid and iconic key art for The Silence of the Lambs.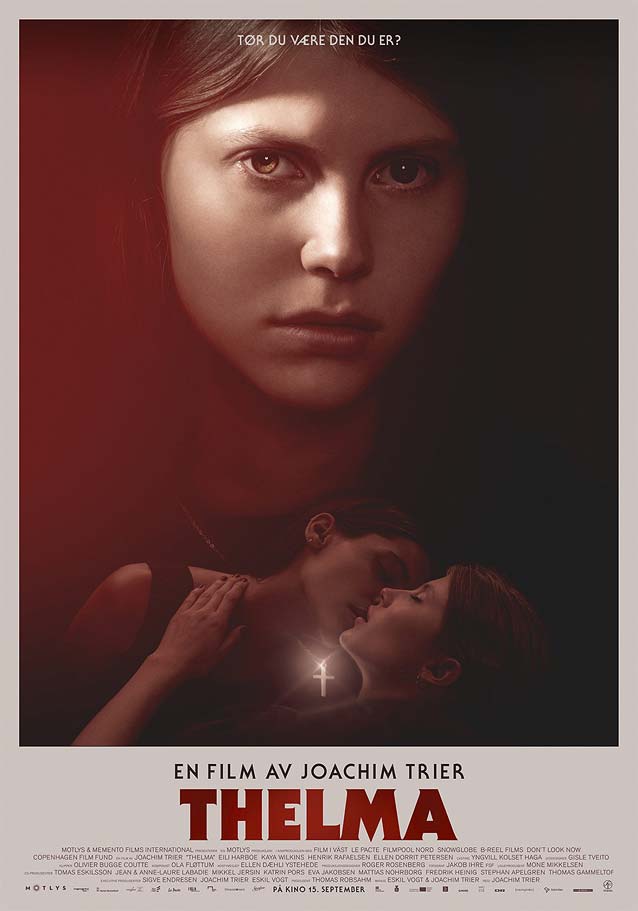 Akiko Stehrenberger was commissioned to create the domestic one-sheet for the Norwegian market. She told me that, after trying several other ideas featuring illustrations, marketing team Motlys decided on a photorealistic approach. Apart from the intense stare, this polished design largely veers away from the supernatural aspects of the movie. Instead, it homes in on the love story between the two women, which conflicts with the main protagonist's strict religious upbringing. Stehrenberger chose ITC Serif Gothic, a face favored by the hip horror crowd. Check out Dunbar Tall for a similarly retro feel.
Most Beautiful Island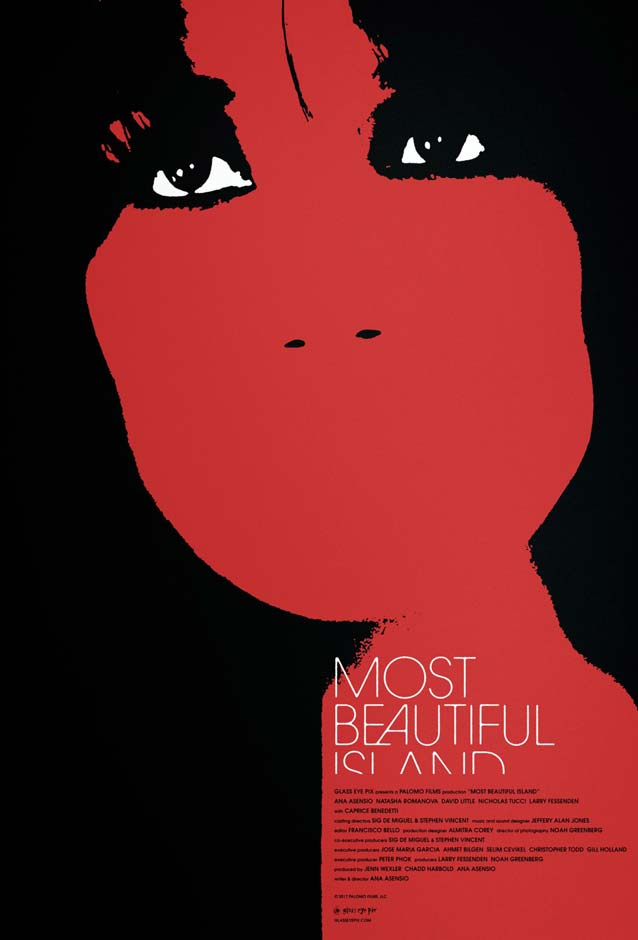 This one-sheet and the next are guaranteed to stand out against any other posters on a wall or in a marquee. Both are the work of Jay Shaw, who gave them a striking, uncompromising graphic quality, a rawness that belies their sophistication. To visualize a young undocumented woman's struggle for survival in the thriller Most Beautiful Island, Shaw reduced the lead's face to her eyes and just a hint of her nostrils, almost completely interrupting her ability to breathe and all but erasing her speech and her identity. This claustrophobic metaphor masterfully evokes the film's atmosphere. The typographic composition is breathtaking—white, slightly blurry ITC Avant Garde Gothic in an airtight lockup, the lower half of the last word submerged in nothingness as if to accentuate its meaning. Placing the type in the lower red area, with both the film title and the credits left-aligned against the black shadow, was a perfect move on Shaw's part. Of the geometric sans serifs with very thin weights in Type Network's library, Zeitung, Navigo, and New Hero would capture the edgy atmosphere of this excellent design equally well.
Bitch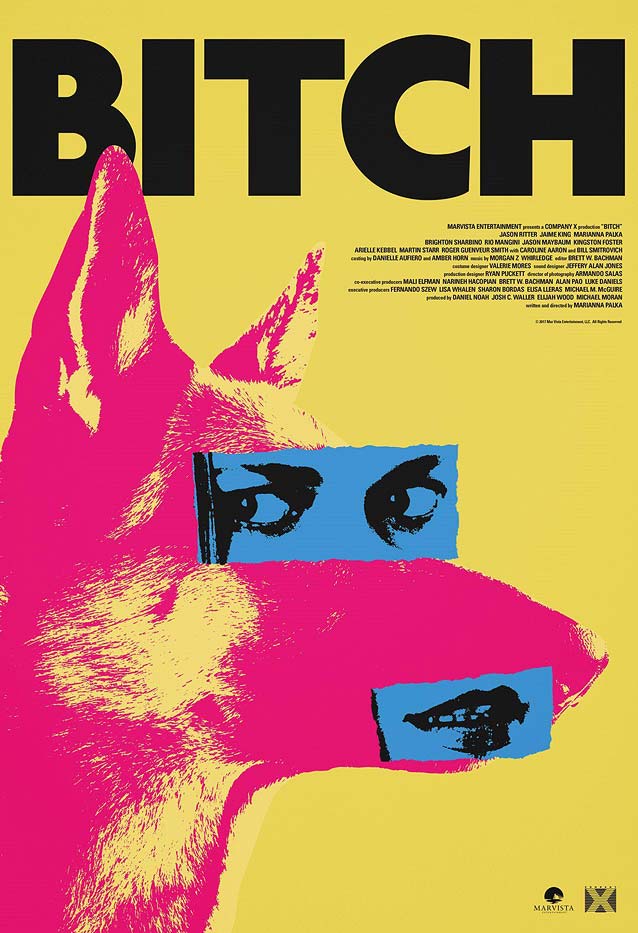 In the family drama Bitch, a woman snaps and assumes the psyche of a vicious dog while her checked-out, philandering husband attempts to keep the family together. Wonderfully in tune with the movie's content, Jay Shaw adopts a punk aesthetic for the theatrical one-sheet, pasting together posterized image fragments in pure cyan, magenta, yellow, and black. The German shepherd's head with female eyes and mouth combine angry resolve with mischievous humor. Here, Futura slips on its darkest weight to give the provocative film title maximum emphasis, with right-aligned credits nicely positioned underneath. These two posters showcase the extent to which Jay Shaw is a master of succinct power. He is one of a few adventurous voices in contemporary poster design who manage to marry legendary art movements like the Polish School of Posters with modern designs that are completely their own. Where others pay homage and recycle what came before, Shaw reinvents, creating original, forward-thinking art that pushes the boundaries of what constitutes commercial film-poster design.
The Final Year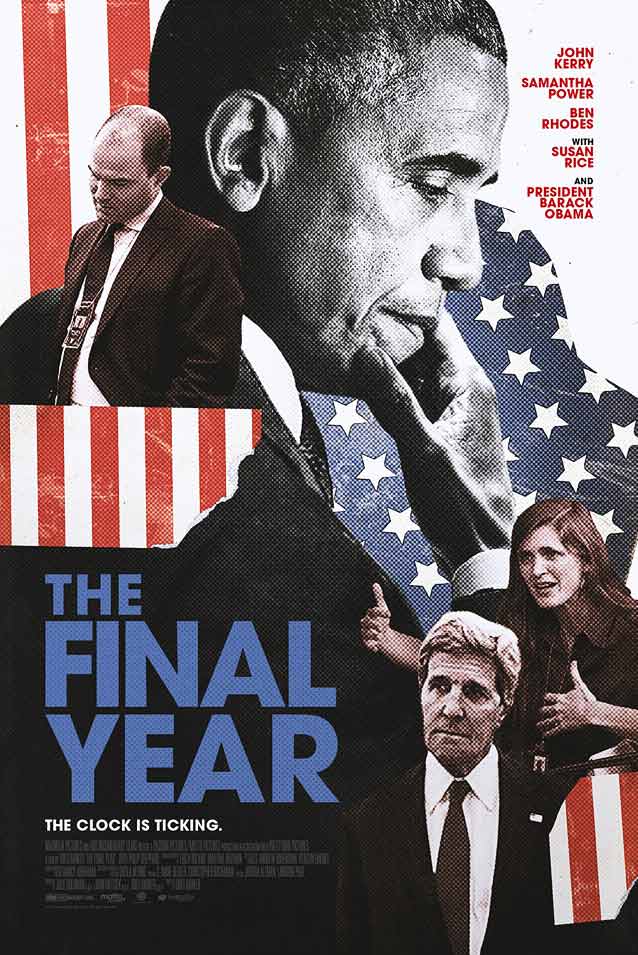 We end with another instance of ITC Avant Garde Gothic on Gravillis Inc.'s key art for The Final Year, a unique insiders' account of President Barack Obama's foreign-policy team during their last year in office. The newsprint-like quality of the images, assembled in a collage with a simplified color palette of red, black and white, and blue, lends the poster an urgency and an authenticity, like a graphic commentary on the current state of affairs. The resulting image is gorgeous, akin to a piece of contemporary art.
And with that, 'tis the season to take a break and be with family and loved ones. Save room for a quick serving of The Leftovers and then we'll reconvene in the new year. Happy holidays!
Bald Condensed, né Yves Peters, is a Belgian-based rock drummer known for his astute observations on the impact of letterforms in the contemporary culture-sphere. A prolific writer on typography, he has a singular knack for identifying the most obscure typefaces known to humankind.