Richard Lipton mines early twentieth-century lettering for Collier
Lipton Letter Design's latest release is a delicately flared all-purpose type family with an astonishing typographic scope.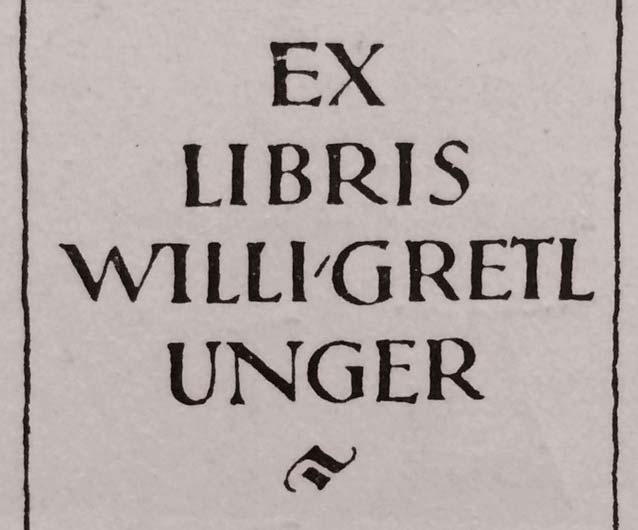 He never knows when inspiration will strike, so Richard Lipton always keeps his eyes and mind wide open.
Collier
owes its existence to a chance encounter with an ex libris found in
The Art of Lettering
by Carl Lars Svensen, published in 1924. Unger's bookplate was delicately hand-lettered by the Austrian lettering artist Hertha Ramsauer, who was either a colleague or student of
Rudolph von Larisch
, the Austrian archivist who lectured on lettering and typography in Vienna in the early twentieth century. The capitals exhibited an elegant contrast and subtly flared serifs that struck a chord with Lipton. Those few letters provided the seed for Collier's design. They presented enough of a challenge for Lipton to use them as source material for a full uppercase alphabet, which he complemented with a matching lowercase. He then developed the typeface into an expansive family, drawing a multitude of weights and widths in small increments, as a sort of pre-variable offering.
Collier occupies a magical space between serif and sans serif, combining the best of both worlds. Because of its balanced proportions and moderate contrast, as well as the lack of intricate details in its letterforms, it doesn't need optical sizes. The tapered finials and flared serifs look refined in display settings. Those serifs ground the characters, creating a comfortable text flow, while the open apertures keep Collier readable in text sizes. It can be deployed in editorial design, in identity design and branding, for corporate use, in packaging—the applications for the family are virtually limitless. Collier's final tally is twelve weights in seven widths, all in roman and Italic, adding up to a total of 168 styles. This impressive breadth offers a great deal of flexibility for users who can't yet access the infinite instances that a variable font will be able to generate once this technology is fully accepted and commercially viable. Collier is the perfect antidote for all-purpose families that lack personality. If you're on the hunt for a versatile family that is not only elegant and reliable, but also covers a wide range of weights and widths, take Collier for a spin.
Like all Lipton Letter Design fonts, Collier is available for print, web, applications, and ePub licensing. Webfonts may be tested free for thirty days; desktop trials are available upon request. To stay current on all things Lipton, subscribe to Type Network News, our occasional email newsletter featuring font releases, foundry happenings, type and design events, and more.