Neville Brody joins Type Network
With the addition of
Brody Fonts
, Type Network welcomes one of the most acclaimed designers of his generation as a foundry partner. Get ready to take a walk on the wild side.
Neville Brody
is more than an iconic and influential graphic designer—he has also played a seminal role in digital typography. Soon after Joan and
Erik Spiekermann
launched FontShop in 1989, Brody and Spiekermann cofounded FontFont, which would grow into the world's largest independent collection of original typefaces until its acquisition by Monotype in 2014. Brody's other major achievement in this field is
FUSE
, the quarterly magazine for experimental type design he cocreated with
Jon Wozencroft
.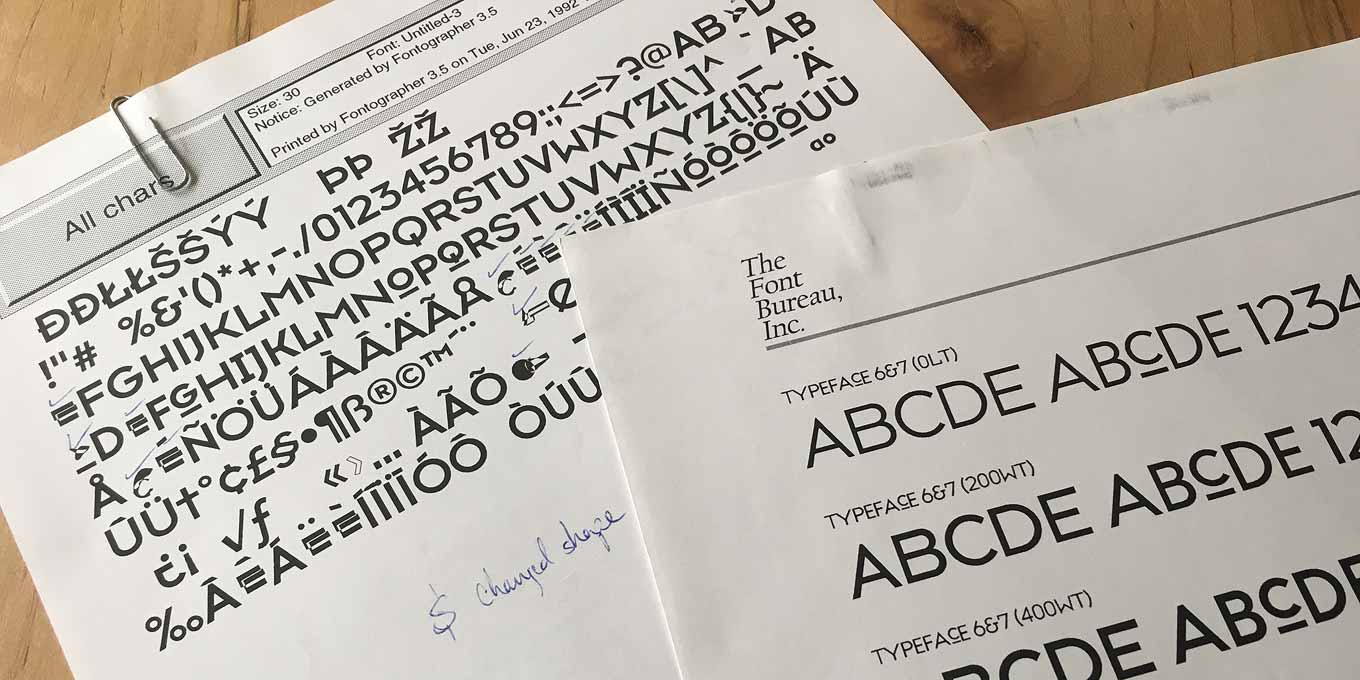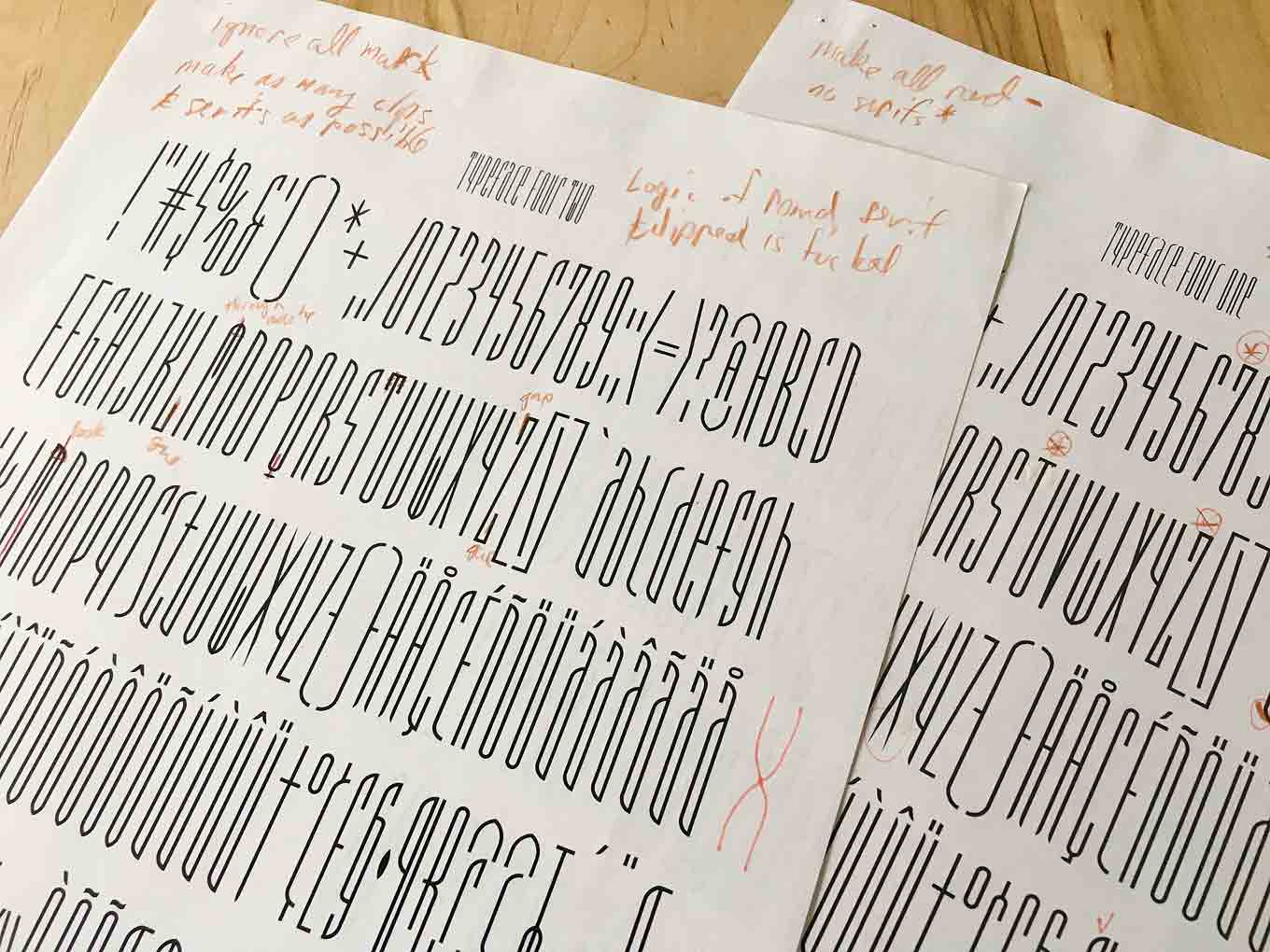 Brody Fonts' decision to join Type Network is no coincidence. It's the culmination of a longstanding professional relationship and friendship between Neville Brody and Type Network cofounder
David Berlow
, a shared history spanning three decades. The seeds of their collaboration were sown in 1987, when Berlow met Brody and Spiekermann at an
ATypI
conference in New York. "Two years later, we met again in San Antonio, " Berlow explained in an interview with Yves Peters. "This time, I had retail fonts to offer them." In his characteristic irreverent style, Berlow continued: "By then, FontShop was starting to talk about their global conspiracy to have an international distribution network."
Brody released his first retail typefaces through Linotype. He based Industria on headlines he had drawn between 1980 and 1986 as the art director for the influential British fashion bible The Face; Arcadia and Insignia originated as a banner and a headline type for Arena magazine, which he art-directed from 1987 to 1990, after his departure from The Face. Following his stint at Linotype, Brody moved on to cofound FontFont, the first independent foundry (aside from Emigre) established by type designers. In short order, FontFont became the cool foundry everyone wanted to work with. Peters remembered a conversation he had with Brody during the early days of FontFont: "He explained to me that he wanted the independent foundry to be a bit like a record label. To help designers break away from the tired old mainstays, FontFont planned to release new designs on a regular basis, 'hit singles,' so to speak. Changing trends would cause those typefaces to fade into the background, making way for fresh new type in tune with the times, in a perpetual cycle of typographic renewal. The current font market is remarkably close to his original vision."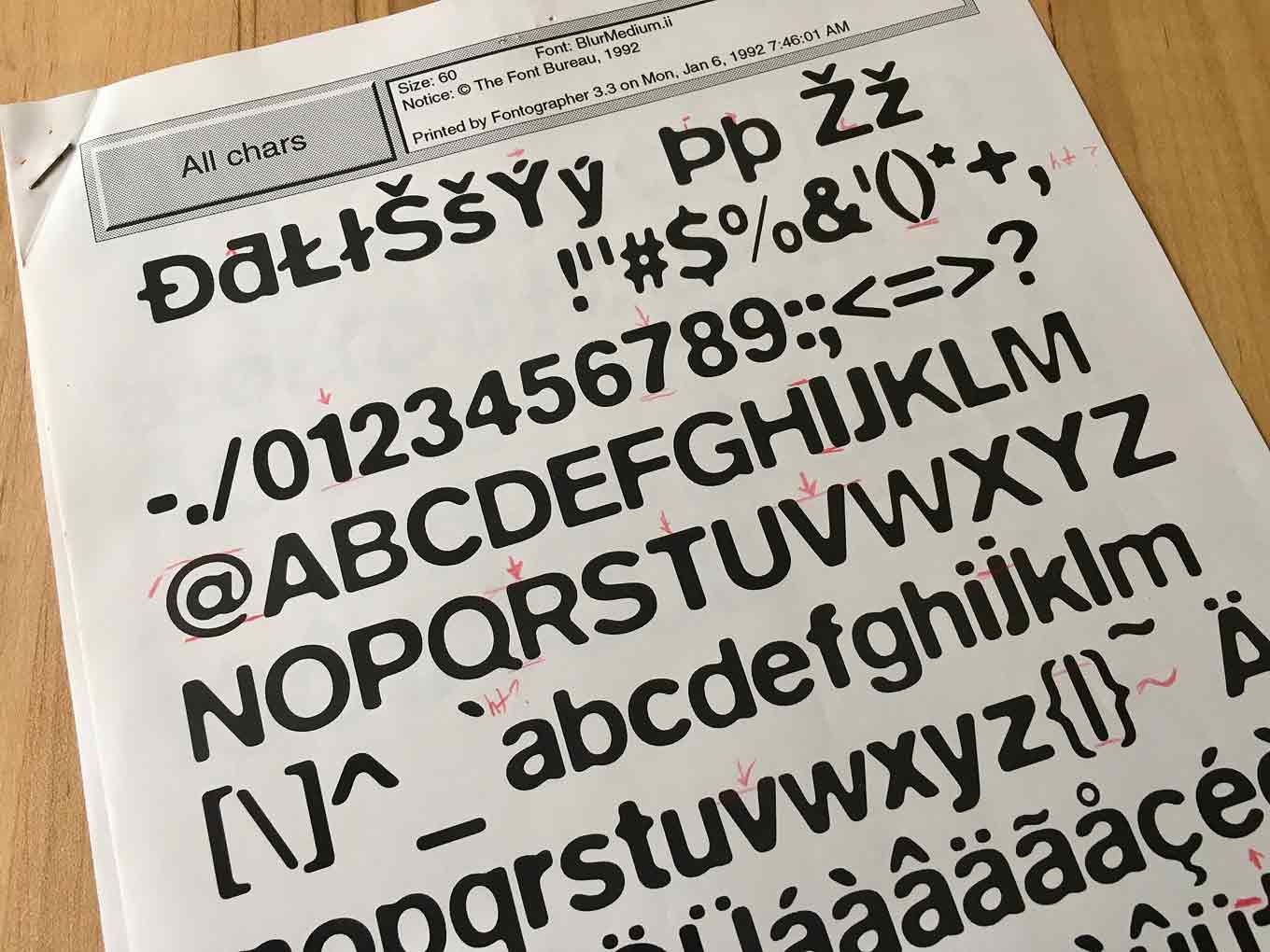 Brody enlisted Berlow's company,
Font Bureau
, to work on the typefaces he planned to release through FontFont. "We helped him make sense of his wild geometric designs," said Berlow. Font Bureau produced
FF Typeface Four
,
FF Typeface Six
, and
FF Typeface Seven
in 1991; and
FF Gothic
and
FF Pop
in 1992. Brody's
FF Blur
, also developed during this period, proved to be a milestone:
Paola Antonelli
eventually
acquired it
as one of twenty-three digital typefaces for the Museum of Modern Art's Architecture and Design Collection. After this successful start to their collaboration, Berlow sent one of the young designers from his studio to London—a guy named
Tobias Frere-Jones
. Frere-Jones assisted Brody in preparing
FF World
,
FF Tokyo
,
FF Dome
, and FF Tyson for release in 1993, as well as
FF Harlem
. 1994's
FF Autotrace
and Brody's contributions to the FF Dirty Fonts series in 1994 and 1995 recalled his efforts for FUSE. True to his inquisitive and cutting-edge approach to graphic design, Brody had started questioning both the usual methods of type design and the actual shapes of the alphabet very early on in his forays into making digital typefaces. Barely one year after starting FontFont, the first issue of FUSE hit the proverbial stands. Each edition included four experimental typefaces by renowned and up-and-coming graphic designers, four posters showcasing those typefaces, and one or more additional typefaces by Brody, also with their own posters. For the most part, the contributors were not experienced type designers, so Font Bureau took on some of the production and mastering until the FontFont Type Department got up to speed.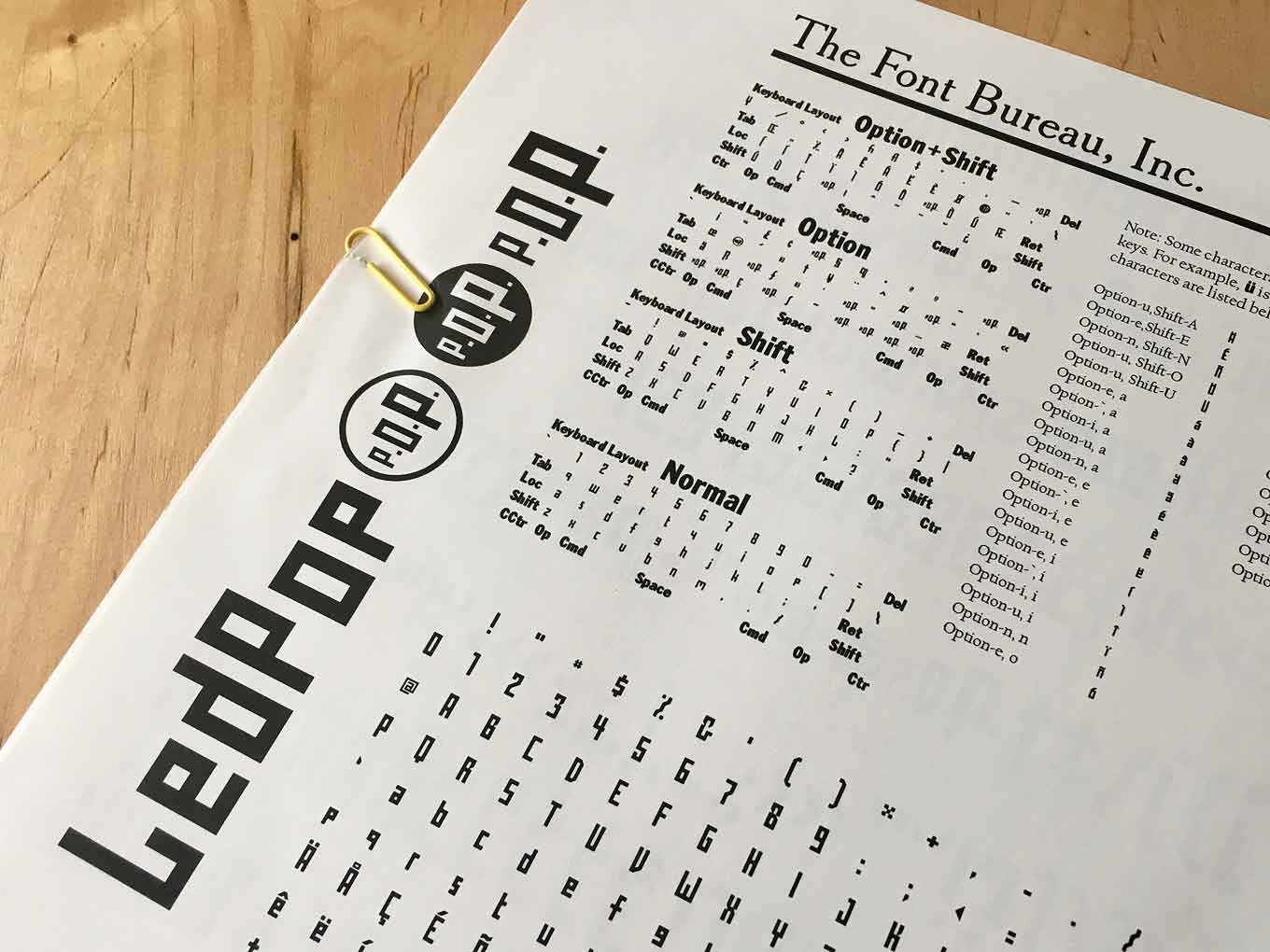 At this point, FontShop had started hiring people to do production work on typefaces for both FontFont and FUSE, thus ending Font Bureau's involvement; Brody and FontWorks also parted ways. Font Bureau and FontShop always had distinct, separate relationships with Brody, which continued beyond this period. In the early nineties, Font Bureau commissioned Brody to design their well-known logo. "Brody's idea was to have a perpetually changing logo using different typefaces, so we created a logo font with twenty-six different quotes," Sam Berlow said. "We were very happy with his design from start to finish," David Berlow continued. "We never changed it, and only expanded the logo variations for all the formats and proportions it needed to cover, to give us the necessary flexibility with different tones of voice." Sam Berlow added: "Brody came back to it in 2012 and developed the current Font Bureau identity and brand guidelines using
Benton Sans
." In the early aughts, Brody Studios ventured into custom typeface design, creating memorable typographic stylings for major publications and broadcasters, as well as for global brands. And now Brody is ready to unleash a new series of retail families sporting his signature wit and inventiveness.
Brody Fonts joins Type Network in exclusivity with two remarkable designs.
BF Bonn
is a geometric sans with a typical Brody twist. The display face blends art deco influences with futuristic tendencies in a series of eight weights ranging from a razor-sharp Thin to a dense, massive Ultra. Stylistic alternates rein in BF Bonn's strong personality a little for more conventional applications. With
BF Buffalo
, Brody goes full-on hard sci-fi. The face's industrial features combine chiseled outside cuts with tense inside curves. Alternate capitals emphasize a faux-monospaced rhythm, while stylistic alternates for strategic characters increase the modularity of the letterforms. Set out of the box, the seven weights from Ultra Light to Ultra Black create striking headlines and titles. In the hands of adventurous typographers, the faceted character shapes morph into the pieces of an alphabetic jigsaw puzzle.
"Neville has had a close working relationship with Sam Berlow, Jill Pichotta, myself, and various other Font Bureau designers from the moment Tobias Frere-Jones walked through his door to the present," said David Berlow. "Trying to distill your inspiration into a usable typographic language without what Neville calls 'commercializing' it is a challenge for all of us. Since those early years, we have been involved in helping him produce—and, in some cases, tame—his wildly imaginative designs into usable typefaces. David Jonathan Ross currently helps Brody produce his fonts. And now we're moving forward with Neville opening his own store, Brody Fonts, under the Type Network banner, which we are very excited about."
"Working at ad agencies and design studios in the 1990s in Dallas, Texas, I spied The Graphic Language of Neville Brody on the desks and in the hands of countless creatives," said Tamye Riggs, a Type Network team member and FontShop alum who chronicled the early days of digital type for Adobe. "These big hardback books were well-thumbed and heavily sticky-noted, I can tell you that. How did a British designer have such an impact on impressionable young minds in the Lone Star State, before the web and social media was a thing? It's a bit of a mystery to me, but Neville captured the zeitgeist in such a vibrant, typographically in-your-face way. He's been so often imitated, but never really successfully. No one could ever hope to replicate what goes on in his head."
"The Graphic Language of Neville Brody came out in my first year at the Royal Academy of Fine Arts. I immediately got a copy at the recommendation of my graphic design teacher, and Brody became a source of inspiration in my formative years," said Peters. "Little did I know that, during my internship at Spiekermann's MetaDesign in August 1991, my first FontShop assignment would be to design a FontWorks ad commissioned by Brody himself. We interacted many times during my tenure at FontShop BeNeLux in the early nineties. My personal highlight was inviting him as a speaker and jury member for the first FontShop BeNeLux Typography Award. Working with Neville again after all those years is like coming full circle." "I've long admired Neville's work from afar and am so thrilled to have him on Type Network," said General Manager Paley Dreier. "His one-of-a-kind voice and unique typefaces are a welcome addition to our growing family."