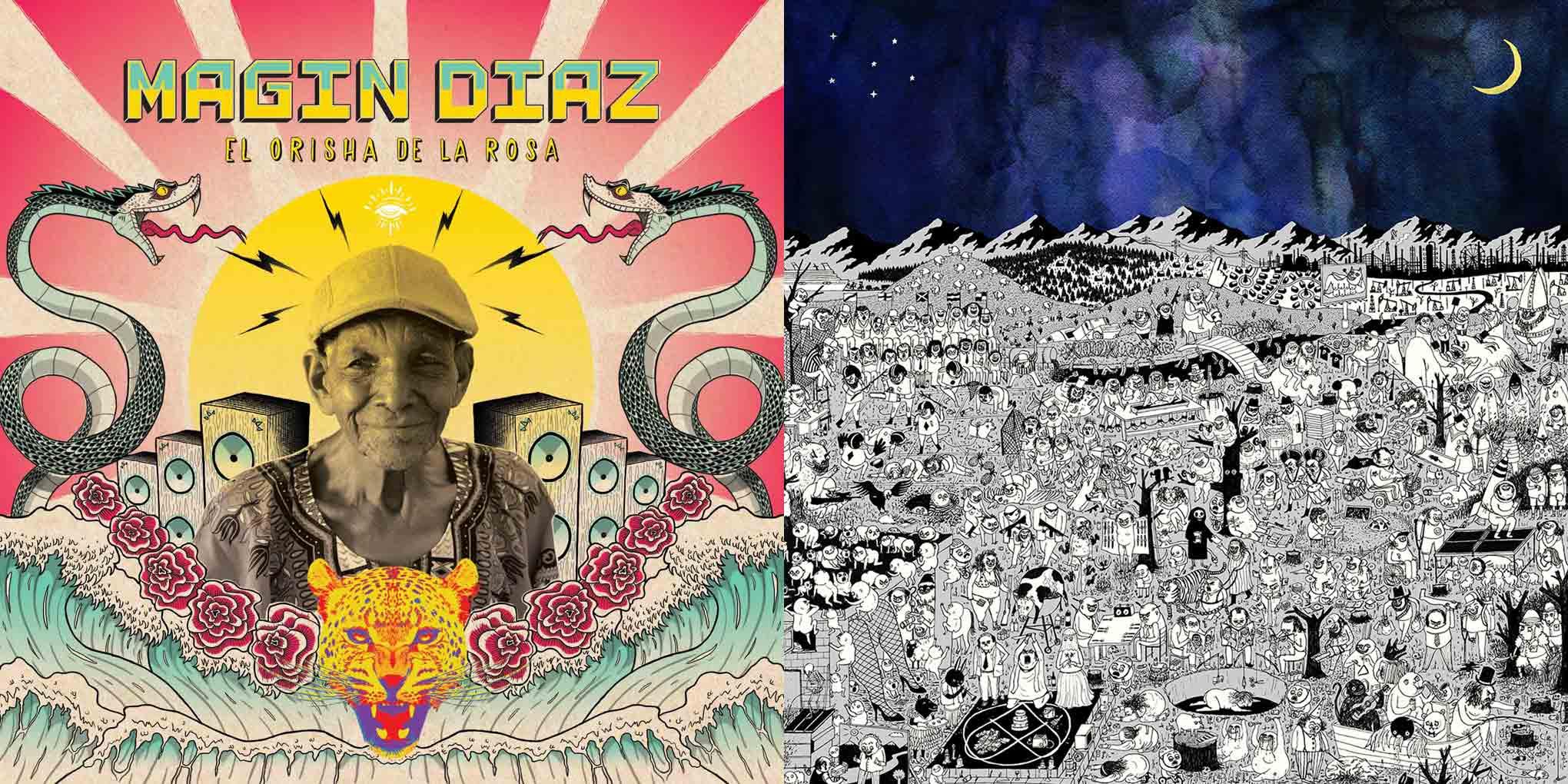 Magín Díaz and Father John Misty share a Grammy for Best Recording Package
Art director and musician Yves Peters casts an eye over the nominees and winners in the design categories at the Recording Academy's
sixtieth annual awards
.
My annual review of the Grammys revealed something different this year. A deep dive into
the music industry award's archives
revealed that, for the first time in Grammy history, the Best Recording Package contest resulted in a tie. There has been more than one
category
for package design before—from its fourth through seventh editions, the Recording Academy distinguished between Classical and Other Than Classical designs; then, from 1965 to 1967, they switched to the two subcategories Photography and Graphic Arts. Starting in 1968, only one album cover was recognized each year, until the introduction of the award for Best Boxed or Special Limited Edition Package in 1994. But never before have two design teams shared top honors for a single award. In another first, one of the two winners, Latin act Magín Díaz, took the same award at the separate Latin Grammys in 2017. Here's an overview of the nominees and the winners for Best Recording Package, along with a glimpse of the work in the Best Boxed or Special Limited Edition Package category.
Best Recording Package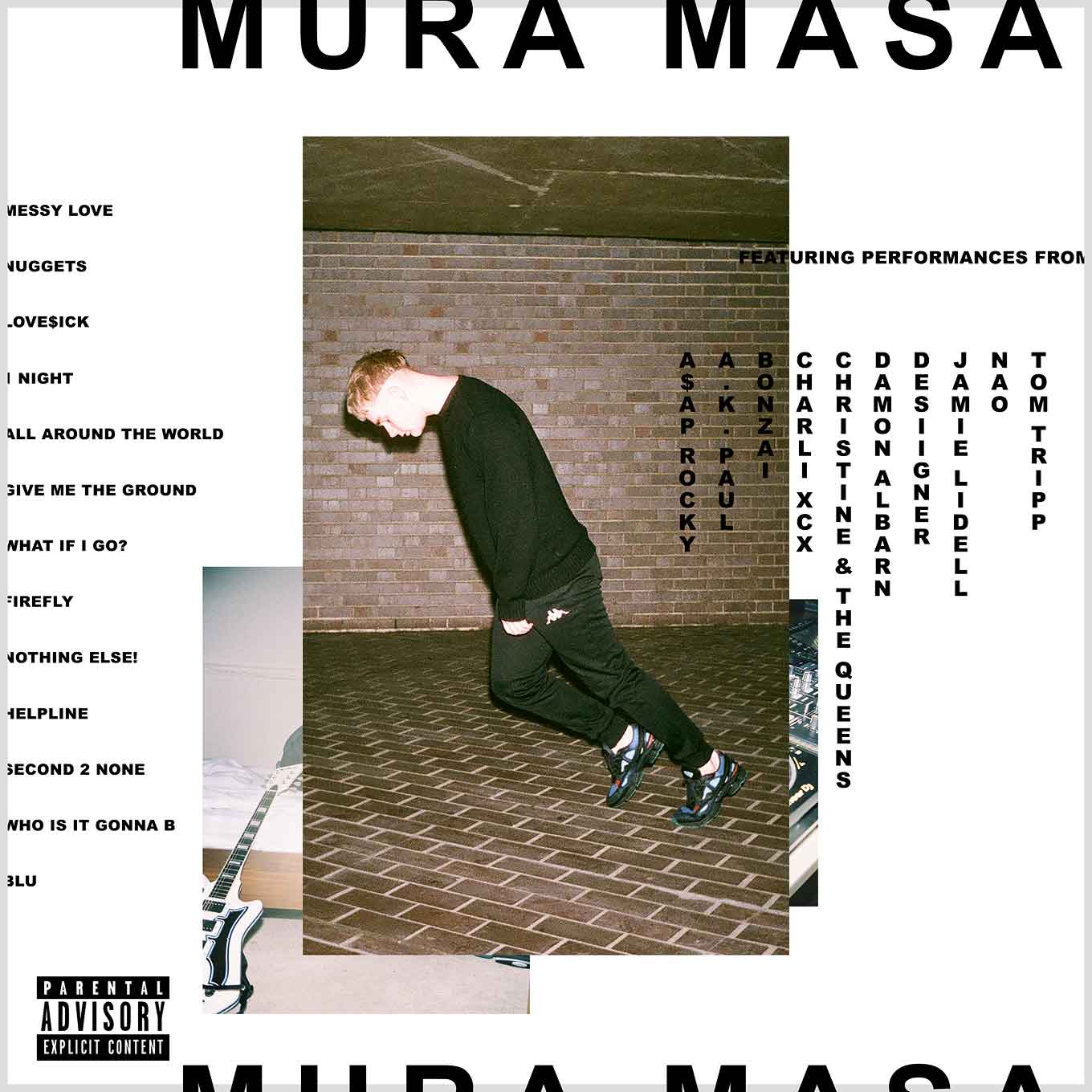 The album sleeve for
Mura Masa
's self-titled full-length album is a collaboration between the artist himself—credited under his real name Alex Crossan—and graphic designer
Matt De Jong
. Taking a leaf from
David Carson
's book, the artwork relocates the track list and the list of collaborators—information usually relegated to the back or inside of an album—and puts it front and center. In an
interview
with LADYGUNN magazine, Mura Masa explains: "The visuals for this album are like a raw, youthful collage of London life for me, and that's totally reflected in the music." The sleeve definitely looks raw, in the sense that it is underdesigned, or even undesigned, as if it has been assembled in a word processor: plain white canvas, unsophisticated positioning of the photographs, all text set in a system font (Arial). I understand the sentiment behind the approach, but I'm a bit tired of this ironic style that exalts poor typography. Changing the typeface to something more interesting but still possessing an industrious (even industrial) soul, like CSTM Fonts'
Navigo
or Retype's
Kade
, would make the Mura Masa sleeve so much better.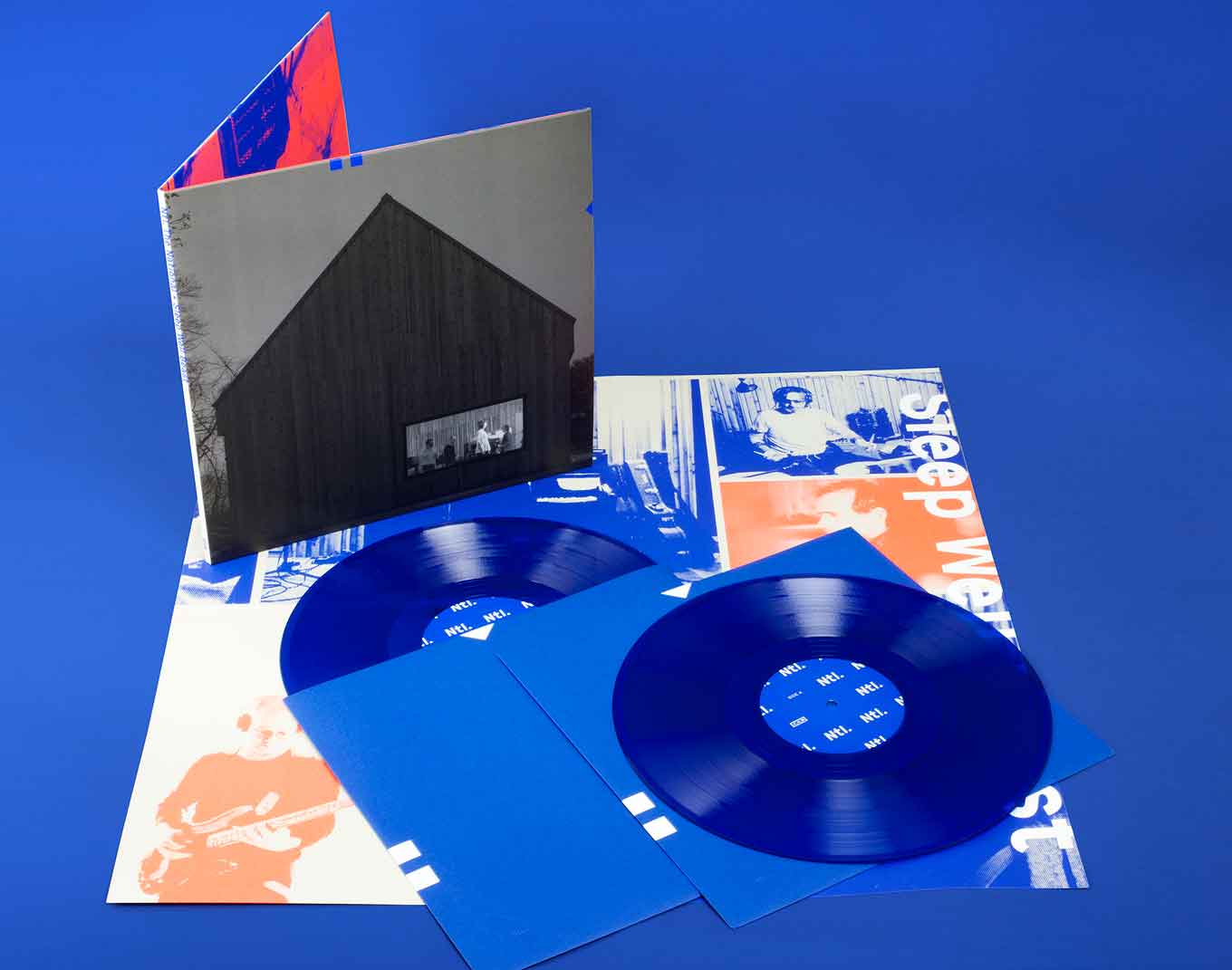 At the other end of the spectrum is Sleep Well Beast. More than simply designing an album cover, the team of
Pentagram
's Luke Hayman, photographer
Graham Macindoe
, and visual artist
Casey Reas
created a sophisticated, comprehensive identity system for
The National
's seventh outing. The modernist design uses monochrome photography, a signature color (blue) and a single type family (Milieu Grotesque's Maison) as building blocks for a tight, consistent visual language. The identity system clearly riffs on traditional corporate branding; it was deployed in a cross-media campaign building anticipation for, and shaping, the album and all collateral. This is the band winking at their incongruous status as the world's biggest indie band—shortening the band name to "Ntl." is the icing on the cake. Of course, in the context of modernism, the first typeface that comes to mind is
Neue Haas Grotesk
, yet its glorious Italian counterpart
Forma
is also definitely worth exploring. Personally, given the atmosphere in the images and the striking architecture of the recording studio in the photograph, I would love to see
Axia
operate in this visual environment.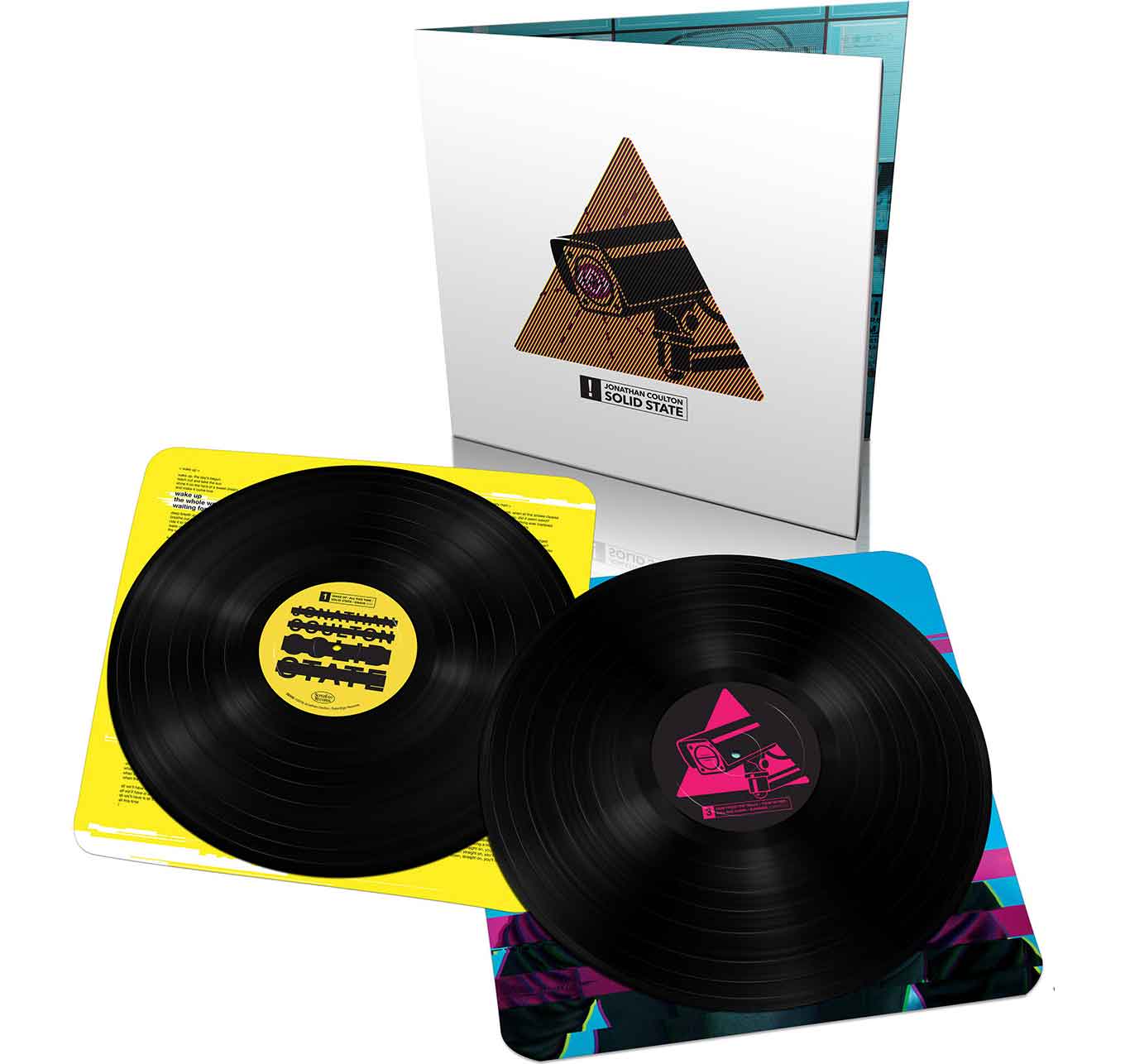 The work by
The Visual Strategist
art director
Gail Marowitz
for singer-songwriter and internet superstar
Jonathan Coulton
also transcends the mere album sleeve. Image Comics published a
graphic novel
companion to Coulton's concept album, written by
Matt Fraction
with art by
Albert Monteys
, "a tech mashup where 2001: A Space Odyssey meets Office Space." The design plays with ideas of surveillance, technical glitches, and paranoia in glaring cyan, magenta, yellow, and black with Avenir and pixel typography. Coincidentally,
Petr van Blokland
covers both type classifications with his two latest families. In the humanist sans genre, his impressive new
Upgrade
series recently joined modern classics like
Agenda
and
Freight Sans
; Van Blokland's 2017 release
Bitcount
allows you to do things with bitmap letters that previously seemed impossible.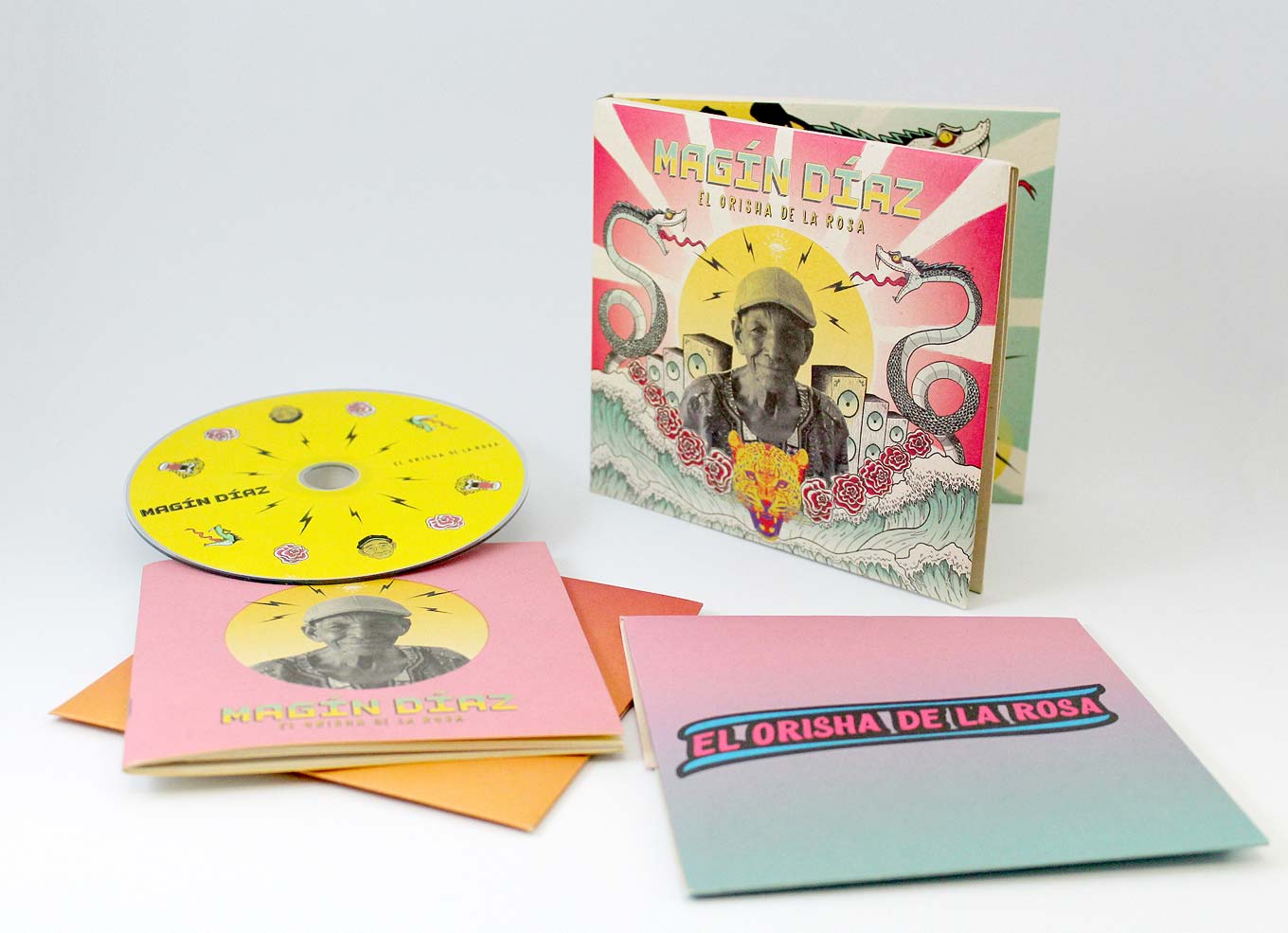 It's but a small step from pixel typography to lettering created with ceramic tiles, which perhaps inspired the way
Magín Díaz
' name appears on the cover of El Orisha de la Rosa. The ninety-five-year-old Colombian artist's partially
crowdfunded debut
(!) is like a kaleidoscope, bringing various disciplines together and blurring musical genres. The elaborate record package created by
Cactus Taller Gráfico
reinforces this amalgamated effect. Díaz collaborated with artists from different generations and world regions to produce the music on the album, and enlisted a diverse cadre of visual artists from Latin America to breathe life into its eighteen songs. Cactus Taller Gráfico combined their illustrations with Daniel Bustos and
Chaco World Music
's Manuel García-Orozco's research to produce packaging that represents the ancestral magic of Magín Díaz' roots music. Juan Martinez of the rock band
Muerto en Acapulco
did the cover and interior illustrations on the sleeve. The artwork marries the tile-like type treatment of Magín Díaz' name with sign painters' casual sans caps, which bring to mind
Underware
's
Bello Caps
. The body copy is set in FF Scala Sans—see
Kontour
's
Elido
for an equally elegant and airy humanist sans that performs superbly in text sizes—with titles in compressed caps similar to
Garage Gothic
.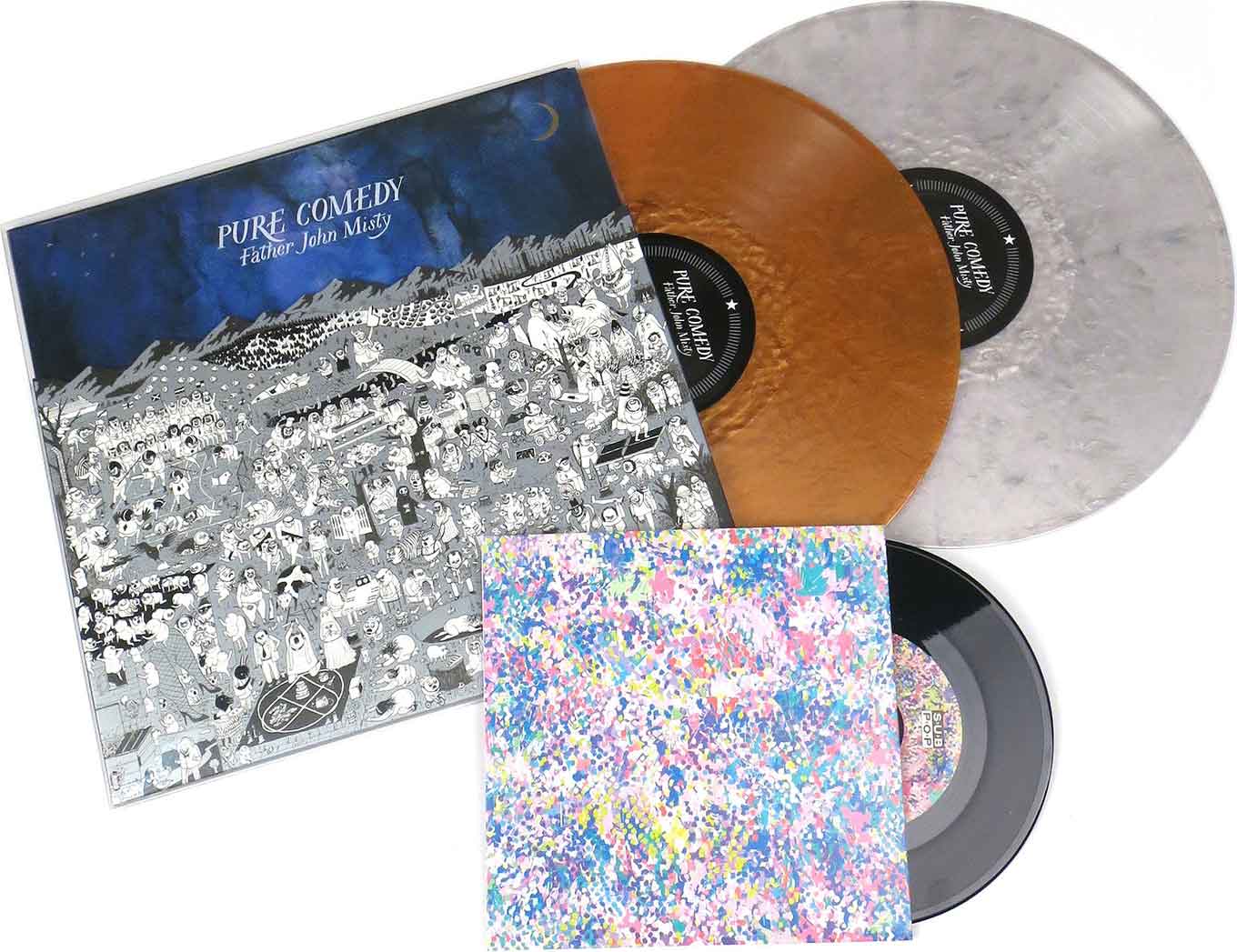 Father John Misty
, né Josh Tillman, worked in
close collaboration
with New Yorker cartoonist
Edward Steed
, sending him raw versions of the songs from Pure Comedy to help him develop ideas for the illustrations. Like a contemporary
Hieronymus Bosch
, Steed created sprawling, demented scenes that make up most of the package design, which was art directed by
Sub Pop Records
' AD
Sasha Barr
and Tillman. The richly textured watercolor sky and hand-drawn serif typeface keep the visual style consistent.
Best Boxed or Special Limited Edition Package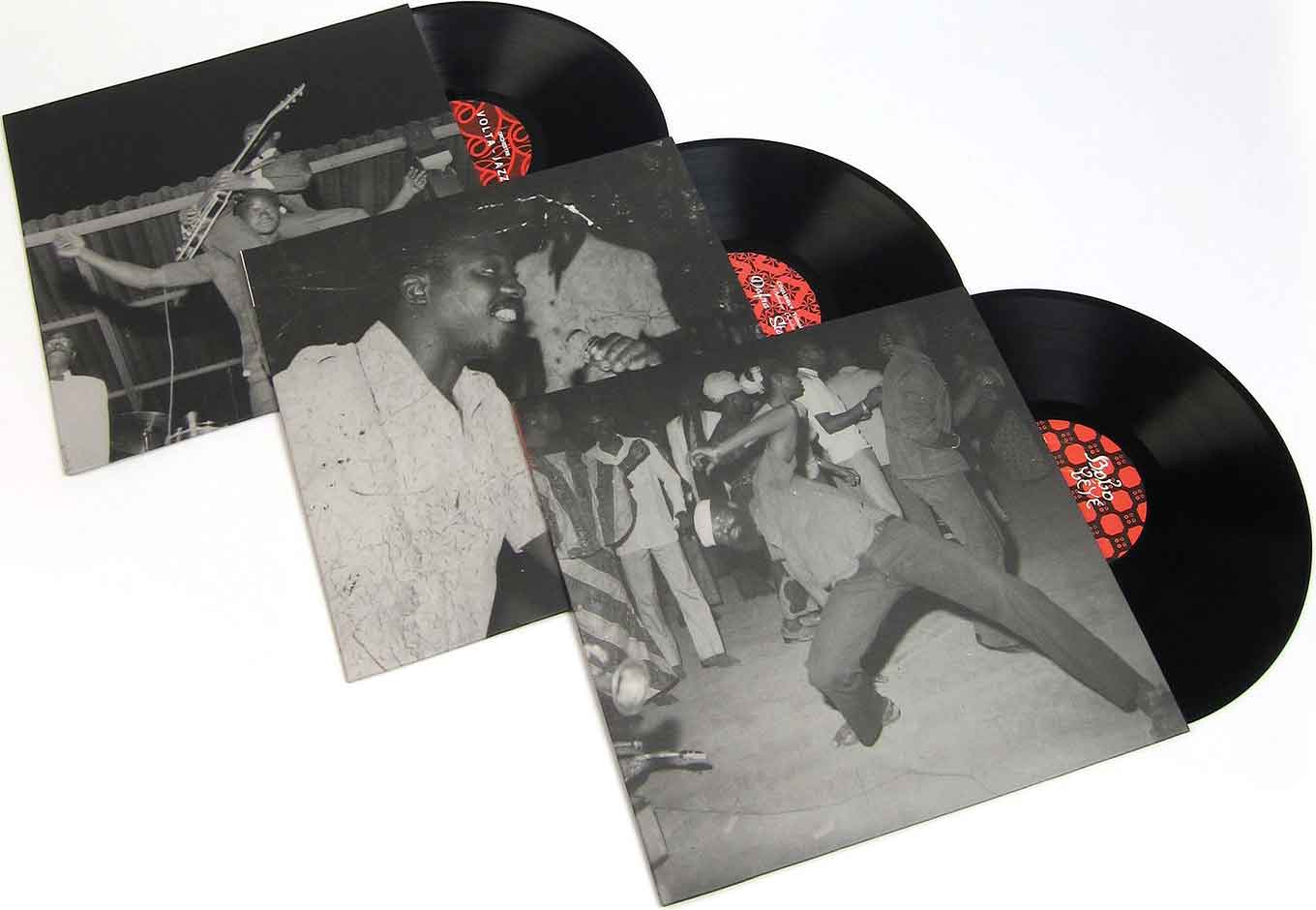 In an email, two-time Grammy nominee
Tim Breen
revealed that about a third of
Field Of Grass
' business comes from the
Numero Group
, the record label that put out the Bobo Yéyé: Belle Epoque In Upper Volta boxed set. Breen told me that they pulled a lot of design inspiration from the source; any time a band had interesting typography, it was integrated into the artwork. They also used a lot of handwriting samples from the period, including some that were repurposed for the Bobo Yéyé title. All of this was paired with TheSans Bold Caps, which has been part of Numero's style guide since the label's founding in 2003. Retype's
Laski Sans
has a similar flavor; it also has a rare detached tail on the capital
Q
and a nice
serif companion
. The body copy was set in a Garalde; in this genre, Retype's
Guyot
, which
just won
a Certificate for Typographic Excellence at the
TDC2 Awards
, would make a viable alternative.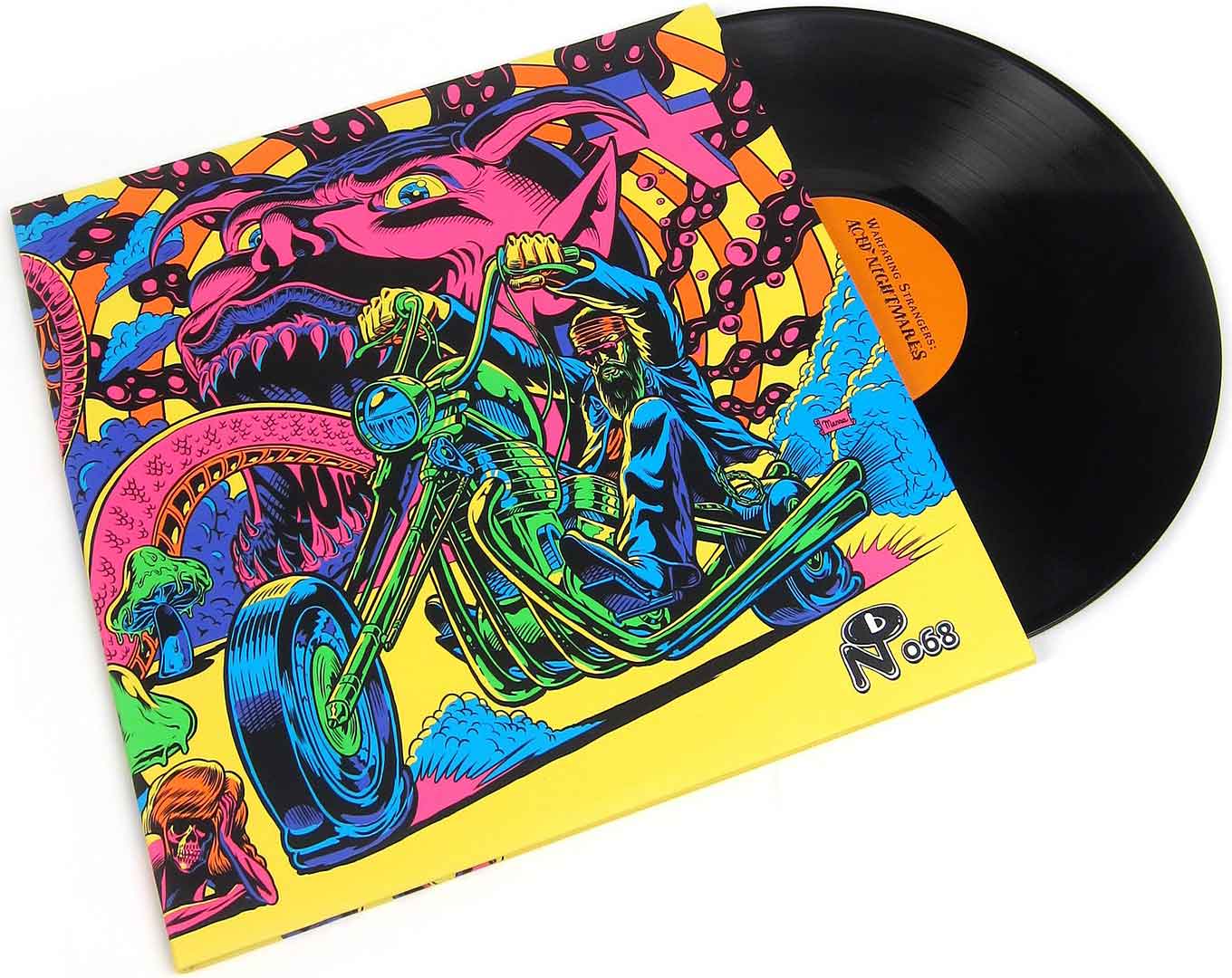 To visualize Wayfaring Strangers: Acid Nightmares, another nominated package published by Numero, Breen and label cofounder Ken Shipley relied on the considerable talents of American illustrator and comic-book artist
Benjamin Marra
. While researching counterculture publications and underground comix, Breen discovered that many of these titles feature really playful type treatments, allowing text and images to interweave on the page. Souvenir Medium was selected for all body copy, not only for its bounciness and cartoonish appearance, but also because it has a newspaper vibe that allows it stand up to all of the dramatic, saturated images. It would have been interesting to see how
Sauna
or
New Herman
performed in the space.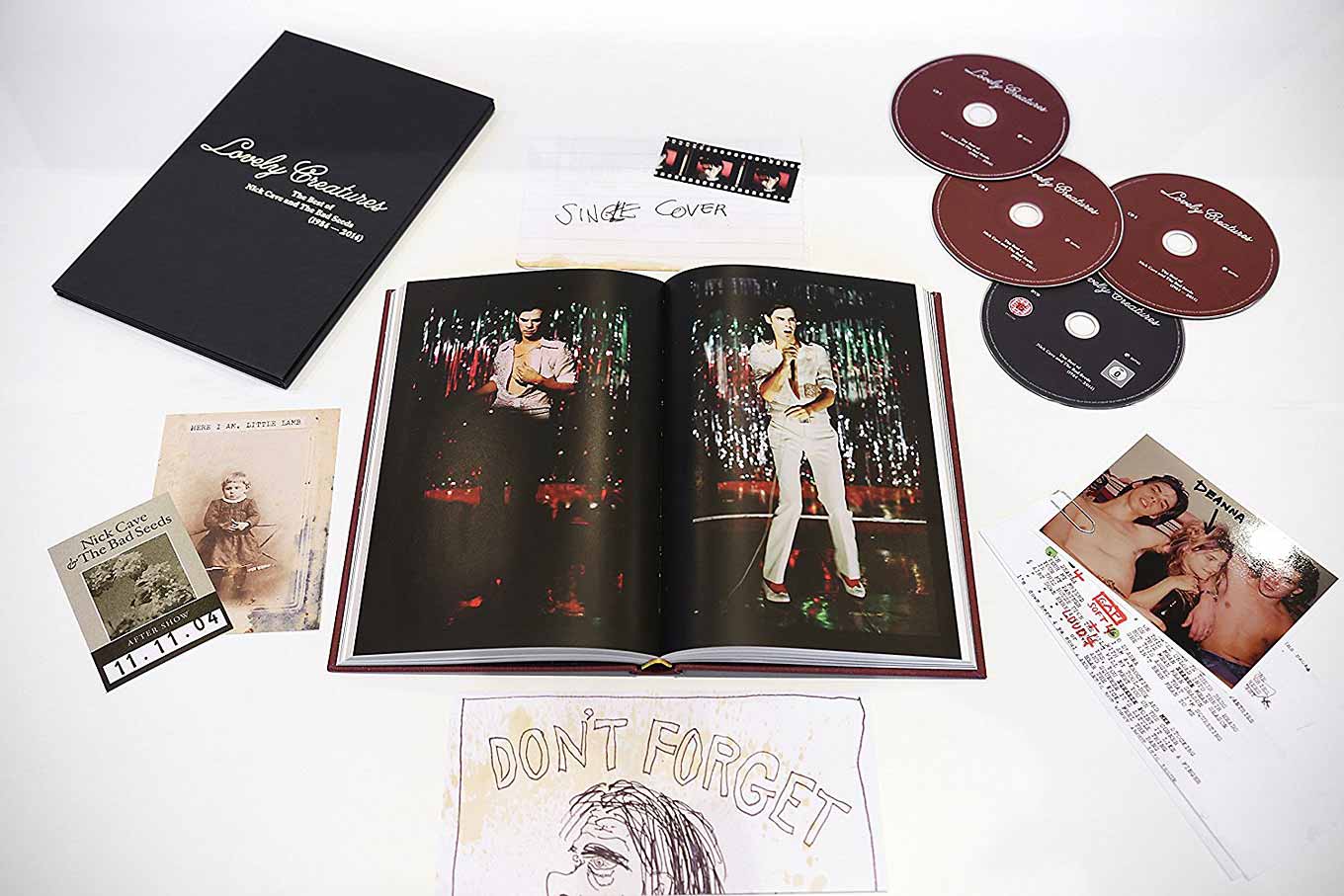 The limited-edition deluxe box set for Lovely Creatures includes a 256-page hardcover book celebrating three decades of Nick Cave and the Bad Seeds. Art director
Tom Hingston
chose the curly script Melany Lane as the main typeface, a rather crude monolinear interpretation of classic copperplate scripts. Letterer extraordinaire and star procrastiworker
Jessica Hische
ventured into this genre (albeit with a little more contrast and significantly more skill) with
Tilda
. Hische originally crafted her script for the end titles of
Wes Anderson
's
Moonrise Kingdom
; it can be licensed in two
optical sizes
. The sharp serif face on the cover is Berton Hasebe's Portrait;
Lukas Schneider
's
Damien
has the same level of precision and crispness, and also comes in Text and Display sizes.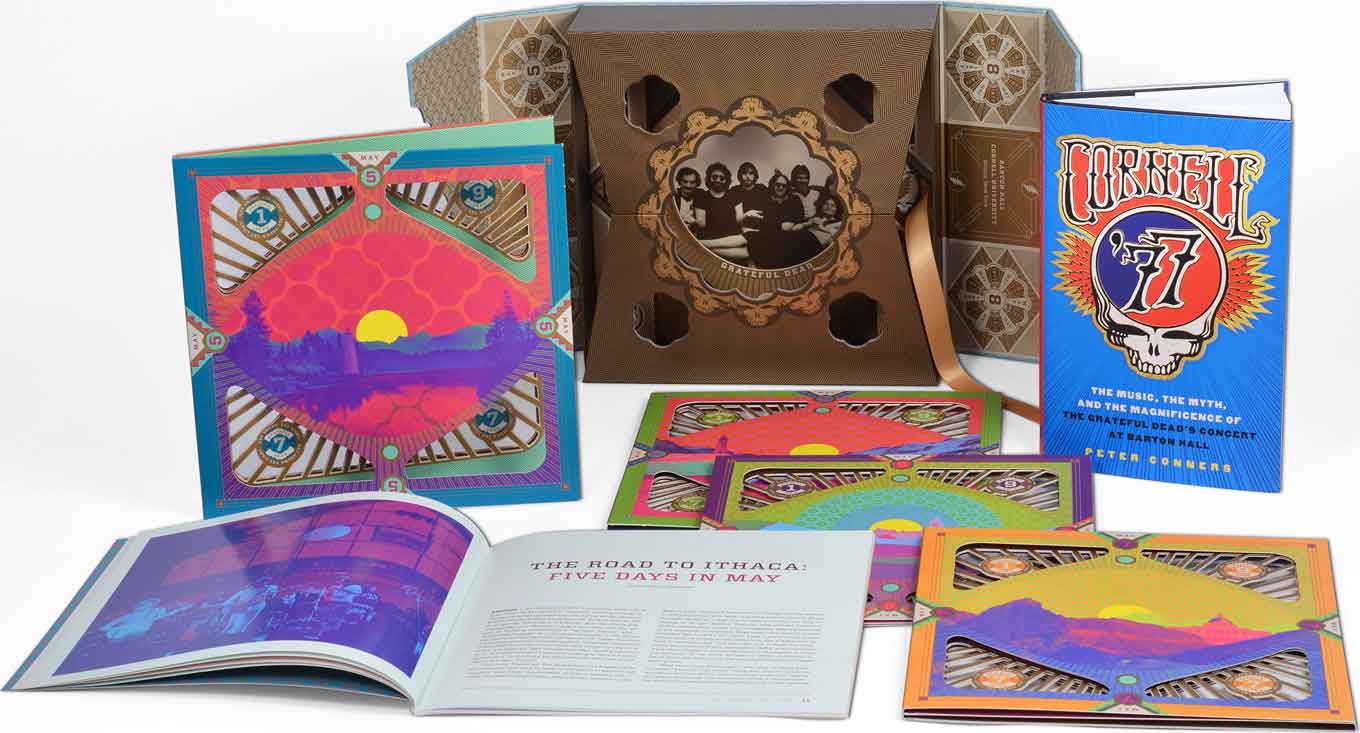 True to the psychedelic leanings of the band,
Masaki Koike
, the principal of
Phyx Design
, concocted an explosion of vibrant colors for May 1977: Get Shown the Light, the recordings of some legendary Grateful Dead shows. Koike chose a high-contrast fat face and a square-sans-serif and slab-serif combo to complement the elaborate layers and cutouts reinventing the Dead's iconic skull motif. In the former genre, look no further than
Escrow Banner Black
—that
7
! And
Kazimir Black
features some surprising numerals. In the square sans/slab department, feast your eyes on Cyrus Highsmith's modern classic
Antenna
/
Antenna Serif
or his
Heron
series. If you're feeling particularly adventurous, have a taste of
XYZ Type
's
Export
.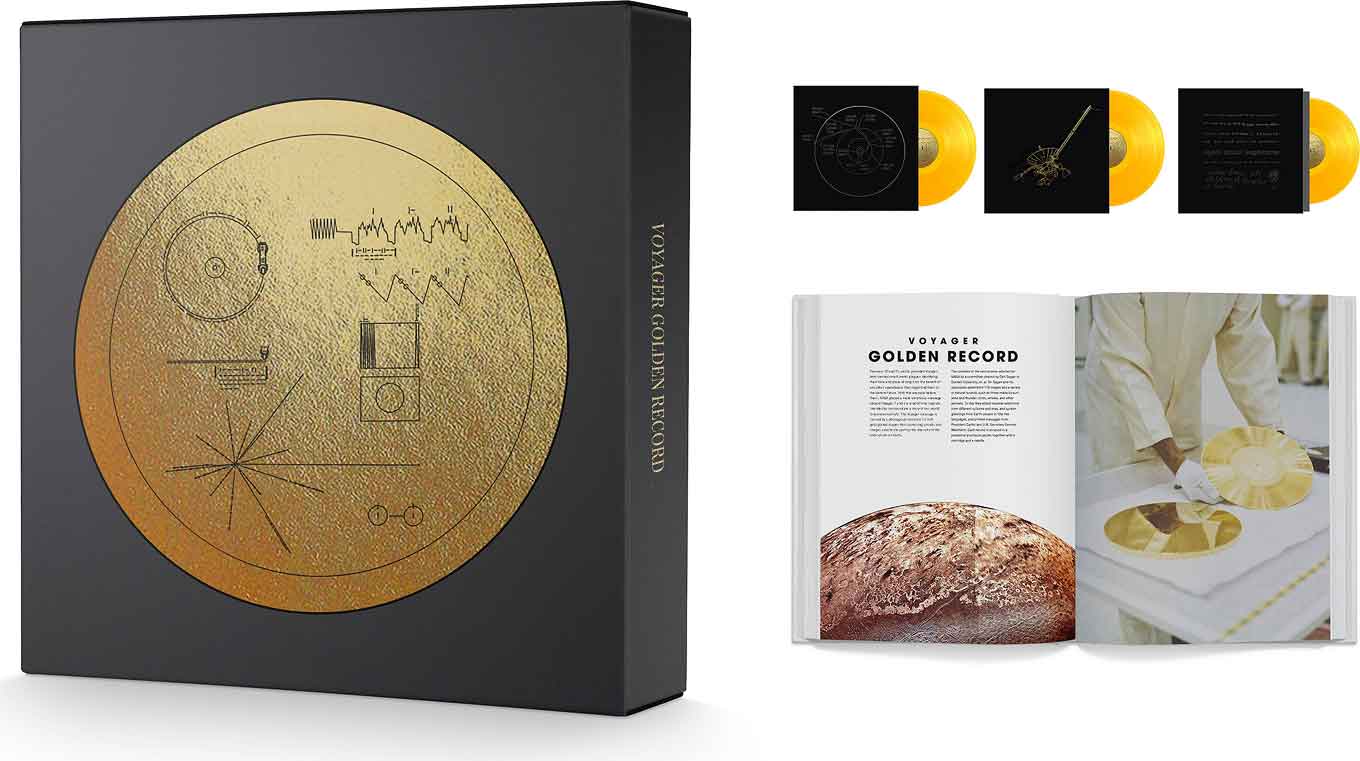 Produced by
Ozma Records
, a record label and publisher "focused on the intersection of science, art, and consciousness to spark the imagination," Voyager Golden Record: 40th Anniversary Edition was successfully crowdfunded on Kickstarter by over ten thousand backers, for almost seven times the $198,000 goal. The lavish box set was conceived by
Lawrence Azerrad
, Ozma Records cofounder Timothy Daly, and David Pescovitz, cofounding editor of
BoingBoing
. As becomes the reproduction of such an iconic record, the package design is classic, elegant, and refined—even stately. The typography is unassuming: a century-style serif face similar to
Benton Modern
on the slipcase and ITC Avant Garde Gothic titles in the accompanying book. This victory may come as a bit of a surprise, since this trio bypassed established designers and teams (many previously nominated and awarded) with its maiden effort. But you can't deny that this stellar achievement (pun intended) has earned its success at this year's Grammys.
Bald Condensed, né Yves Peters, is a Belgian-based rock drummer known for his astute observations on the impact of letterforms in the contemporary culture-sphere. A prolific writer on typography, he has a singular knack for identifying the most obscure typefaces known to humankind.