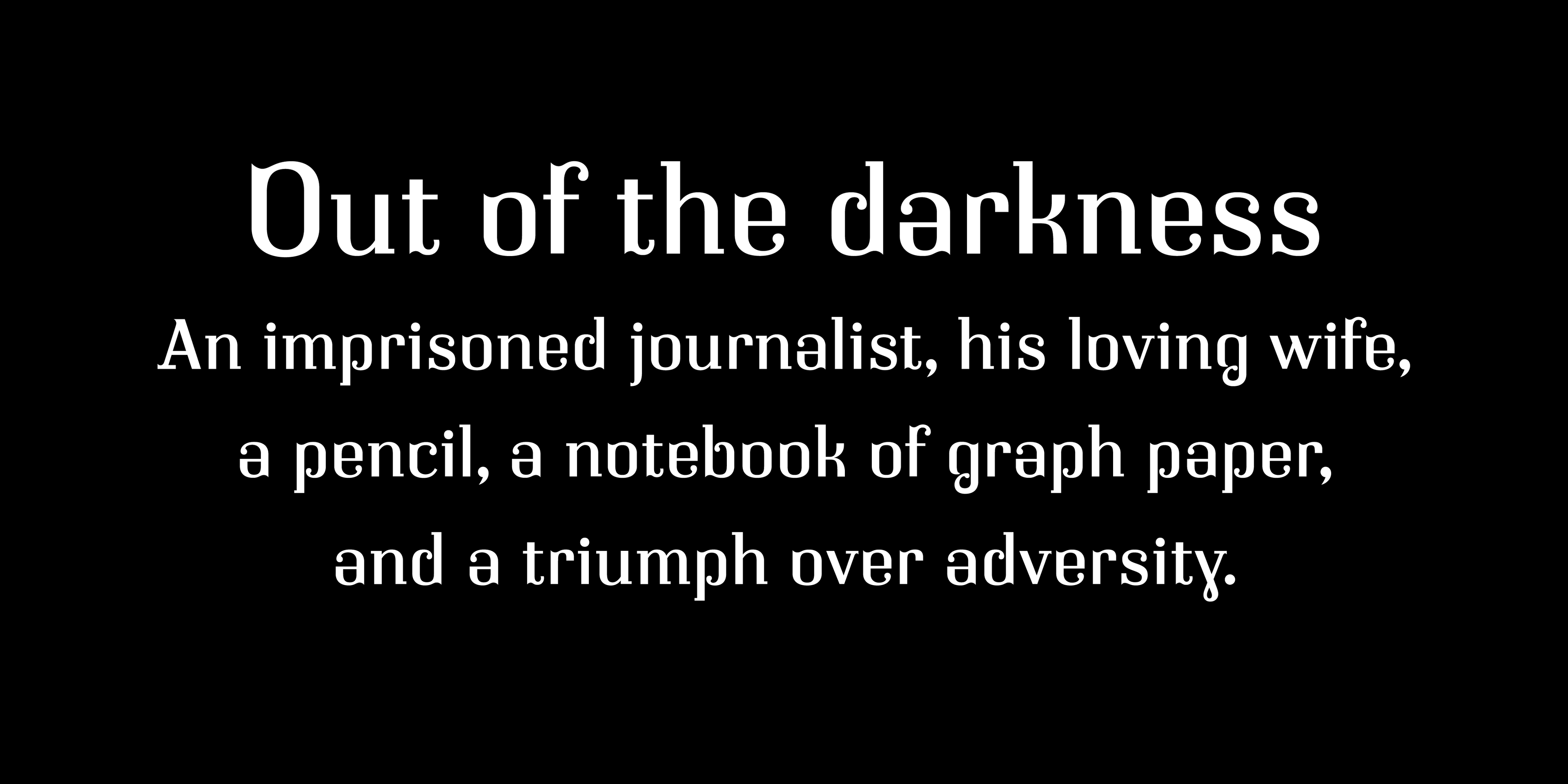 Letters from a Turkish prison
Held in the notorious Silivri prison, 90 kilometers from Istanbul, for the past six years, Fevzi Yazıcı designed a unique typeface. He drew it with a pencil in his dimly lit solitary-confinement cell and named it "Firdevs," for his wife. The drawings were digitized by Dyana Weissman, TN's custom type director, and Firdevs is now available from Dyana's foundry, Kerns & Cairns.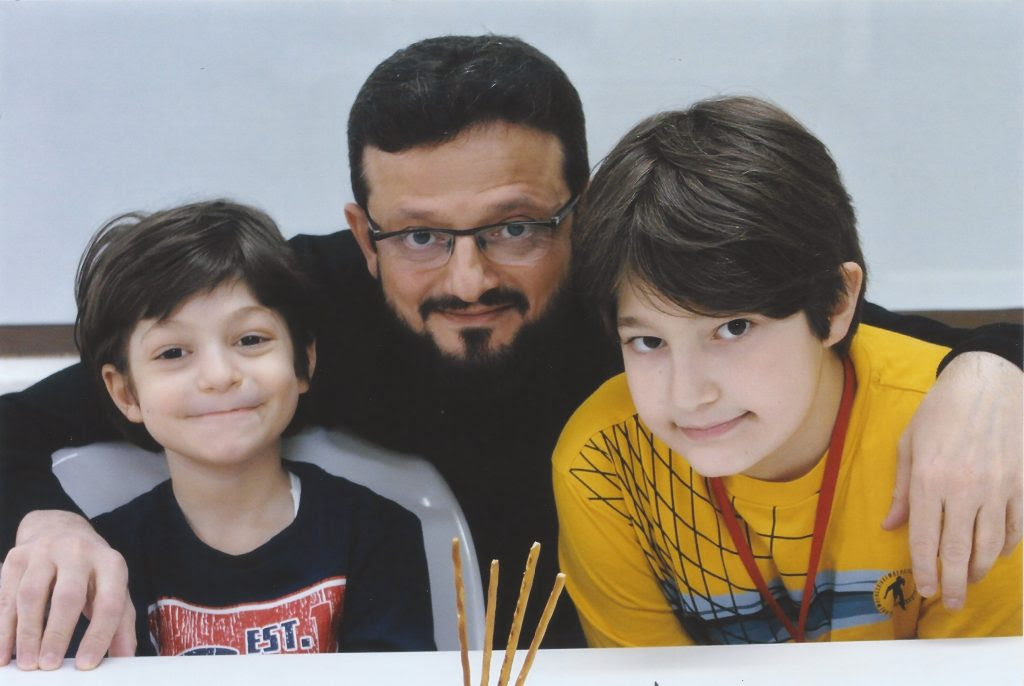 What was Yazıcı's crime? He was the design director of Zaman, the award-winning newspaper in Istanbul. In 2016, after an abortive coup, 47 journalists from Zaman were arrested and accused of complicity. Yazıcı and his colleagues were convicted, and the newspaper was closed. His sentence: Life.
Fevzi spent much of the next few years in solitary confinement.
Eventually, Yazıcı was allowed periodic visits by Firdevs and his two sons. Faced with darkness until the end of his days, Yazıcı could have given up, as so many others in his situation have. And yet, he prevailed. Through his creativity, Yazıcı turned isolation into expression. With only a few hours of sunlight per day, armed with a ballpoint pen, a pencil, a broken ruler, and some other basic materials, Yazıcı created art—and an entire typeface.
In 2018, a Turkish court reduced his sentence to 11 years and six months. So, Yazıcı may stay in jail for six more years.
Drawn with the precision available only to those with immeasurable time on their hands, Fevzi's art and glyphs show what is possible with a ballpoint pen and pencil. Many of his drawings are now on display at The Hillstrom Museum of Art. The show runs to April 24 at Gustavus Adolphus College in St. Peter, Minnesota. The typeface's first use is in the poster and catalog for this show, Fevzi Yazıcı: Dark White.
The foundry's total income from this font will be sent to Fevzi Yazıcı and his family. There will be no deductions for production costs or other expenses.
With this post, Type Network announces that it will contribute its commission on the sales to Reporteurs sans Frontières (Reporters without Borders).
"Please license this great font for $50!" said Roger Black, TN chair. "All the proceeds will go to the designer, and to help in RSF's fight for a free press around the world."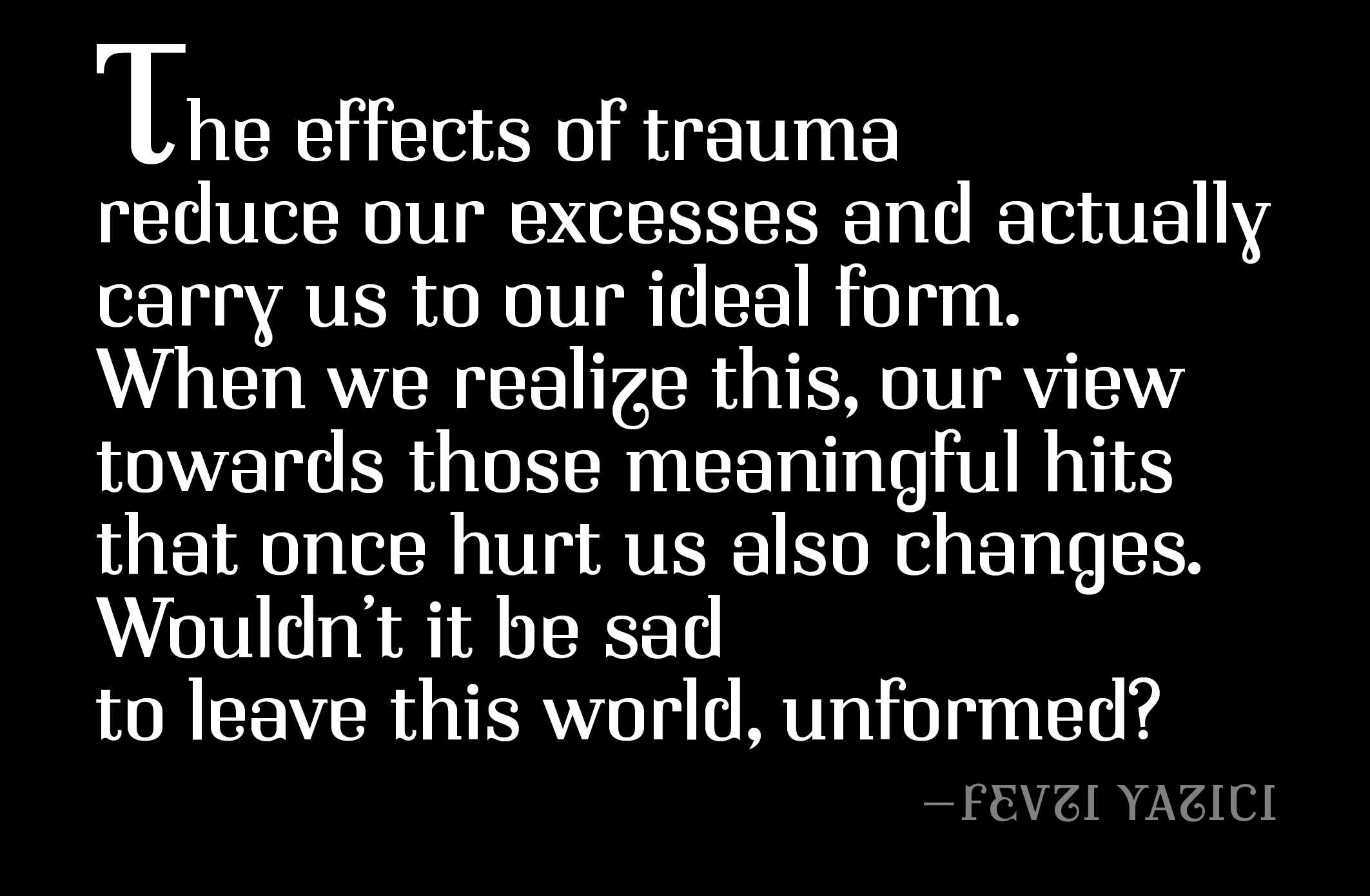 Thinking about Fevzi
My friend Fevzi Yazıcı should be helping tell the stories of the people of Turkey instead of being held for the last five and one-half years at Silivri Prison.
I met Fevzi through the Society for News Design (SND) and was his guest in Istanbul as part of +1T Design Days, a conference he organized in Istanbul. At a conference in San Francisco in 2016, we had breakfast together and talked at length about design, our countries, and our families. Fevzi was an active member of SND, and a judge one year at its competition.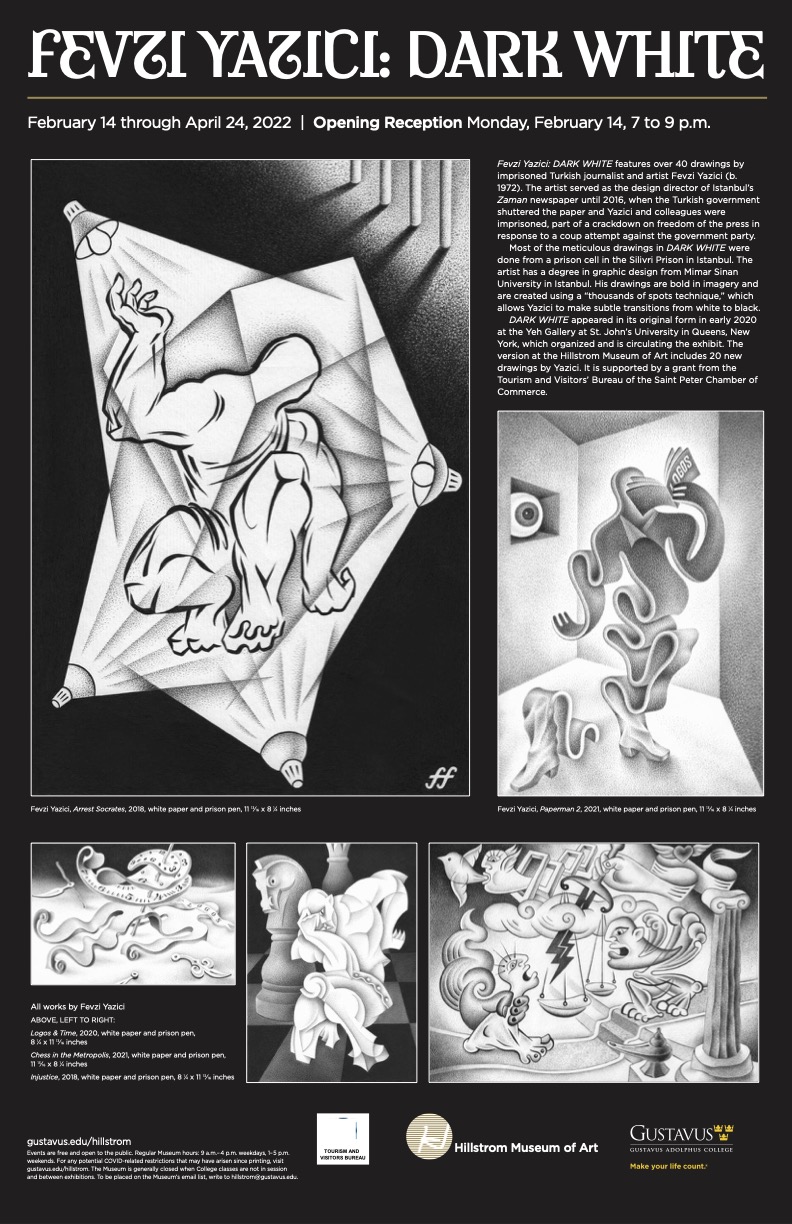 Just a few months later, the coup in Turkey changed everything. "This cannot be real," he told me. "I cannot recognize my country."
He was arrested that summer and initially sentenced to life in prison as a part of crackdown on the press who were often charged with connection to an opposition leader and attempting to "eliminate the government of Turkey." The United Nations denounced the conviction of Fevzi and his co-defendants in a statement: "The court decision condemning journalists to life in prison for their work, without presenting substantial proof of their involvement in the coup attempt or ensuring a fair trial, critically threatens journalism and with it the remnants of freedom of expression and media freedom in Turkey."
In 2020, after visiting Fevzi's show at Yeh Art Gallery at St. John's University in New York, I was able to share Fevzi's story and his work with The Washington Post's global audience in an opinion essay titled "Art of Darkness." The story showcased his work before his imprisonment and then the astounding art he's been able to create with limited supplies while in solitary confinement the past four years. Fevzi's contributions to that story earned him two awards from SND—which had regularly recognized his design work before his arrest.
The promotional video for Fevzi Yazıcı: Dark White summarizes his story while showing scenes from his prolific career pre-incarceration.
It's clear to me, Fevzi was born to be a visual artist. He's unafraid, passionate and a wonderful storyteller. It's uplifting to see that his time in solitary confinement hasn't defeated this spirit, but at the same time, agonizing to think of the conditions he's living in daily. His sentence was recently reduced to 11 years and three months.
I remain filled with hope for Fevzi's freedom and for his family to be reunited outside of prison walls. I have that belief because I have the honor of working alongside Jason Rezaian, who was imprisoned as a journalist in Iran and also served time in solitary confinement. The fact that Jason is free gives me hope that one day, Fevzi will be free too.
—Greg Manifold
Greg Manifold is the creative director of
The Washington Post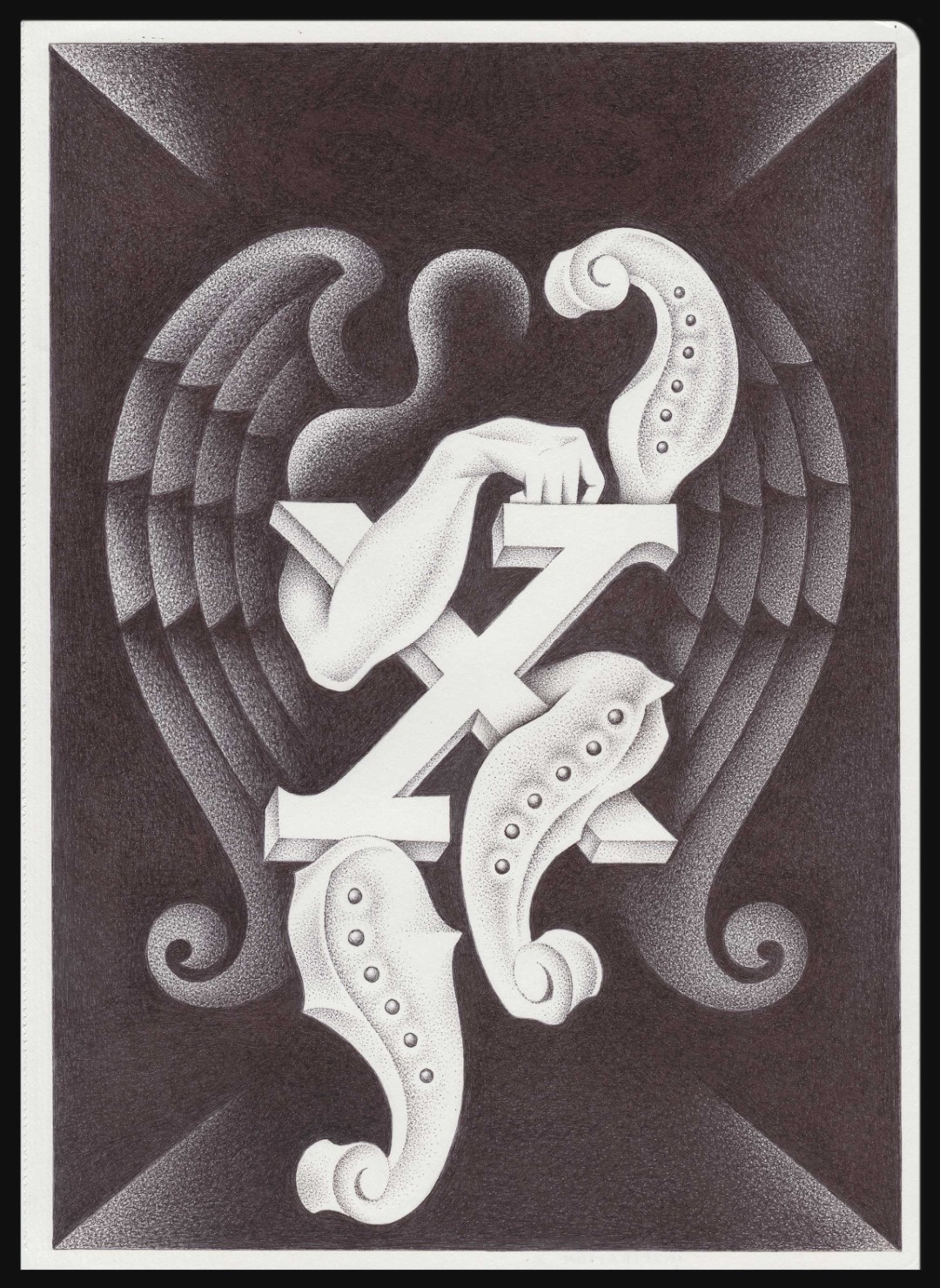 A rule-breaking typeface
I am breath taken at Fevzi's courage and persistence. His latest artwork, limited to pencils and pens, is astounding. As Viktor Frankl has said: "What then matters is to bear witness to the uniquely human potential at its best, which is to transform a personal tragedy into a triumph, to turn one's predicament into a human achievement."
Some days I struggle with the meaning in my line of work: I draw letters. My husband is working on curing cancer. The disparity, for me, is large. Very rarely does a typeface change the world. Bell Centennial, which increased legibility while saving countless trees, is the only one that springs to mind. Don't get me wrong, the satisfaction of delivering something pleasing to a client never gets old. But I have need to do something more impactful for the world around me, a need that is mostly fulfilled by leading hikes for new parents once a week. . . .
One of my favorite books is Man's Search for Meaning by Frankl. Written in 1946, it is the memoir of a psychotherapist imprisoned in concentration camps during the Holocaust. There Frankl refined his theories on what brings meaning to people's lives: creation, experience, suffering.
Fevzi creates. He makes beautiful, thought-provoking works of art with no more than a ballpoint pen. His letters read like poetry. Now, he has designed a typeface.
"I've wanted to design a font for as long as I can remember, but it was not destined to be attempted until I have been imprisoned. Even though I designed a lot of logotypes, to design a font from scratch and in whole was such another thing," he wrote in a letter to fellow SND member Roger Black, a colleague at TN.
"My kind request," Fevzi continued, "depending on your availability, is to examine the current state of the design and to share your expert critics with me. You can be a partner of this small journey." Roger shared this letter with a few of us at Type Network. This was an occasion to use my type design skills to help someone; to bring a deeper meaning to what I do.
Fevzi is enormously talented, and he has a keen eye. There was little that I needed to do to turn his drawings into a working typeface. It breaks several rules of font design, but it still comes together. It's distinctive, yet one can read it without getting too distracted. Even at smaller sizes, which is surprising for what is meant to be a display face. It is beautiful, dignified, and legible.
Fevzi creates, but he also finds meaning in a fundamental experience—love. This font is named after his wife, whose name translates to "heaven." I think again of Frankl: "For the first time in my life, I saw the truth as it is set into song by so many poets, proclaimed as the final wisdom by so many thinkers. The truth–that Love is the ultimate and highest goal to which man can aspire. Then I grasped the meaning of the greatest secret that human poetry and human thought and belief have to impart: The salvation of man is through love and in love."
—Dyana Weissman
Dyana Weissman is custom type director of Type Network, and the principal of
Kerns & Cairns
, a TN partner foundry.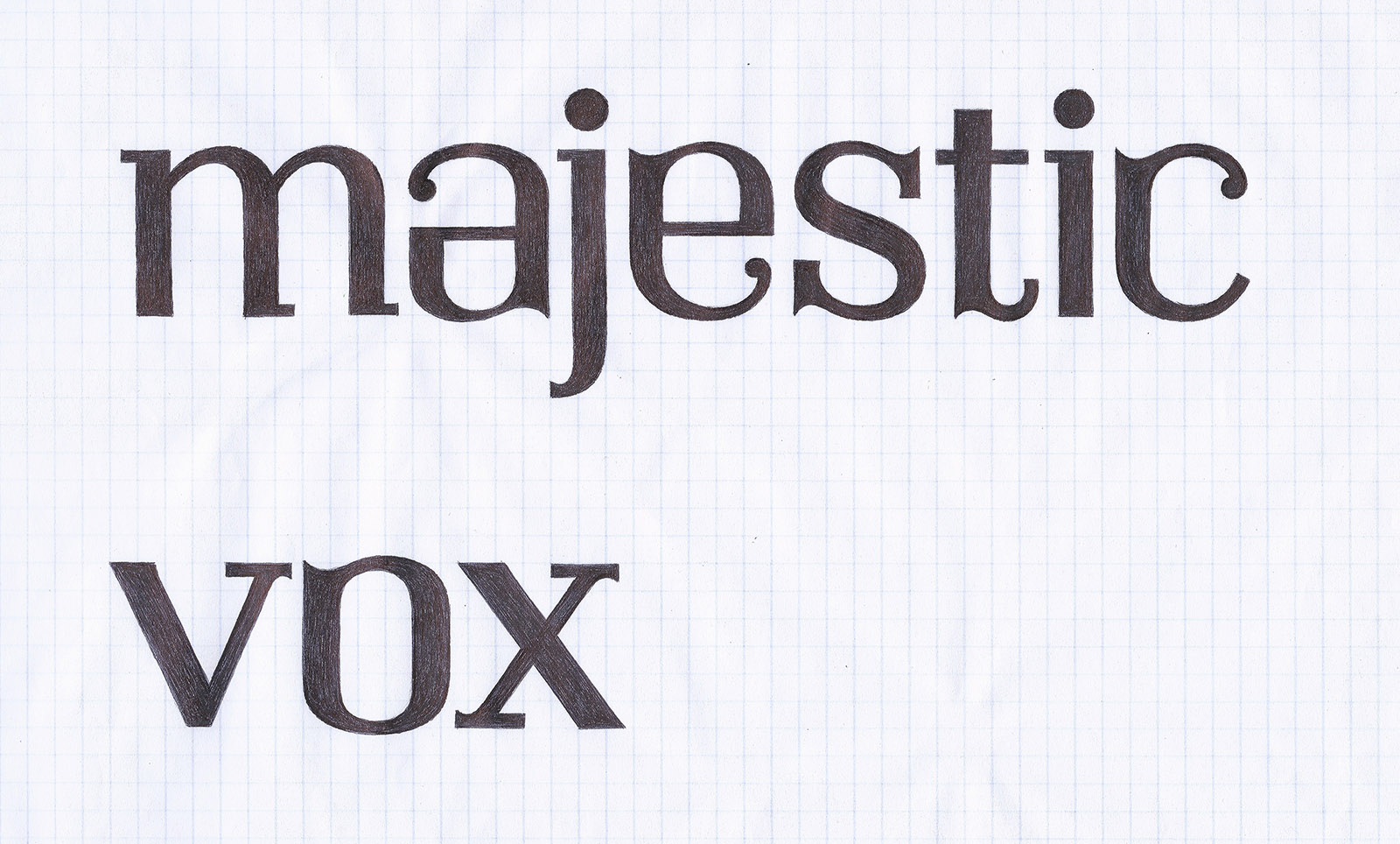 Dungeon Rose
Few months ago, I found myself in the middle of a typographic adventure as an art director who examined fonts amply but never had the chance to design one. The driving force of this adventure was author Ahmet Turan Alkan's encouragement and my ambitions.
I've wanted to design a font for as long as I can remember, but it was not destined to be attempted until I had been imprisoned. Even though I designed many logotypes, to design a font from scratch and in whole was such another thing.

Extremely ironic: Under oppressions and limited resources, I attempt this bold adventure—which I could not have succeeded in spite of all of the opportunities and freedom I have had—now. I have nothing but a pen, a pencil, an eraser, a dull sharpener, a faulty 30 cm plastic ruler, and several graph notebook sheets. Ohh, I forgot my lovely desk.
The main idea and motivation behind this font is to become a representative symbol for telling the stories of the journalists and other innocents who are imprisoned in Silivri Camp or similar jailhouses. Who knows, maybe this font can be their voice.
I have a dream: How nice it would be if the works of all those authors and illustrators who are trapped and oppressed behind the walls could have been published with this font? As I have said, this is a dream, and dreams are boundless.
Such a font: Beautiful enough to attract the attention of the world, dignified enough to express all the sufferings experienced, legible enough to endow a body and their own voices to the words.
Yes, this is a paramount target. I have flinched with the overwhelming possibility of being pressed under the font and its mission. Thus, I sufficed with the start. I believed the remnants would surface slowly.
Everything began with an "a". This was an "a" form I have caught while my pencil wanders on the notebook haphazardly. This sketch evoked the padlock warders used to lock my cell. How weird it is: This unpleasant resemblance was about to transform into an "a" form I liked a lot.
Next, I have designed other letters and formed a bunch of roses and gifted this rose bunch of letters to my spouse on her birthday. I named this font with my wife's name, meaning heaven: Firdevs.
This must be one of the best remedies in lieu of gifting a real rose bunch to Firdevs. In spite of all limitations of the dungeon, this event is an unforgettable memoir for both Firdevs and myself.
—Fevzi Yazıcı
Fevzi Yazıcı was the award-winning design director of
Zaman
, the daily newspaper in Istanbul, now closed. He wrote this letter, as he drew the typeface, Firdevs, while in solitary confinement in a Turkish prison.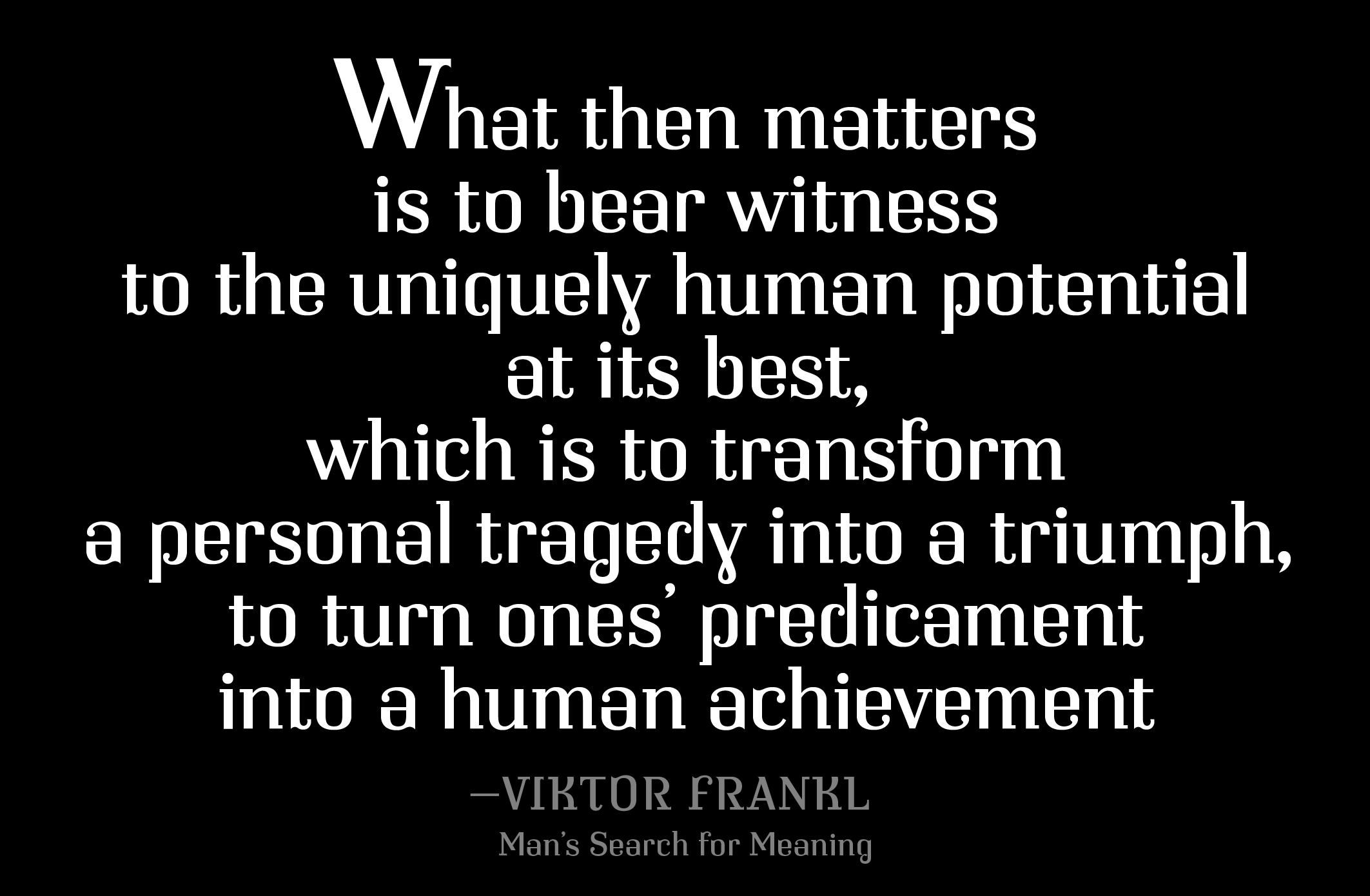 Firdevs
Designed in captivity, Firdevs stands alone. The designer, Fevzi Yazıcı has stated, "I can easily claim that I have not been affected, more broadly even not inspired, from any font while I was designing Firdevs."
It functions extremely well as a unique display face, and yet (surprisingly) Firdevs maintains readability at smaller sizes. When you license Firdevs, Kerns & Cairns, the foundry that digitized and released the font, is giving all its proceeds to the designer and his family. Type Network is contributing its commission to and RSF. For a reasonable fee, you download a great typeface, help an imprisoned journalist, and aid the effort to protect free press around the world.
To stay up to date with the Firdevs typeface, subscribe to the Type Network Newsletter, where we share interviews, case studies, and tutorials.