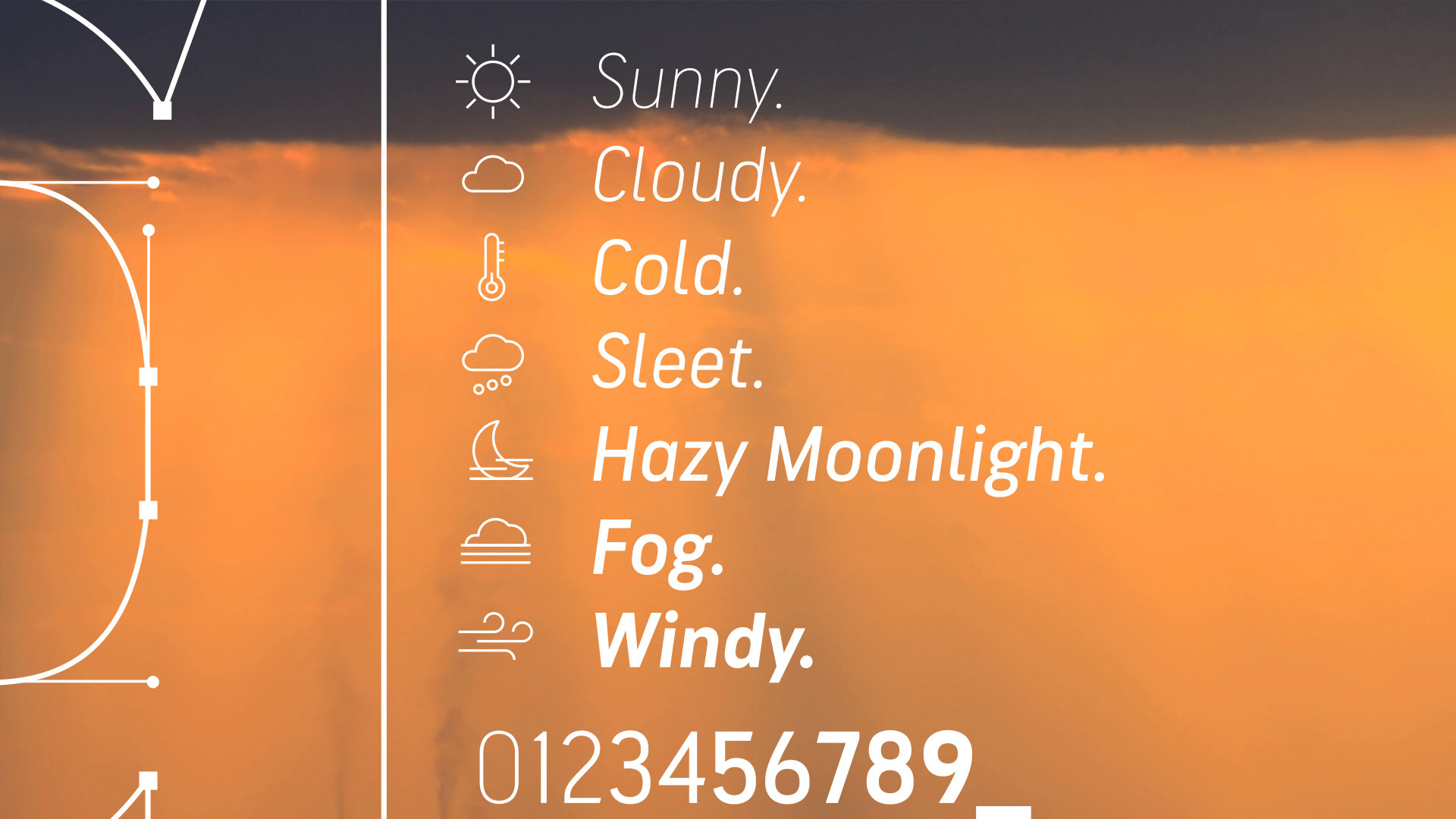 AccuWeather's extremely accurate typeface
AccuWeather's forecasts reach 2 billion people globally; with a reach so wide and a product so precise, brand and trust are vital. When AccuWeather worked with loyalkaspar to refresh their branding in 2019, they turned to Type Network partner foundries Type-Ø-Tones and Kerns & Cairns to design their new custom typeface, Solis. Used on screens large and small the world over, Solis proved to add clarity and efficiency to AccuWeather's vast sums of content.
AccuWeather refreshed its brand system in 2019, focusing on clarity and efficiency. Matching the goals of AccuWeather's industry-leading weather forecast platform, branding agency loyalkaspar worked to create a flexible system that would enhance global trust in AccuWeather through consistent, accessible design.
Service: Custom licensing and consulting
Partners: Type-Ø-Tones and Kerns & Cairns in collaboration with loyalkaspar and AccuWeather
Date: 2019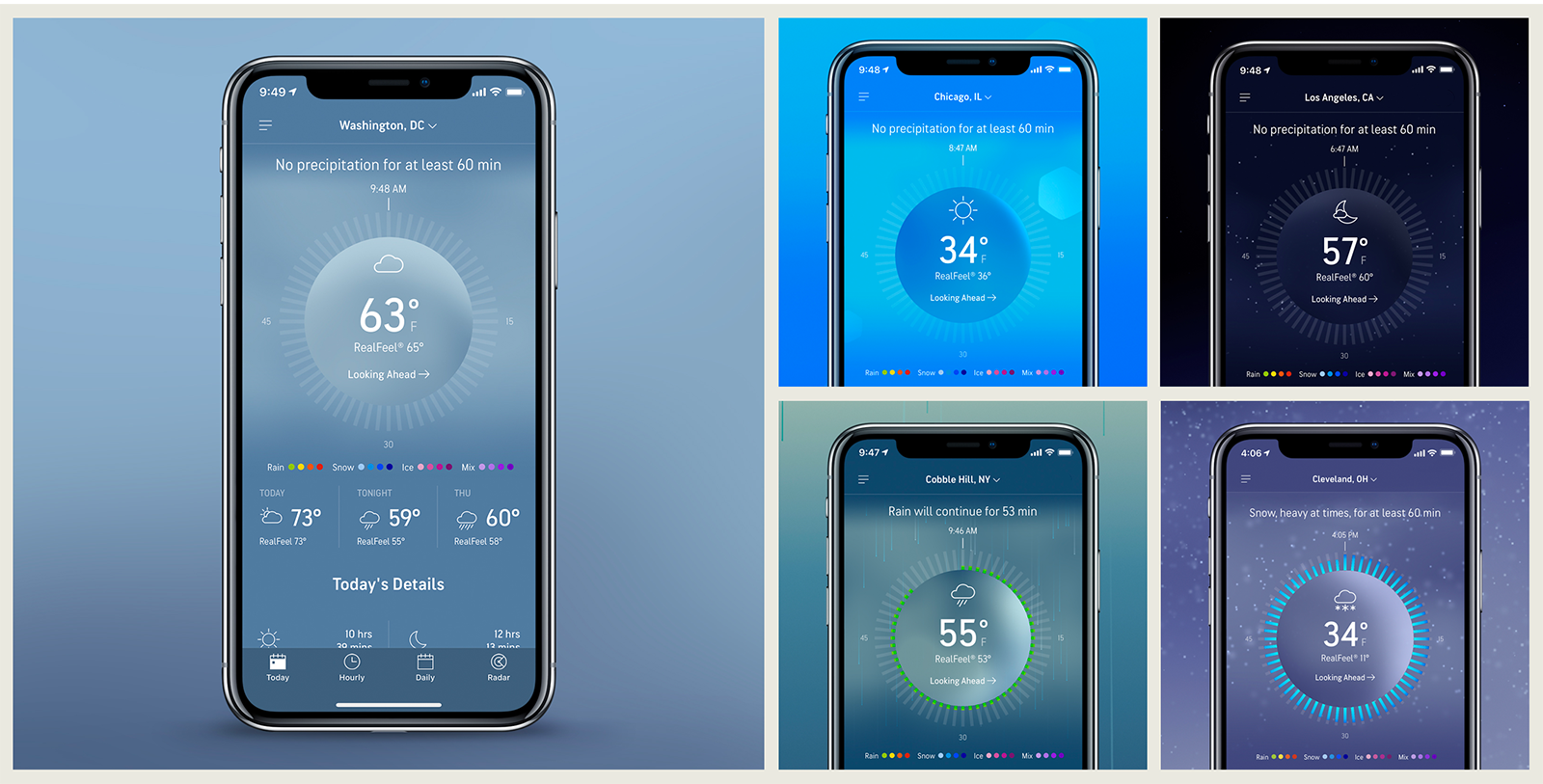 The new brand system included a brand mark, iconography, strategy, and a robust custom typeface named Solis, designed by Type Network foundry partners Laura Meseguer of Type-Ø-Tones and Dyana Weissman of Kerns & Cairns.
Solis, named after the sun, was developed primarily for use on vertical screens and information-dense settings. The majority of AccuWeather's billions of users access the platform on their phones, so a tall, thin structure was a natural choice. At the same time, Solis needed to perform at large sizes on the 24/7 AccuWeather Network channel. The AccuWeather screens themselves are often rich with content, so readability in small, camped spaces—even on large screens—was vital.
Type-Ø-Tones is a typographic design company founded in 1990 by Joan Barjau, Enric Jardí, Laura Meseguer and José Manuel Urós.
Learn more
Meseguer worked within these constraints to deliver six weights, each with accompanying italics. Distinctive and consistent throughout the family is its upward and clear shapes. Reminiscent of the best signage typefaces, Solis features wide open apertures and curves. Looking at the 1, C, J, Q, l, and t reveals Solis's uniquely branded DNA: According to AccuWeather founder and CEO DR. Joel Myers, "commitment to detail is built into every aspect of our innovation at AccuWeather – right down to our font."
We are extremely pleased with the results of our new brand refresh, particularly the launch of Solis. Creating a custom typeface that further enhances the visual beauty, as well as information clarity, of our product portfolio that reaches nearly 2 billion people globally is bound to make an impact. Our users rely on AccuWeather for our highly accurate and hyper local weather forecasts as well as to understand the potential impact of severe weather; Solis and all elements of the refresh were developed with that responsibility to our users in mind.

—Kurt Fulepp, Global Chief Product Officer, AccuWeather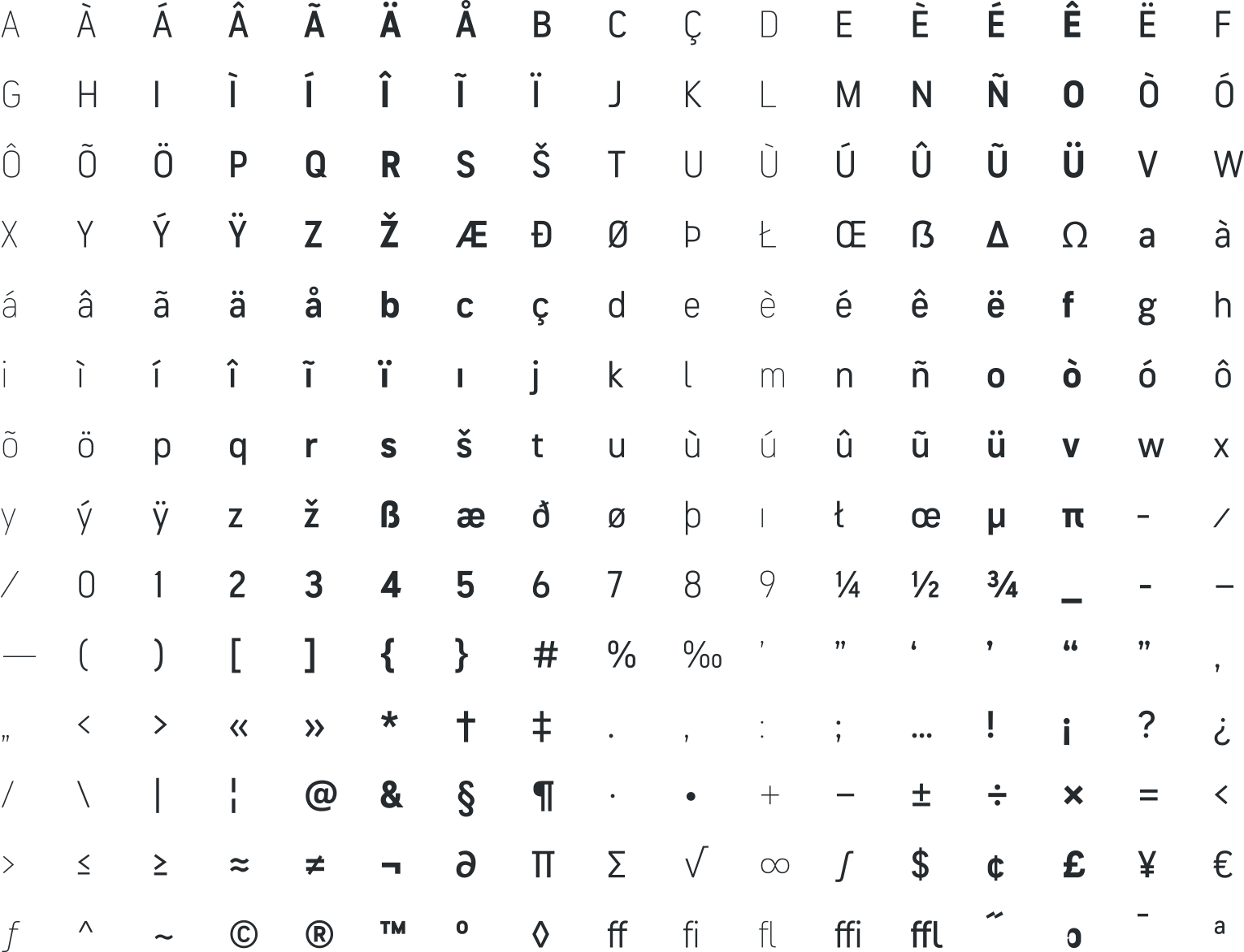 The result is a type system that is not only clear and legible but also subconsciously identifies AccuWeather content. The decision to use custom type lifts the AccuWeather brand and creates endless possibilities for future branded material.
If your company wants to brand its content across technologies and around the globe, there's no better solution than custom type. Contact us to start the conversation with one of our partner foundries.