Retype shares Reiher Headline, Tasman, and Guyot Press with Type Network
Ramiro Espinoza's new offerings include a rerelease, an expansion, and the beginnings of a superfamily.
Retype
's first three Type Network releases for 2019 are strongly geared toward editorial and publication design. Originally published by the now-defunct
OurType
, Dan Milne's
Tasman
has found a new home at Retype and is once again available for licensing.
Reiher Headline
and
Guyot Press
form part of Espinoza's continuing efforts to resuscitate lesser-known historical typefaces and adapt them for exacting contemporary typography.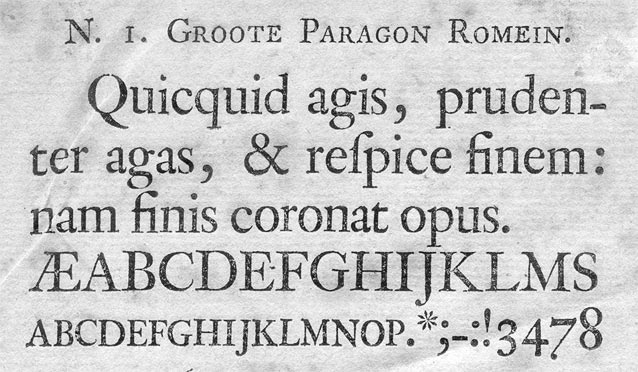 Espinoza took inspiration for his new display face,
Reiher Headline
, from the famous
Ploos van Amstel specimen
, first printed in Amsterdam in 1767. The roman styles are characterized by self-assured strokes, an almost imperceptibly slanted contrast, and slender serifs. Well-balanced vertical proportions and narrow features make this an economical, confident titling face. An Aszendonica attributed to
Nicholas Kis
inspired Reiher Headline's italics. Decisive, slightly angular in- and outstrokes give the letterforms dynamism and purpose. Each of the italic weights includes swash capitals and an extended set of ligatures that add a refined touch of class.
Besides the four weights from Light to Black with matching italics, Reiher Headline also comes in an inventive upright Open style. The straight stems split through the middle conventionally, but the curved strokes transition from outside to inside. This gives the otherwise classic design a refreshingly idiosyncratic look. Finally, Reiher Headline's character set includes a collection of ornaments. They can be used separately as individual typographic elements, strung together to form frames and borders, or set solid to create patterns and backgrounds.
Reiher—German for "heron," a fitting name for such a graceful design—has the requisite aplomb to set credible newspaper headlines and decks, as well as titles in magazines and medium-sized text, and will be equally persuasive on book covers. Use Reiher Headline to convey a timeless, authoritative style in your display typography.
Dan Milne had newspapers on his mind when he came up with the concept for Tasman. Looking to create a sturdy and reliable typeface that could communicate in a clear, unbiased voice, he combined a relatively large x-height and reduced contrast with strong serifs and short ascenders and descenders. These qualities permit compact setting and lend Tasman excellent legibility in smaller sizes. The design favors objectivity over opulence. Its proportions and finish imbue the typeface with a trustworthy personality without making it look mechanical. Gently bulging serifs give it a warm and friendly disposition, even a hint of playfulness.
Every aspect of Tasman tends toward clarity. Its rationalized letterforms present information in an unambiguous way, with ample small caps and strong punctuation and diacritics. Besides the usual figure styles, Tasman offers both hybrid figures and small-caps figures. The body of hybrid figures is taller than the x-height, which makes them stand out in the surrounding text while still integrating better with mixed-case setting than lining figures. The small-caps figures are exactly as high as the accompanying small caps.
Tasman is a robust yet friendly face that can withstand taxing conditions both on and off screen, ranging from low-resolution displays to low-quality printing. The feature-rich OpenType fonts are fully equipped to tackle complex professional typography in a variety of environments. Although Tasman was originally intended for use in newspapers, it has adopted a matter-of-fact, businesslike attitude that also makes it a prime candidate for corporate identity and communication, newsletters and annual reports, and all manner of digital and print publications.
Complementing the
Headline
and
Text
cuts,
Guyot Press
is the newest member of Espinoza's Guyot family. By making the capitals less tall and shortening the ascenders and descenders, Espinoza gave Guyot Press a slightly larger x-height than Guyot Text to improve its legibility in small body sizes, and expanded its character set. Users can take full advantage of three
grades
to fine-tune the color of the type. Remember that printing techniques and paper stock will affect the text image; rougher, more absorbent papers will cause the ink to spread, causing the type to turn darker than crisp type printed on high-quality, glossy stock. Using a lighter grade can compensate for this effect, making the type look consistent across different media. Similarly, deploying a darker, more robust grade will compensate for screen glare and aid legibility in low lighting conditions. This solidifies Guyot's position as a type family optimized for the demanding environment of newspapers and other periodicals.
Like all Retype fonts, Reiher Headline, Tasman, and Guyot Press are available for desktop, web, app, and ePub licensing. Webfonts may be tested free for thirty days; desktop trials are available upon request. To stay current on all things Retype, subscribe to Type Network News, our occasional email newsletter featuring font releases, foundry happenings, type and design events, and more.